Tuesday, December 7, 2010
Strong NCAA Presence on USA World Juniors Preliminary Roster
---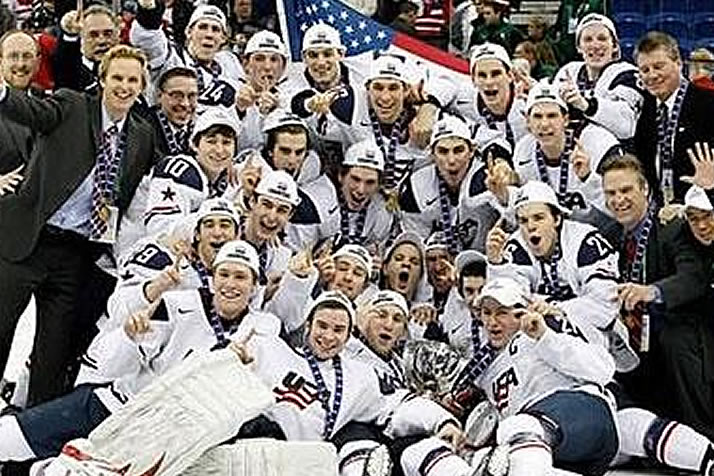 USA Hockey today announced the 29 players that have been invited to its pre- tournament camp, beginning December 17th, thus naming its preliminary roster for the 2011 World Junior Championships. USA Hockey will trim the roster down to 22 players prior to its final exhibition game against Norway on December 23rd. Those 22 players named to the final roster will then pack their bags and head to western New York having earned the distinguished honor to represent the United States in their quest to repeat as World Junior Champions. The World Junior Championship this year will be played in Buffalo and Niagara, New York from December 26, 2010 to January 5, 2011.

The 2011 United States preliminary roster has a strong college hockey flavor with 23 of the 29 invitees having ties to the NCAA. For a list of the college players and the school they represent please see below.

Andy Iles (Cornell)
Adam Clendening (Boston University)
Brian Dumoulin (Boston College)
Justin Faulk (Minnesota)
Derek Forbort (North Dakota)
Jon Merrill (Michigan)
Jamie Oleksiak (Northeastern)
John Ramage (Wisconsin)
Philip Samuelsson (Boston College)
Patrick Wey (Boston College)
Nick Bjugstad (Minnesota)
Connor Brickley (Vermont)
Chris Brown (Michigan)
Charlie Coyle (Boston University)
Chris Kreider (Boston College)
Brock Nelson (North Dakota)
Matt Nieto (Boston University)
Drew Shore (Denver)
Jason Zucker (Denver)
Nick Leddy (Rockford IceHogs, AHL, Minnesota)
Jerry D'Amigo (Toronto Marlies, AHL, RPI)
Kyle Palmieri (Syracuse Crunch, AHL, Notre Dame)
Rocco Grimaldi (USNTP, Committed to North Dakota for Fall of 2011)

The Six remaining players hail from one of the three Canadian Major Junior Leagues or the American Hockey League.

The 2011 United States World Junior Team will begin their title defense against Finland on December 26th at 8pm.