Wednesday, January 18, 2017
97 Ranked by Central Scouting
More than half of all Division I schools represented in midterm rankings
---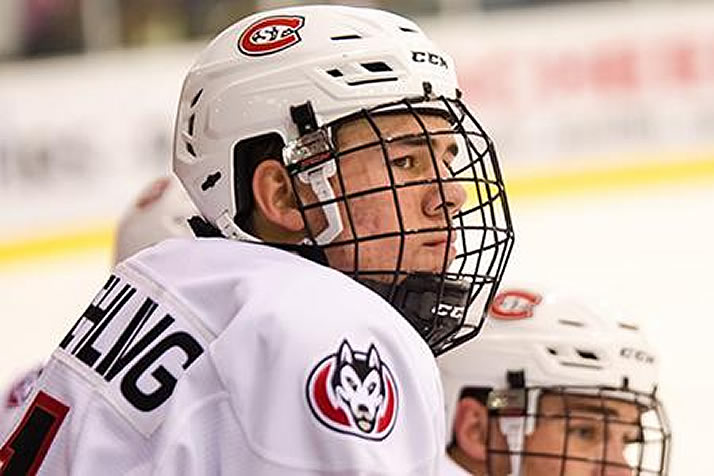 St. Cloud State's Ryan Poehling leads a group of 14 current NCAA players in the NHL Central Scouting Mid-Term Rankings.
Nearly 100 current and future NCAA players are featured in NHL Central Scouting's Midterm Rankings for the 2017 NHL Draft, released Wednesday.
SORTABLE: NCAA Players/Recruits in NHL Central Scouting Rankings | NHL.com Full Rankings
Minnesota recruit Casey Mittelstadt, at No. 5, leads a group of five NCAA players and commits in the top 14 of the North American skaters rankings, while five of the top six ranked North American goaltenders are playing in the NCAA or NCAA-eligible leagues.
More than half of all Division I teams - 32 of 60 - have a player or recruit on the list. Boston University and Minnesota Duluth lead all schools with six representatives each, while Boston College, Michigan State and Minnesota have five each.
A few more notes on the 97 NCAA players/recruits on the list:
82 are forwards or defensemen (37% of the list); 15 are goaltenders (48%)
14 are currently playing college hockey
17 are not committed to a school but playing in an NCAA-eligible league
Each of the top nine skaters ranked represents a different school
10% more NCAA players/recruits are featured than in last year's midterm rankings (88)
The 2017 NHL Draft will be held at United Center in Chicago, June 23-24. Last year's draft featured a record 11 NCAA first-round selections among the 61 NCAA players or recruits taken.