Monday, January 30, 2017
Alums Shine in LA
NHL All-Stars put on a show, while other former collegians honored among NHL 100.
---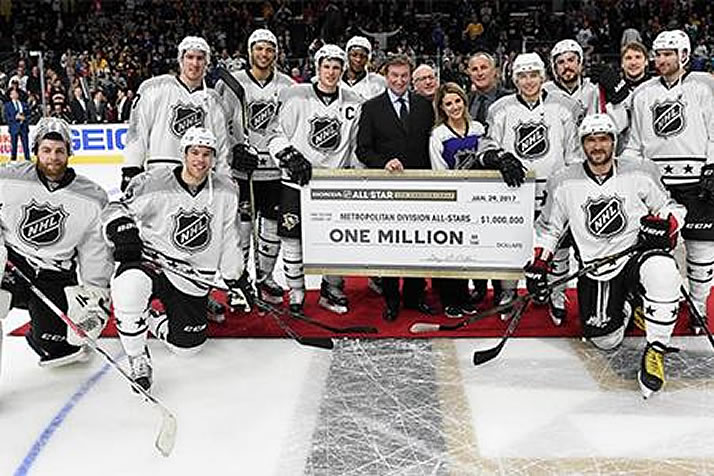 The Metropolitan Division team poses after winning the NHL All-Star Game.
From the unveiling of the NHL's 100 greatest players Friday night to Ryan McDonagh's game-saving save in Sunday's NHL All-Star Game, former college players grabbed the spotlight at the 2017 NHL All-Star Game in Los Angeles.
NHL.com All-Star Site | NHL.com/100
Cam Atkinson (Boston College), Justin Faulk (Minnesota Duluth) and McDonagh (Wisconsin) were all part of the Metropolitan Division team that won the three-on-three tournament. They were three of 10 former college players who took part in the event.
The weekend began with a celebration of the 100 greatest players in the NHL's first 100 years. Despite college hockey having very few former players in the NHL for its first 60 years, nine NCAA alumni were named to the top-100 players.
For Ken Dryden - one of two Cornell alumni on the list, with Joe Nieuwendyk - the weekend was particularly special. He also took part in the 50th anniversary celebration of the 1967 NCAA championship team in Ithaca, as he told NHL.com's Dave Stubbs in a story about his whirlwind travels.
"What I had to say to Gary [Bettman] right away was that I wouldn't be able to make it here this weekend and for a reason he would completely understand," Dryden said. "On the same weekend in Ithaca, we had our 50th anniversary of the first Cornell University team to win an NCAA championship. Having gone to Cornell and experienced hockey most intensely first at Cornell, Gary knew why I had to be there."
Dryden ended up making it to Los Angeles just in time for Sunday's pregame ceremonial puck drop.
Once the games began, former college stars continued to shine. Atkinson and Faulk tied for the lead among all scorers on the day with five points each. Atkinson and MVP Wayne Simmonds tied for the lead with three goals, while Faulk led all players with four assists.
Johnny Gaudreau (Boston College) and Joe Pavelski (Wisconsin) helped lead the Pacific Division team to the finals with two goals each.
NCAA Alumni in NHL All-Star Game
Central Division
Pacific Division
Ryan Suter
Wisconsin
Joe Pavelski
Wisconsin
Duncan Keith
Michigan State
Johnny Gaudreau
Boston College
Jonathan Toews
North Dakota
Ryan Kesler
Ohio State

Metropolitan Division

Atlantic Division
Cam Atkinson
Boston College
Kyle Okposo
Minnesota
Justin Faulk
Minnesota Duluth
Ryan McDonagh
Wisconsin
NCAA Alumni Among the #NHL100
| | |
| --- | --- |
| Chris Chelios | Wisconsin |
| Ken Dryden | Cornell |
| Tony Esposito | Michigan Tech |
| Brett Hull | Minnesota Duluth |
| Duncan Keith | Michigan State |
| Brian Leetch | Boston College |
| Joe Nieuwendyk | Cornell |
| Adam Oates | Rensselaer |
| Jonathan Toews | North Dakota |