Thursday, January 26, 2017
Atkinson Joins NHL All-Stars
Ten former college players headed to Los Angeles this weekend.
---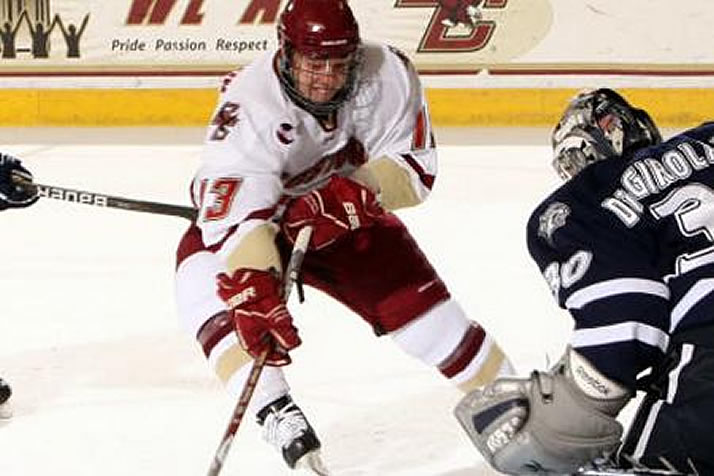 Cam Atkinson is the last NCAA player to post multiple 30-goal seasons.
Former Boston College star Cam Atkinson has been named to the NHL All-Star Game, joining nine other NCAA alumni among the selections to the 2017 NHL All-Star Weekend.
Three former Wisconsin players - Ryan McDonagh, Joe Pavelski and Ryan Suter - are among the selections, which also include former NCAA champions Justin Faulk (Minnesota Duluth), Johnny Gaudreau (Boston College), Atkinson and Pavelski.
The 10 players represent seven schools in all, with Michigan State, Minnesota, Minnesota Duluth, North Dakota and Ohio State each featured by one alum.
NHL All-Star Weekend will be held Jan. 28-29 at Staples Center in Los Angeles. The NHL Skills Competition takes place Saturday at 7 p.m. ET, with the All-Star Game - a three-on-three tournament between representatives of each division - set for Sunday at 3:30 p.m.
NCAA Alumni in NHL All-Star Game
Central Division
Pacific Division
Ryan Suter
Wisconsin
Joe Pavelski
Wisconsin
Duncan Keith
Michigan State
Johnny Gaudreau
Boston College
Jonathan Toews
North Dakota
Ryan Kesler
Ohio State

Metropolitan Division

Atlantic Division
Cam Atkinson
Boston College
Kyle Okposo
Minnesota
Justin Faulk
Minnesota Duluth
Ryan McDonagh
Wisconsin