Monday, January 23, 2017
CJHL to Showcase Prospects
Commits to 17 NCAA programs among participants in CJHL Prospects Game.
---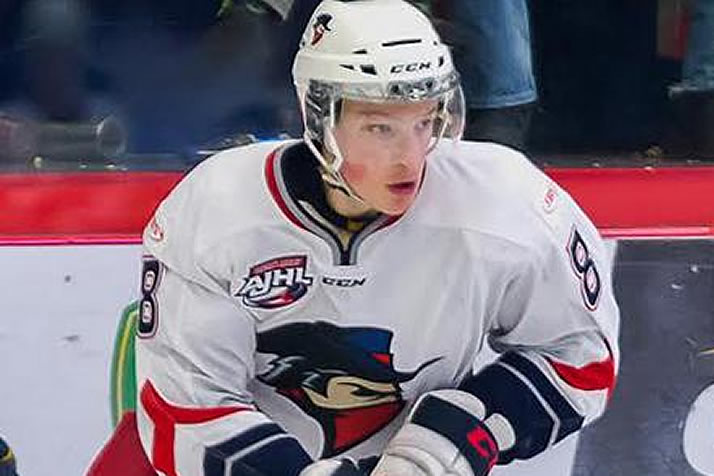 Massachusetts commit Cale Makar is the 10th ranked North American skater by NHL Central Scouting (Photo courtesy of AJHL).
The CJHL Prospects Game, set for Wednesday, Jan. 25, in Cornwall, Ont., will feature 21 committed NCAA recruits representing 17 schools.
The CJHL Prospects Game features 40 players from across the 10 leagues that make up the CJHL, all of whom are eligible for the 2017 NHL Draft. The rosters were selected by NHL Central Scouting. Fourteen of the players selected appeared on the NHL Central Scouting midterm rankings that were released last week.
Denver (three), Massachusetts (two) and Princeton (two) each have multiple recruits in Wednesday's game. Massachusetts has future teammates on both sides, with forward Phillip Lagunov on Team East and first-round NHL Draft prospect Cale Makar on Team West.
CJHL Prospects Game Rosters
| | | | |
| --- | --- | --- | --- |
| TEAM EAST | | | |
| Goaltenders | | | |
| Anand Oberol | Kanata | CCHL | |
| Nate McDonald | Powassan | NOJHL | |
| Defensemen | | | |
| Joey Berkopec | Burlington | OJHL | |
| Cameron Crotty | Brockville | CCHL | Boston University |
| Matthieu Franche | Smiths Falls | CCHL | Merrimack |
| Aidan Girduckis | Carleton Place | CCHL | Robert Morris |
| Matthew Kellenberger | Oakville | OJHL | Princeton |
| Wyatt Villalta | Soo | NOJHL | |
| Forwards | | | |
| Andy Baker | Powassan | NOJHL | |
| Matthew Barnaby | Pembroke | CCHL | Lake Superior State |
| Josh Cammalleri | Burlington | OJHL | |
| Nick Campoli | North York | OJHL | Clarkson |
| Bobby Dow | Kemptville | CCHL | Mercyhurst |
| Finn Evans | St. Michaels | OJHL | Princeton |
| Declan Hilton | Cornwall | CCHL | |
| Phillip Lagunov | Burlington | OJHL | Massachusetts |
| Konnor MacCormick | Cornwall | CCHL | |
| Mel Melconian | Aurora | OJHL | |
| Bryce Misley | Oakville | OJHL | Vermont |
| Cameron Wright | St. Michaels | OJHL | Bowling Green |
| TEAM WEST | | | |
| Goaltenders | | | |
| Connor Dochuk | Spruce Grove | AJHL | |
| Ty Taylor | Vernon | BCHL | |
| Defensemen | | | |
| Cory Babichuk | Surrey | BCHL | Rensselaer |
| Jarrod Gourley | Spruce Grove | AJHL | Arizona State |
| Matthew Holzer | Olds | AJHL | |
| Cale Makar | Brooks | AJHL | Massachusetts |
| Griffin Mendel | Penticton | BCHL | Denver |
| Ian Mitchell | Spruce Grove | AJHL | Denver |
| Forwards | | | |
| Desi Burgart | Surrey | BCHL | |
| Adam Dawe | Notre Dame | SJHL | Maine |
| Ethan de Jong | Prince George | BCHL | |
| Parm Dhaliwal | West Kelowna | BCHL | |
| Kale Howarth | Trail | BCHL | Northern Michigan |
| Kyler Kupka* | Camrose | AJHL | |
| Cody Laskosky | Whitecourt | AJHL | |
| James McIsaac | Portage | MJHL | |
| Marcus Mitchell | Salmon Arm | BCHL | Michigan Tech |
| Michael Regush | Merritt | BCHL | Cornell |
| Jamie Rome | Victoria | BCHL | |
| Adam Tisdale | Canmore | AJHL | |
| Tyler Ward | Merritt | BCHL | Denver |
| * Injured; can not play | | | |