Wednesday, January 25, 2017
Notes: Minn. Supremacy on Line
Three conference leaders take part in North Star College Cup, plus much more.
---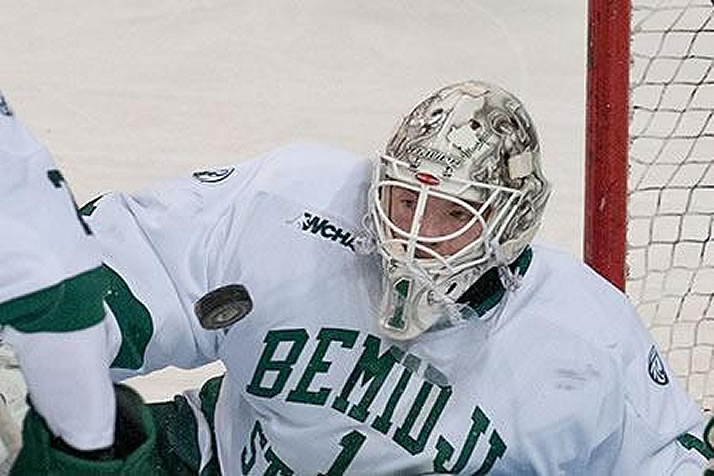 Michael Bitzer was the North Star College Cup MVP two years ago.
By Nate Ewell
The fourth North Star College Cup features conference leaders in the Big Ten (Minnesota), NCHC (Minnesota Duluth) and WCHA (Bemidji State), plus the tournament's defending champion in St. Cloud State. Bemidji State, which has been in the last two championship games at the tournament, leads the nation in team defense (1.79 goals against per game) and penalty kill (90%) behind the efforts of junior goaltender Michael Bitzer (Moorhead, Minn./Lincoln-USHL). Bitzer was the tournament MVP when Bemidji State won the North Star College Cup two years ago and led Moorhead High School to the Xcel Energy Center and the Minnesota state tournament during his high school career. | Minnesota's games will be on FOX Sports North (Friday, 8 p.m. ET) and FOX Sports North Plus (Saturday, 5 or 8 p.m. ET)
Career Shutout Leaders
14 – Michael Bitzer, Bemidji State
12 – Kyle Hayton, St. Lawrence
11 – Cole Huggins, Minnesota State
10 – Parker Gahagen, Army West Point
10 – Rob Nichols, Connecticut
10 – Cal Petersen, Notre Dame (BUF)
---
Must Read/See/Hear Material
Colorado Springs Gazette: Haak's brains help him lead Falcons hockey, sophomore class at academy
Duluth News Tribune: Molenaar overcomes physical, mental battles to cement spot in lineup
Worcester Telegram: Holy Cross's Lopez goes from bench to best
New York Times: Triplets at Bemidji State, once child actors, are stars on ice
Star Tribune: Millen back with Gophers, as Lucia's undergraduate assistant
College Hockey News: Pastujov's big top adventure
SBN College Hockey: BU maturing into championship team
The U Show: Guest Brad Schlossman
Listen to "Sense of it All" on Spreaker.
---
Five More Storylines No One Should Be Without
Desert presence at Niagara – Hockey in Arizona has taken center stage in Toronto thanks to the rookie season of Scottsdale native Auston Matthews with the Maple Leafs. Less than two hours south, at Niagara, two former teammates of Matthews are also showing the vibrancy of hockey in the desert. Freshmen Derek Brown (Peoria, Ariz./Odessa-NAHL) and Christian Cakebread (Gilbert, Ariz./Vernon-BCHL) – two of six Arizonans playing Division I – have given the Purple Eagles an offensive spark. Brown is tied for second on the team in scoring and Cakebread, who just joined the team at midseason, has four points in six games.
From Russia to PA – Philadelphia Flyer Ivan Provorov and Penn State freshman Denis Smirnov (Moscow, Russia/Fargo-USHL) are two countrymen and former teammates finding success at different levels in Pennsylvania. Saturday Smirnov visits Provorov's stomping grounds, Wells Fargo Center, to face Princeton. Five years ago they were teammates on the Wilkes-Barre Knights bantam team that won the USA Hockey national championship. Provorov became the seventh overall pick in 2015 and is excelling as a rookie for the Flyers; undrafted to this point, Smirnov should be selected in the 2017 NHL Draft in his final year of eligibility. He leads Penn State in scoring, ranks second among freshmen nationally and was rated in NHL Central Scouting's midterm rankings released last week.
Northeastern's thoroughbred – The dramatic development of Dylan Sikura (Aurora, Ont./Aurora-OJHL/CHI) continues as the Northeastern junior – who had seven points his freshman year – has moved into fifth nationally in scoring with 38 points in 24 games. Dylan, who grew up with brother and former Dartmouth captain Tyler on their family's horse farm, has points in 20 of the Huskies' 24 games. Either he or teammate Zach Aston-Reese (Staten Island, N.Y./Lincoln-USHL) has been named Hockey East Player of the Week five times in the last nine weeks. | Friday's game is on American Sports Network
Martin's development – Success has become routine at Quinnipiac, and a big reason is the development of players like sophomore Craig Martin (Trail, B.C./Trail-BCHL). After finding himself in and out of the lineup as a freshman – and not scoring his first goal until March 18 – Martin shares the team lead in scoring this season, including five points in the last three games. Martin and the Bobcats return to action this weekend after a week off, hosting Arizona State for two games.
Blacker blanking opponents – Western Michigan returned to the top 10 for the first time in nearly four years as the Broncos enter this weekend's series at Miami at 6-1-0 in their last seven games. Freshman Ben Blacker (Oakville, Ont./Cedar Rapids-USHL) has a .957 save percentage and three shutouts in that time. Blacker, a highly touted recruit from the OJHL and USHL, credits his parents for his success. His dad, Ted, is a goaltender himself, while mom, Sabine, used to shoot on her son in the family's basement. Blacker's winning percentage (.889, 8-1-0) leads the nation. | Friday's game is on CBSSN; Saturday's is on FOX College Sports
---
NHL Note of the Week
Five of the top seven NHL rookie defensemen in scoring played college hockey. Last season eight of the top 10 rookie defensemen in scoring were former college players. | NHL.com: Comparison: Werenski vs. Matheson
---
Fries at the Bottom of the Bag
Three NHL arenas will host NCAA games this weekend: Xcel Energy Center (North Star College Cup), Madison Square Garden (Ohio State-Wisconsin) and Wells Fargo Center (Penn State-Princeton) … Four teams have claimed No. 1 rankings in the national polls in the last two weeks … Four players are tied for the national scoring lead with 41 points each … Cornell, which is 10-1-1 in its last 12, celebrates the 50th anniversary of its 1967 NCAA championship team this weekend … Army West Point visits Air Force for a two-game series featuring two of the top three teams in the Atlantic Hockey standings.