Thursday, January 5, 2017
Notes: NCAA Players Meet for Gold
WJC, Frozen Fenway headline busy weekend ahead in college hockey.
---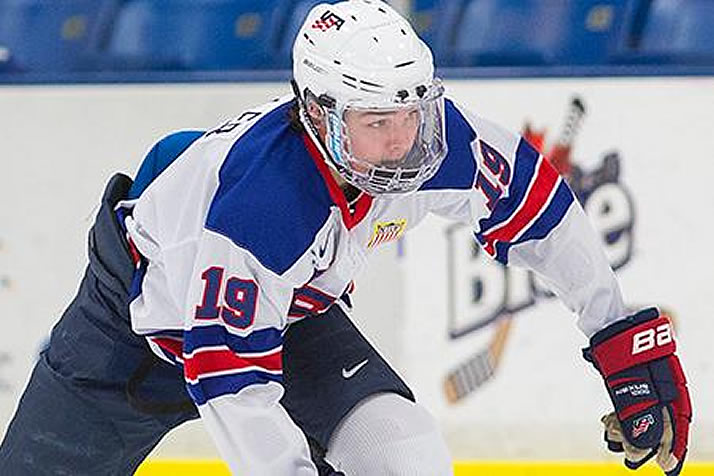 Clayton Keller is one of seven Boston University players competing for gold tonight (Photo by Rena Laverty).
By Nate Ewell
College hockey takes to the world stage tonight as the U.S. and Canada meet for the gold medal in the World Junior Championship. Between the two teams 22 players and both head coaches are current or former NCAA players – the most NCAA players ever to meet for the gold medal in the event. The U.S., led by St. Cloud State head coach Bob Motzko, features 20 NCAA players, including all three captains and its top four scorers. Canada, with Vermont alum Dominick Ducharme behind the bench, has two NCAA players for the first time in six years. | NCAA/WJC Notes (.pdf) | Tonight's game is at 8 p.m. on NHL Network and TSN
---
Must Read/See/Hear Material
College Hockey Inc.: The Pulse of College Hockey (video)
The Pipeline Show: Penn State's Denis Smirnov
Denver Post: Former goalie Plant excels as defensive defenseman for Pioneers
American Sports Network: College Hockey Now with Joe Gambardella
BGSUHockey.com: Friedman improving defensive game
St. Cloud Times: Nevalainen's calm suits Huskies
UND.com: Mr. B and Room 208
MSUSpartans.com: Appleton leads Spartans in trip to Wisconsin
SBN College Hockey: The Year that Was
---
Five More Storylines No One Should Be Without
Frozen Fenway returns – NCAA hockey returns to Fenway Park Thursday night for the first of five Division I men's games to be played at the "lyric little bandbox of a ballpark," as John Updike called it. Army West Point's great wall, goaltender Parker Gahagen (Buffalo, N.Y./Buffalo-OJHL), will bring his .943 save percentage into the shadow of the Green Monster to face Bentley Thursday before a Hockey East doubleheader on Saturday. The Boston University-Massachusetts and Boston College-Providence matchups could feature 14 players returning from the World Junior Championship. | NCAA Outdoor Game History (.pdf) | Saturday's games are on NESN and TSN2
Frozen Fenway Games
Jan. 5
Army West Point vs. Bentley
7:30 pm
Jan. 7
Boston University vs. Massachusetts
1:30 pm
NESN, TSN2
Jan. 7
Boston College vs. Providence
5 pm
NESN, TSN2
Jan. 14
Connecticut vs. Maine
4 pm
NESN
Jan. 14
New Hampshire vs. Northeastern
7:30 pm
NESN
OSU's defensive leader – Two top contenders in the Big Ten, No. 2 Penn State and No. 11 Ohio State, meet this weekend in Columbus, Ohio. Buckeye senior Josh Healey (Edmonton, Alta./Sherwood Park-AJHL) is a returning first-team All-Big Ten defenseman producing even better numbers this season. An NHL free agent who has attended multiple summer development camps, Healey's grandfather, Rich Healey, played one NHL game as a defenseman in the Original Six era.
Hayden leads Yale – Yale meets in-state foe Connecticut in the state capital Saturday after opening 2017 with an impressive win vs. Northeastern on Tuesday. Senior captain John Hayden (Greenwich, Conn./U.S. NTDP/CHI) scored his team-leading 11th goal in that game. Hayden could have signed with Chicago after his junior year but opted to return to school. "I'm growing as a hockey player and as a person," he said at Blackhawks development camp. "I wanted to be a senior, in that leadership position, and I really think that will benefit me moving forward once I sign here."
CC seeks spark – Colorado College's fourth and fifth wins of the season brought home the Florida College Classic championship, which the Tigers hope sparks second-half success like it has for other teams recently (see below). Freshman Nick Halloran (Draper, Utah/Trail-BCHL), who scored the overtime winner in the tournament championship game, is one of only five Utah natives in Division I, but is familiar with Colorado Springs. His family moved to the area while Nick played for the Colorado Rampage and his older brother, Alex, was skating across town for Air Force. | Friday's CC-UMD game is on CBSSN
Recent Florida College Classic Champions
Year
Team
Pre-Christmas Record
Rest of Year
2016
CC
3-12-1
2-0-0
2015
OSU
3-11-0
11-7-4
2014
LSSU
3-17-0
5-11-2
2013
Cornell
7-4-2
10-6-3
2012
Maine
2-11-2
9-8-6
Seawolf siblings – Alaska Anchorage, after a 1-11-2 start, has splits in three straight series including vs. first-place Bemidji State last weekend. Twin brothers Jonah and Nathan Renouf (Mississauga, Ont./Surrey-BCHL) are chipping in offensively in their first season with the Seawolves, standing third and fifth, respectively, on the team in scoring. The duo – who went two years without playing a game – also excel in the classroom as mechanical engineering majors.
---
NHL Note of the Week
The Columbus Blue Jackets hope to tie the NHL record for longest winning streak (17 games) tonight and extend a run that has been fueled by some NCAA alumni. Cam Atkinson (Boston College) leads the team with 10 goals and 18 points during the streak. Rookie Zach Werenski (Michigan) has 9 points in the streak and has helped lead a 28.3% power play. Backup goaltender Curtis McElhinney (Colorado College) has a .950 save percentage in his two wins in the streak.
---
Fries at the Bottom of the Bag
Princeton's Max Veronneau (Ottawa, Ont./Gloucester-CCHL) and Minnesota State's Marc Michaelis (Mannheim, Germany/Green Bay-USHL) were named the Hockey Commissioners' Association National Player and Rookie of the Month, respectively, for December … Denver's Troy Terry (Denver, Colo./U.S. NTDP/ANA), 3-for-3 in shootout attempts for Team USA on Wednesday, is 0-for-1 in his NCAA career … One hour before seven Boston University players face off for the World Junior Championship gold medal Thursday night the fifth-ranked Terriers face No. 10 Union at home.