Thursday, January 12, 2017
Notes: Sibling Rivalry
Family on both sides of Comm. Ave. and occupying the same blueline highlight this week's notebook.
---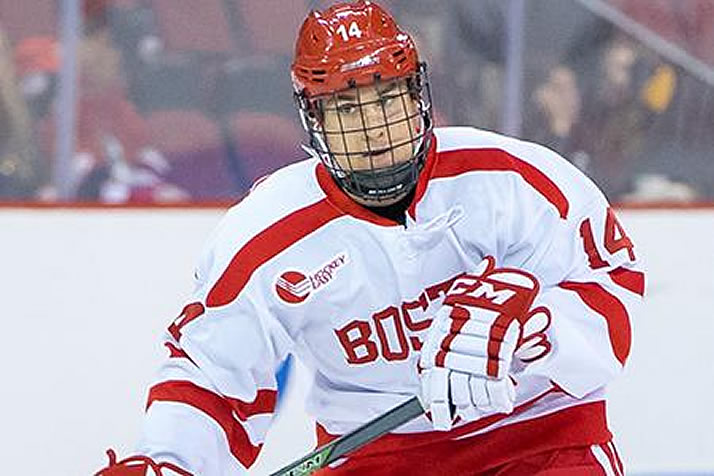 Family on both sides of Comm. Ave. and occupying the same blueline highlight this week's notebook.
By Nate Ewell
Boston University enters a home-and-home series with archrival Boston College on a four-game winning streak and with its seven World Junior Championship participants back in the lineup. Sophomore Bobo Carpenter (N. Reading, Mass./Sioux City-USHL) has also been contributing, with five points in three games. Carpenter's family has seen both sides of the Battle of Comm. Ave.; he is the brother of U.S. Olympian Alex Carpenter, who won the Patty Kazmaier Award at BC. Their father, Bobby, played 18 years in the NHL. | Monday's game is on American Sports Network/NESN
---
Must Read/See/Hear Material
Toronto Star: U.S. colleges have something to crow about
Vancouver Province: Hutton, Stecher prove tough NCAA practices pave path for pro
Grand Forks Herald: Boeser opted for surgery to get healthy and 'take a run' at another title
Denver Post: 'Five-hole Troy' Terry developed his gold medal skills in Colorado
Denver Post: Marcinew is prototype four-year player for Denver
SBN College Hockey: Aston-Reese developing into top NHL free agent target
College Hockey News: Motzko reflects on World Juniors, future at SCSU
MI Hockey Now: Wolverines gather at Yost for Scott Matzka
---
Five More Storylines No One Should Be Without
Haak's rise at AFA – Air Force is tied with Harvard and UMass Lowell for the nation's longest active winning streak (six games) and sophomore Kyle Haak (Okemos, Mich./Aberdeen-NAHL) is leading the way offensively. Last weekend Haak – who was a state champion tennis player in high school – surpassed his point total from last season (7-13—20 now, through 21 games).
Longest Active Winning Streak
6 – Air Force, Harvard, UMass Lowell
4 – Boston University, Miami, Minnesota, Robert Morris, Vermont
Seniors thriving at Harvard – Harvard has played as many as 12 fewer games than some teams, but the Crimson senior class has combined for 89 points, most of any group of seniors. Leading the way for the Crimson is Alexander Kerfoot (W. Vancouver, B.C./Coquitlam-BCHL/NJ), who has a point in all but one game this year despite the graduation of his two linemates last season (Jimmy Vesey and Kyle Criscuolo). Kerfoot's 1.71 points per game rank third nationally; he faces No. 2 in that category, Union's Mike Vecchione (Saugus, Mass./Tri-City-USHL), on Saturday.
Most Points, Senior Class
89 – Harvard
81 – Boston College
80 – Sacred Heart
76 – Minnesota Duluth
75 – New Hampshire
74 – UMass Lowell
Family pair at UND – Two familiar names have been united on North Dakota's top defense pair for the Fighting Hawks' last three games – all wins. Freshman Colton (E. Grand Forks, Minn./Penticton-BCHL) and junior Tucker Poolman (E. Grand Forks, Minn./Omaha-USHL/WPG) are teammates for the first time in their lives and since the holidays have been paired together. The duo's father, Mark, is North Dakota's athletic trainer and strength and conditioning coach. | Grand Forks Herald: Colton Poolman adjusting to new defensive partner … his brother | Saturday's game is on FOX College Sports
Cappo Cup on line – Lake Superior State and Northern Michigan meet for a rare second consecutive weekend to decide the Cappo Cup. LSSU junior J.T. Henke (Trenton, Mich./Jersey-USPHL) and sophomore Anthony Nellis (Breakeyville, Que./Pembroke-CCHL) each had five points in last weekend's split. That duo has been playing together for most of the past two seasons and each has a four-game point streak entering this weekend.
Minney minds MSU net – Michigan State heads into hostile territory at Penn State this weekend led by a Pennsylvania native in goal for the fifth consecutive season. Junior Ed Minney (Wind Gap, Pa./U.S. NTDP) has succeeded Butler, Pa., native Jake Hildebrand between the Spartan pipes after two years as Hildebrand's understudy. Despite limited playing time in that role, the 6-foot-5 Minney has adjusted well, posting 30-plus saves in six of his last eight games, including a win and a tie at North Dakota. | Saturday's game is on BTN
---
NHL Note of the Week
Three former Wisconsin Badgers headline the list of nine NCAA alums selected to the 2017 NHL All-Star Weekend, to be held Jan. 28-29 in Los Angeles.
---
Fries at the Bottom of the Bag
Paul Washe (Western Michigan recruit) and Keith Petruzzelli (Quinnipiac recruit) were the MVPs of the 2017 USHL/NHL Trop Prospects Game. WMU freshman Wade Allison (Myrtle, Man./Tri-City/PHI) was the MVP of last year's game … Colgate made good use of its bye weekend, volunteering at Hockey in Harlem … The 20 NCAA players to win gold in this year's World Junior Championship are the most in the tournament's history … Times for this Saturday's Frozen Fenway games were moved up to 1:30 p.m. and 5 p.m. (NESN).