Thursday, February 9, 2017
Notes: All Goaltender Edition
Shutout streak at NMU, NAHL tandem in Massachusetts and more in this focus on goalies.
---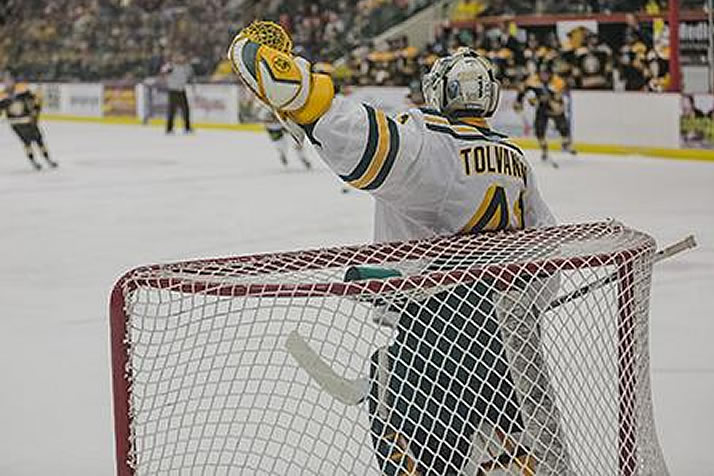 Only three goaltenders in NCAA history have posted more than three straight shutouts, as Northern Michigan's Atte Tolvanen has.
By Nate Ewell
Sioux City forward and Boston College commit Eeli Tolvanen is getting plenty of attention as a likely first-round NHL Draft pick, but older brother Atte is grabbing the spotlight at the moment. A sophomore goaltender at Northern Michigan, Atte (Vihti, Finland/Minot-NAHL) has a seven-game unbeaten streak, three straight shutouts and hasn't allowed a goal in 215:49. His season save percentage, which was at .896 prior to the unbeaten streak, has climbed to .915, and his .957 in the new year ranks second nationally.
Best Save Percentage, Since Jan. 1
.959 – Charles Williams, Canisius
.957 – Atte Tolvanen, Northern Michigan
.950 – Collin Delia, Merrimack
.950 – Tanner Jaillet, Denver
.945 – Jake Oettinger, Boston University
.945 – Davis Jones, Alaska
---
Must Read/See/Hear Material
Daily Gazette: Vecchione made the right call by staying
The Pipeline Show: Denver's Troy Terry
American Sports Network: College Hockey Now
Watertown Daily Times: Gilmour providing extra scoring punch for Saints
Oakland Press: Michigan standout Lockwood a chip off the block
N.Y. Times: The women blazing a trail into ice hockey
N.Y. Times: Beanpot renews hockey relationships, and rivalries
Wisconsin State Journal: Frederic a 'remarkable hockey player' but hungry to improve
NCHCHockey.com: Patience paying off for Denver's McLellan
Listen to "Down is Up, Plus Olympic Speculation" on Spreaker.
---
Five More Storylines No One Should Be Without
Delia's impact on & off the ice – Junior Collin Delia (Rancho Cucamonga, Calif./Amarillo-NAHL) has sparked Merrimack's 2-0-2 run, including a sweep of then-No. 1 Boston University, with a .954 save percentage in that time. His recent play has the Warriors in the mix for a first-round home playoff series, rebounding from an early season injury that coincided with Merrimack's 0-2-3 start in conference. Delia's impact off the ice has been even more significant, where he is involved in numerous community service projects and was recently named a finalist for the Hockey Humanitarian Award given to "college hockey's finest citizen." | Friday's game at BC is on ASN | USCHO.com: Delia leaving 'an indelible mark on our program and our school'
Another Bull alum – Amarillo, Texas, is a long way from Massachusetts, but Delia's former goaltending partner with the Bulls is also enjoying NCAA success in the Bay State. Junior Paul Berrafato (Williamsville, N.Y./Amarillo-NAHL) leads Holy Cross closer to his Western New York home this weekend for a series at RIT. He and Delia were a tandem for two years in Amarillo, including the 2013 Robertson Cup champions. Berrafato has started 58 straight games for the Crusaders, who are among three teams tied for fourth in Atlantic Hockey.
The book on Nagelvoort – Michigan senior Zach Nagelvoort (Holland, Mich./Aberdeen-NAHL/EDM) is another goaltender proving that his impact extends beyond the crease. Nagelvoort has been the veteran in a three-goalie rotation for the Wolverines entering a rivalry series with Michigan State this weekend. He has also been the leader of a book drive that concluded last weekend to benefit the Martin Luther King Education Center Academy in Detroit, a school Nagelvoort has visited monthly to read to a class. | Friday's game at Joe Louis Arena is on FOX Sports Detroit
Beanpot's SoCal connection – A key storyline as Harvard chases its first Beanpot since 1993 is the health of junior Merrick Madsen (Acton, Calif./Minot-NAHL/PHI), who appeared to suffer an injury at the end of Monday's win vs. Northeastern. Madsen and the No. 4 Crimson face two top-10 teams this week: No. 6 Union on Friday and No. 3 Boston University in the Beanpot title game. Madsen could become the second consecutive Southern Californian goaltender to win Boston's coveted Beanpot, following Boston College's Thatcher Demko (San Diego).
Denver's edge – Minnesota Duluth and Denver appear to have solidified the top two spots in the national polls and the NCHC. One place where the Pioneers may have an edge – at least in experience – is in goal, where junior Tanner Jaillet (Red Deer, Alta./Ft. McMurray-AJHL) returns after a Frozen Four run last year. Jaillet – who ranks third among active goaltenders with 48 career wins – enters this weekend's series with Colorado College with a 6-0-0 record against the Pioneers' rivals.
---
NHL Note of the Week
Paul LaDue became the fourth member of the 2016 NCAA champion North Dakota Fighting Hawks to appear in the NHL and the 29th player who played college hockey in 2015-16 to play in the league.
---
Fries at the Bottom of the Bag
Snow has impacted the schedule in the east this weekend – find the updated schedule here … Bemidji State is the first team that can clinch a regular-season title, needing three points to win its first MacNaughton Cup in the WCHA … Bowling Green honors the 50th anniversary of the BGSU Ice Arena with a weekend-long celebration, including alumni appearances and "Doc" Emrick calling Saturday's game … Four of the six conferences have first-place teams that were picked in the bottom half of their preseason polls (Canisius, Wisconsin, Union and Bemidji State) … Providence will retire the jerseys of legends Lou Lamoriello, Ron Wilson and Cammi Granato Saturday night.