Wednesday, February 1, 2017
Notes: Beanpot Features Offense
BC's balanced attack comes from all over, plus top offensive defensemen and more.
---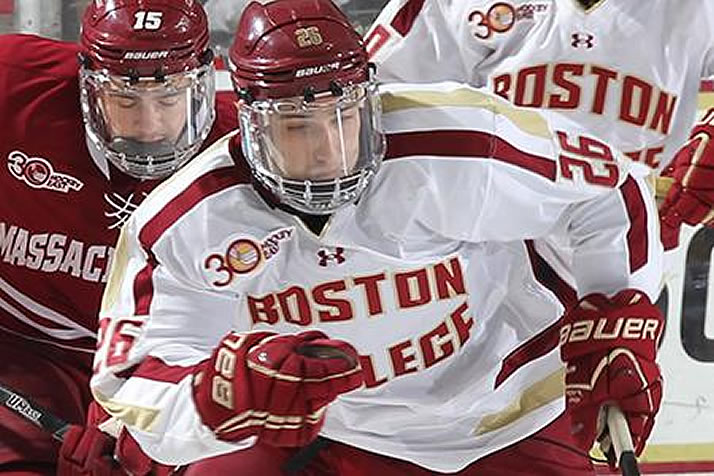 Austin Cangelosi reached the 100-point mark for his career last month at Fenway Park.
By Nate Ewell
Boston College will enter the Beanpot, which starts Monday, without a point-per-game scorer but with one of the nation's most balanced offenses. Two of the team's six 20-point scorers – the most in the nation – head into Boston's hallmark event as illustrations of the growth of hockey across the country. Freshman David Cotton (Parker, Texas/Waterloo-USHL/CAR) had three assists Saturday vs. Notre Dame to reach the 20-point mark, his third three-point game of the year. Meanwhile, senior Austin Cangelosi (Estero, Fla./Youngstown-USHL) has reached 20 points for the fourth straight year.
Most 20-Point Scorers
6 – Boston College
5 – Boston University, Denver, Harvard, Minnesota, New Hampshire, Ohio State, Omaha, Penn State, Union
Monday's Games (NESN/TSN2)
5 p.m. ET: Harvard vs. Northeastern
8 p.m. ET: Boston College vs. Boston University
---
Must Read/See/Hear Material
Watertown Daily Times: SLU's Finkelstein making solid contributions as a freshman
Mankato Free Press: Knutson gets his groove back
Colorado Springs Gazette: Hot chocolate, hard work leads VanHorn to CC
New Haven Register: Defenseman Curti helping spark Yale offense
The Blade: Emrick excited for return to where it started
Wisconsin State Journal: Talent, attitude have rebuilding Badgers ahead of schedule
The Pipeline Show – Pipecast: Union's Spencer Foo, USHL's Bob Fallen
Denver Post: Ritt climbed steep mountain to play for DU
Listen to "Still in the Mix" on Spreaker.
---
Five More Storylines No One Should Be Without
SLU's happy return – Senior defenseman Gavin Bayreuther (Canaan, N.H./Fargo-USHL) returned earlier than expected from injury and scored a goal in the Saints' win Saturday. They enter this Saturday's North Country rivalry game at Clarkson in first place in ECAC Hockey, and Bayreuther – who will be a coveted NHL free agent at season's end – is a big reason why. A three-sport athlete at Holderness School, Bayreuther thought his college sport would be lacrosse before a breakthrough senior season on ice.
Most Points per Game, Defensemen
1.15 – Adam Fox, Harvard (CGY)
1.14 – Gavin Bayreuther, St. Lawrence
1.00 – Matias Cleland, New Hampshire
0.93 – Dylan Zink, UMass Lowell
0.92 – Eric Israel, Robert Morris
Well-rounded Roy – Michigan Tech's Matt Roy (Canton, Mich./Indiana-USHL/LA) made his name as a defensive defenseman, getting drafted after his 0g-9a freshman year. The last two seasons his offensive game has flourished, and Michigan Tech is one of three teams nationally with a defenseman leading the team (or sharing the team lead) in scoring. Roy has points in each of his last five games, including two goals Saturday at Alabama-Huntsville, entering a critical series this weekend at Bemidji State between the WCHA's top two teams.
Soaring Griffins – Canisius is 7-0-1 in its last eight and has moved into first place in Atlantic Hockey. No player nationwide may be hotter than sophomore Dylan McLaughlin (Lancaster, N.Y./Cedar Rapids-USHL), with the possible exception of another Dylan, Northeastern's Dylan Sikura (Aurora, Ont./Aurora-OJHL/CHI). Canisius's local product has points in each game of the Griffins' eight-game unbeaten streak, including more than one point in each of the last six games.
Most Points, January 2017
15 – Dylan Sikura, Northeastern (CHI)
15 – Dylan McLaughlin, Canisius
13 – Troy Crema, Dartmouth
13 – Adam Gaudette, Northeastern (VAN)
13 – Mason Jobst, Ohio State
13 – Kyle Schmidt, Bentley
Osterberg comes up big – Minnesota Duluth's smallest player is delivering big goals, as senior Kyle Osterberg (Lakeville, Minn./Omaha-USHL) scored in overtime for the second time in five games to lift the No. 1 Bulldogs to the North Star College Cup championship. Osterberg, who plays with an intensity that belies his 5-foot-8, 175-pound frame, is enjoying a breakthrough offensive season. The Bulldogs are 10-0-1 when he scores a goal and 12-0-1 when he has a point. | Duluth News Tribune: UMD's smallest player knows how to throw his weight around
Gopher leader – Big Ten contenders Minnesota and Penn State meet for the first time this season this weekend, with the Gophers entering with a two-point lead in the standings. They have been bolstered by an experienced senior class that makes up three of the team's top six scorers, led by two-year captain Justin Kloos (Lakeville, Minn./Waterloo-USHL). The nation's third-leading career scorer with 135 points, Kloos joins some impressive company among two-year Gopher captains. The most recent ones were Florida Panther Kyle Rau and current Minnesota assistant coach Grant Potulny. | Friday's game is on FOX Sports North+; Saturday's is on BTN
---
NHL Note of the Week
71% of NCAA alumni in the NHL spent at least three years in school.
71% of NCAA alums in the @NHL spent at least 3 years in school pic.twitter.com/0D4jAS1ATV

— College Hockey Inc. (@collegehockey) January 31, 2017
---
Fries at the Bottom of the Bag
This weekend is Concussion Awareness Weekend across ECAC Hockey, held in partnership with the Headway Foundation. That group was founded by former ECAC players Paige Decker (Yale), Josephine Pucci (Harvard) and Danny Otto (Yale) … The first phase of fan voting for the Hobey Baker Award has begun on Facebook … The opening game of Monday's Beanpot features the top two power plays in the country (Harvard, 28.1%, vs. Northeastern, 26.0%) … Nine former NCAA players were named among the #NHL100.