Wednesday, February 15, 2017
Notes: Jobst Starring for OSU
Star sophomores and offensive defensemen in the spotlight in this week's notebook.
---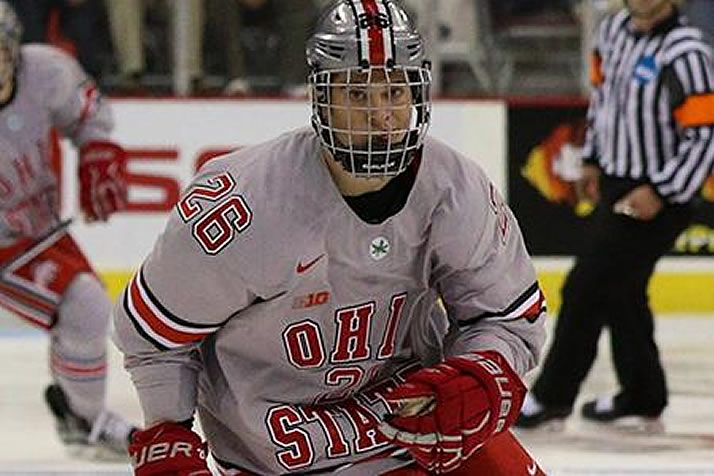 Mason Jobst's 14-game point streak is the longest active streak in the nation.
By Nate Ewell
Speedway, Indiana, native Mason Jobst is – of course – fast, as well as highly skilled and resilient for Ohio State. The co-leading scorer in Big Ten conference games, Jobst has a 14-game point streak entering a weekend series at Michigan State. Jobst was a two-year captain in the USHL with Muskegon, but missed nearly all of his final season due to injury. That missed time hardly slowed down Jobst – only four sophomores have more career points than he does and he ranks tied for ninth nationally in scoring this year. | Faces of the Big Ten
Most Career Points, Sophomores
83 – Brock Boeser, North Dakota (VAN)
75 – Adam Gaudette, Northeastern (VAN)
73 – Dylan Gambrell, Denver (SJ)
71 – Tyler Sheehy, Minnesota
70 – Mason Jobst, Ohio State
69 – Colin White, Boston College (OTT)
---
Must Read/See/Hear Material
Wisconsin State Journal: Brother's strength in cancer battle rubs off on Hughes
Boston Globe: Harvard routs BU to end Beanpot drought
Army West Point: A seamless transition
Denver Post: Janssen brings more than just college hockey's best hair
Denver Post: Pioneers hockey is dominant, locally and nationally
The Observer: Petersen makes 100th career appearance in net for Notre Dame
USA Hockey Magazine: Pioneer spirit helps Terry inspire others
Pucks & Rec: Goodwin makes it his mission to 'give back a lot'
RITAthletics.com: Skirving named 'Rochester Rocs' volunteer of the year
USCHO.com: USCHO Live with Walt Kyle, Nate Leaman
Listen to "Shutouts, Beanpot & All-Underrated Teams" on Spreaker.
Five More Storylines No One Should Be Without
---
Five More Storylines No One Should Be Without
Franklin leads Mavs vs. Tolvanen – Minnesota State is the next team to take aim at Atte Tolvanen (see below), with junior co-captain C.J. Franklin (Forest Lake, Minn./Sioux Falls-USHL/WPG) leading the way. Franklin grew up on a farm and his work ethic and character have earned raves at every stop – from Forest Lake High School, where he also starred at football and baseball, to the Sioux Falls Stampede and now Minnesota State. Franklin is on pace for his best offensive season and the Mavericks are 8-0-2 when he scores a goal (23-5-4 in his career).
Sophs star for Lakers – The top five Atlantic Hockey teams get first-round playoff byes and three teams are within three points of fifth place. Mercyhurst is among those entering a home-and-home with Robert Morris and the Lakers are led by a strong sophomore class featuring Derek Barach (Glenmont, N.Y./Green Bay-USHL), Lester Lancaster (Ypsilanti, Mich./Springfield-NAHL) and Taylor Best (Whitby, Ont./Youngstown-USHL). The first two were Atlantic Hockey all-rookie team honorees last year, while Best has led the team in goals (8) and points (13) since returning from off-season surgery in early December.
UML's Wisconsin connection – Only 11 defensemen nationally have 25 or more points, and UMass Lowell is the only team to boast two of them: seniors Dylan Zink (Madison, Wis./Jamestown-NAHL) and Michael Kapla (Eau Claire, Wis./Sioux City-USHL). That duo of Wisconsin natives has combined for 3 goals and 11 points in a four-game winning streak that has kept the River Hawks within reach of the Hockey East regular season title. Zink is enjoying his third straight season with 10 or more goals from the blueline.
10+ Goal Seasons by Defensemen, Last Three Years
3 – Dylan Zink* (UMass Lowell)
2 – Matt Grzelcyk (Boston University)
1 – Gavin Bayreuther* (St. Lawrence), Teddy Doherty (Boston College), Joey LaLeggia (Denver), Robbie Russo (Notre Dame), Jimmy Schuldt* (St. Cloud State), Luc Snuggerud* (Omaha), Jake Walman* (Providence), Zach Werenski (Michigan)
* Active NCAA player
Snuggerud supports UNO offense – Omaha boasts six double-digit goal scorers, most in the nation, including junior Luc Snuggerud (Eden Prairie, Minn./Omaha-USHL/CHI), whose 11 goals lead all defensemen nationwide. Snuggerud's first two seasons were impressive, including NCHC All-Rookie Team honors, but his offense has exploded in 2016-17. He has goal-scoring in his blood – his father, Bo, was a star forward at St. Thomas and his uncle, Dave, was an Olympian and NHLer.
Most 10+ Goal Scorers
6 – Minnesota, Omaha
5 – UMass Lowell, Western Michigan
Colgate's senior leader – Colgate secured its first weekend sweep of the season thanks to a three-point night from senior defenseman Jake Kulevich (Marblehead, Mass./South Shore-EJHL). The former three-sport star in high school, Kulevich has led the young Raiders team off the ice, as captain, and on the ice, where he shares the team lead with 18 points. | Friday's game is on American Sports Network
---
NHL Note of the Week
NHL teams have featured, on average, nine NCAA alums in their lineups this season. Ten of the top 12 teams in the league standings have been at or above that average.
---
Fries at the Bottom of the Bag
There are two, three or four weeks remaining in regular season schedules, depending on conference … Northern Michigan goaltender Atte Tolvanen (Vihti, Finland/Minot-NAHL), featured last week, extended his shutout streak to five games (tying Blaine Lacher's NCAA record) and 335:39 (39:22 shy of Lacher's record) … Four players – New Hampshire's Tyler Kelleher (Longmeadow, Mass./U.S. NTDP), Northeastern's Zach Aston-Reese (Staten Island, N.Y./Lincoln-USHL) and Union's Mike Vecchione (Saugus, Mass./Tri-City-USHL) and Spencer Foo (Edmonton, Alta./Bonnyville-AJHL) – have surpassed the 50-point mark, the fastest to 50 points (by date) since Johnny Gaudreau in 2013-14 … Ten games are on national or regional sports networks this weekend.