Thursday, February 23, 2017
Notes: Local Leads RMU
Four conferences wrap up regular season this weekend.
---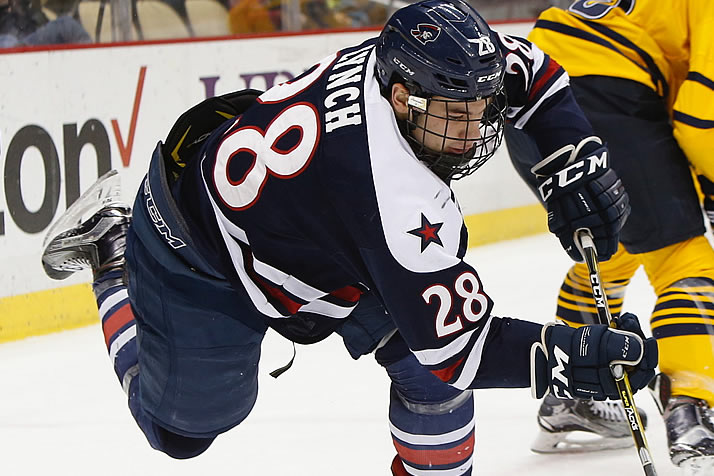 Luke Lynch has already surpassed his brother Zac's freshman year point total.
By Nate Ewell
Robert Morris hosts Niagara in the teams' regular-season finale Sunday at Heinz Field, and local product Luke Lynch (Pittsburgh, Pa./Johnstown-NAHL) will be among those leading the Colonials on the city's biggest athletic stage. Lynch – whose older brother, Zac, graduated as the program's all-time leading scorer last season – leads all Colonial rookies with 17 points and had his second two-goal game last weekend. RMU is fourth in Atlantic Hockey entering the weekend and whether it earns one of the conference's five first-round byes could come down to Sunday's outdoor game.
In the Spirit of Hockey Week Across America: Our State-by-State MVPs
---
Must Read/See/Hear Material
The Province: Gaudette's rapid rise has Canucks mapping pro plan
Land of 10: The incredible ascent of Hockey Valley
MyHockey Rankings: A look at college hockey with Mike Snee
The Hockey Writers: NCAA defensemen gaining popularity
Duluth News Tribune: Raskob hungry to help UMD end conference title drought
Denver Post: Lukosevicius becoming household name for Denver
Boston Herald: Lang has AIC going in right direction
The Gazette: Distractions gone, Reid back being physical forward Air Force needs
Minnesota Daily: Bristedt's journey at Minnesota combines hockey and education
The Pipeline Show: Dave Starman and more
N.J. Devils: All-Access: Santini & Wood
---
Five More Storylines No One Should Be Without
Brotherly love fuels Hughes – This weekend's Border Battle between Minnesota and Wisconsin features the top two teams in the Big Ten and one of the nation's hottest scorers in Badger junior Cameron Hughes (Edmonton, Alta./Spruce Grove-AJHL/BOS). Hughes carries a 12-game point streak into the series; meanwhile, Cameron's 10-year-old brother, Ethan, is battling kidney cancer. Two weeks ago Ethan and their parents were in Madison as Cameron continued that streak, and Todd Milewski of the Wisconsin State Journal featured the two brothers. | Friday and Saturday's games are on FOX Sports North+
Union's unsung hero – Conference titles in Atlantic Hockey, ECAC Hockey and Hockey East are all up for grabs as their regular-season play concludes this weekend. Union has a one-point edge in ECAC Hockey, seeking its fourth title in seven years. No team has scored more goals than the Dutchmen and their high-scoring first line gets much of the credit, but senior defenseman Jeff Taylor (Clifton Park, N.Y./Dubuque-USHL/PIT) has chipped in nine goals, equaling his career total in his first three years. Taylor's four game-winning goals are the most of any defenseman in the nation and his six power-play goals rank second. Nearly two-thirds of Taylor's 29 points have come while quarterbacking the Union power play.
Blueline offense powers Chargers – Two teams will miss the WCHA tournament, which means Alabama-Huntsville, in ninth place, will need to gain ground in its series at Bowling Green. The Chargers get a lot of offense from their defense, led by sophomores Cam Knight (Reading, Mass./Wichita-NAHL) and Kurt Gosselin (Brighton, Mich./Alberni Valley-BCHL). Gosselin is one of two blueliners nationwide with a hat trick this season. He could provide a boost as he is expected to return this weekend after missing three games due to injury.
Most Goals from Defensemen, by Pct.
28.9% – Michigan Tech (28 of 97, also leads in total goals)
27.1% – Quinnipiac (26/96)
27.0% – Alabama-Huntsville (20/74)
26.7% – Michigan (20/75)
25.6% – St. Lawrence (23/90)
Larkin leads Miami – In a year featuring an impressive crop of freshmen goaltenders – including seven of the nation's top 16 in save percentage – no rookie has played a higher proportion of his team's minutes than Miami's Ryan Larkin (Clarkston, Mich./Cedar Rapids-USHL). The NHL Draft-eligible cousin of the Detroit Red Wings' Dylan also has a brother in Division I, as Adam (Clarkston, Mich./Muskegon-USHL) is the top defensive scorer for Yale. This weekend Ryan stares down a top-two team in the nation for the second weekend in a row as the RedHawks are at Minnesota Duluth. | Thursday's game is on FOX Sports North/FOX Sports Ohio
Oglevie's improvement – Notre Dame carries a six-game unbeaten streak into the final weekend of the regular season, with the inside track on a first-round bye in the Hockey East tournament and an outside chance at the regular-season title. The development of sophomore Andrew Oglevie (Fullerton, Calif./Cedar Rapids-USHL) has given the team crucial depth beyond Anders Bjork (Mequon, Wisc./U.S. NTDP/BOS) and with Connor Hurley out for the year. Oglevie, who has points in 13 of his last 15 games, added strength in the offseason and has added 25 points to his freshman total of 9. He trails only Bjork on the team and is tied for 11th among all conference players with 34 points. | Friday's game is on American Sports Network
Biggest Point Improvements since 2015-16
+29 – Spencer Foo, Union
+26 – Alex Tonge, RMU
+26 – Sebastian Vidmar, Union
+25 – Michael McNicholas, UNH
+25 – Andrew Oglevie, Notre Dame
+25 – Jason Salvaggio, UNH
+25 – Mike Vecchione, Union
---
NHL Note of the Week
With the end of college seasons approaching, so too is college free agent season. Last year 24 undrafted NCAA players signed NHL contracts after the season. This season 72 undrafted NCAA alumni have appeared in the NHL, which comprises 57% of all undrafted players in the league.
---
Fries at the Bottom of the Bag
ICYMI, College Hockey Inc. launched its updated web site last week … Nine games last Saturday went into overtime … Three seniors sit atop the national scoring leaderboard for the first time since 2011-12 … Boston University's Clayton Keller (Swansea, Ill./U.S. NTDP/ARI) is the top-rated NHL prospect not currently in the league according to TSN's Craig Button.