Tuesday, March 14, 2017
46 Invited to NTDP Evaluation Camp
---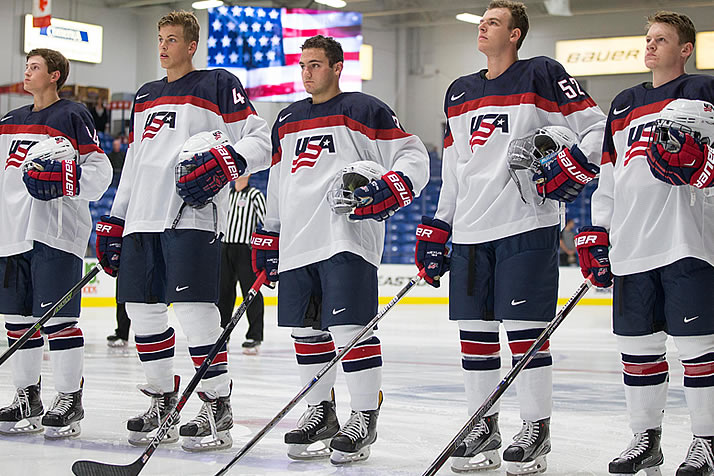 Forty-six top players from the 2001 birth year will convene in Plymouth, Mich., March 24-28 for USA Hockey's National Team Development Program Evaluation Camp.
The 46 players – which include 25 forwards, 16 defensemen and five goaltenders – will be divided into two teams for on-ice practices, off-ice training and five games.
Twelve schools have committed recruits invited to the camp, led by rivals Boston College and Boston University with six each. Harvard (four) and Minnesota (three) are the other schools with more than two commits invited.
Nineteen states are represented on the roster.
Games at USA Hockey Arena are set for March 25 (3:30 p.m.), March 26 (10 a.m. and 5:30 p.m.), March 27 (4 p.m.) and March 28 (9:30 a.m.).
First Name
Last Name
Hometown
NCAA Commitment
2016-17 Team

Forwards
John
Beecher
Elmira, N.Y.
Salisbury School
Jeffrey
Bertrand
Anchorage, Alaska
Alaska Oilers U15
Kaden
Bohlsen
Willmar, Minn.
Minnesota
Shattuck St. Mary's
Matthew
Boldy
Millis, Mass.
Boston College
Dexter School
Cole
Caufield
Mosinee, Wis.
Ohio State
Stevens Point Area HS
Judd
Caulfield
Grand Forks, N.D.
North Dakota
Grand Forks Central HS
John
Farinacci
Chatham, N.J.
Harvard
Shattuck St. Mary's
Sean
Farrell
Hopkinton, Mass.
Harvard
St. Mark's School
Michael
Gildon
Plano, Texas
Dallas Stars U16
Jake
Hale
Minneapolis, Minn.
Minnesota Duluth
Minneapolis HS
Kyle
Harris
East Aurora, N.Y.
Toronto Marlboros
Jack
Hughes
Orlando, Fla.
Toronto Marlboros
Arthur
Kaliyev
New York, N.Y.
Compuware U16
Owen
Lindmark
Naperville, Ill.
Wisconsin
Chicago Mission U16
Robert
Mastrosimone
East Islip, N.Y.
Boston University
Shattuck St. Mary's
Patrick
Moynihan
Millis, Mass.
Boston College
Noble & Greenough
Joshua
Nodler
Oak Park, Mich.
Michigan State
Honeybaked U16
Tyler
Paquette
Collegeville, Pa.
Penn State
The Hill School
Ryan
Robinson
Plano, Texas
Dallas Stars U16
Ryder
Rolston
Birmingham, Mich.
Little Caesars U16
Lukas
Svejkovsky
Point Robers, Wash.
Delta Academy Elite U15
Luke
Toporowski
Bettendorft, Iowa
Chicago Mission U16
Alex
Turcotte
Walled Lake, Mich.
Wisconsin
Chicago Mission U16
Danny
Weight
Lattingtown, N.Y.
PAL Jr. Islanders U16
Trevor
Zegras
Bedford, N.Y.
Boston University
Avon Old Farms

Defensemen
Jake
Boltmann
Edina, Minn.
Minnesota
Edina HS
Braden
Doyle
Lynnfield, Mass.
Boston University
Lawrence Academy
Dominick
Fensore
Thornwood, N.Y.
Quinnipiac
PAL Jr. Islanders U16
Marcus
Gretz
Albuquerque, N.M.
Ohio State
Belle Tire U16
Drew
Helleson
Farmington, Minn.
Boston College
Shattuck St. Mary's
Ryan
Johnson
Irvine, Calif.
Anaheim Jr. Ducks U16
Nicholas
Kent
Ladera Beach, Calif.
Quinnipiac
Delta Academy Elite U15
Michael
Koster
Chaska, Minn.
Minnesota
Chaska HS
Case
McCarthy
Clarence Center, N.Y.
Boston University
Buffalo Jr. Sabres U16
Ryan
Siedem
Madison, N.J.
Boston College
Avon Old Farms
Nathan
Staios
Atlanta, Ga.
Vaughan Kings
Henry
Thrun
Southborough, Mass.
Harvard
St. Mark's School
Alex
Vlasic
Wilmette, Ill.
Boston University
Chicago Mission U16
Marshall
Warren
Laurel Hollow, N.Y.
Harvard
North Jersey Avalanche U16
Cade
Webber
Meadville, Pa.
Boston University
Rivers School
Cam
York
Anaheim Hills, Calif.
Boston College
Shattuck St. Mary's

Goaltenders
Alexandros
Aslanidis
Moorestown, N.J.
Providence
Philadelphia Jr. Flyers U16
Mack
Guzda
Knoxville, Tenn.
Honeybaked U16
Spencer
Knight
Darien, Conn.
Boston College
Avon Old Farms
Josh
Langford
Frisco, Texas
Dallas Stars U16
Cameron
Rowe
Wilmette, Ill.
Team Illinois U16