Wednesday, March 8, 2017
Notes: SCSU Series a Homecoming
It's do-or-die in five conferences, while Minnesota pursues another Big Ten title
---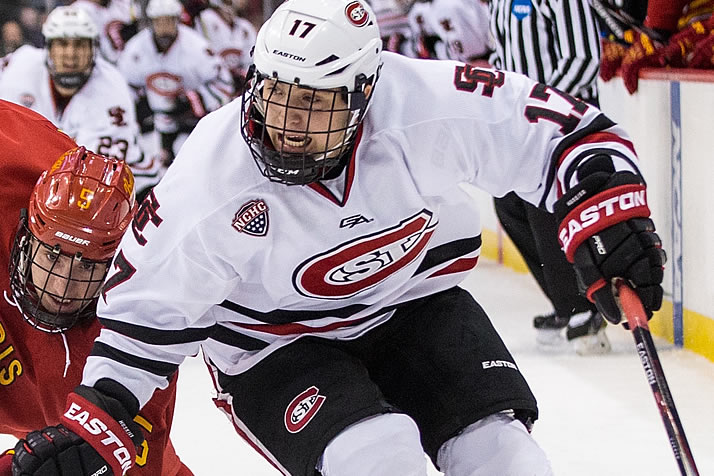 Jacob Benson has built upon his four-goal freshman season, scoring 10 already this year.
By Nate Ewell
St. Cloud State visits North Dakota in one of the most compelling playoff matchups of the weekend, and it's a homecoming for Husky sophomore Jacob Benson (Grand Forks, N.D./Dubuque-USHL). Benson, who grew up a UND fan, was a healthy scratch at time early in his college career. He started to produce offensively late last season and this year ranks fourth among Huskies in goals (10) and fifth in points (20). Benson and classmate Jon Lizotte (Grand Forks, N.D./Minot-NAHL) won a state title at UND's Ralph Engelstad Arena while teammates at Red River High School.
---
Must Read/See/Hear Material
Grand Forks Herald: Poolman: From tryout camps to NHL prospect
College Hockey News: Raising the Bar
NU's Zach Aston-Reese: Boston Globe | Sports Illustrated
Mankato Free Press: From Utah to MSU, Brickley has created a buzz
St. Cloud Times: Hockey-addicted Cholowski grows as a player
New Haven Register: Yale freshman Sweezey emerging as leader among defensemen
The Players' Tribune: Life, hockey and everything in between
The State News: 'It never stops': life as a head coach
Land of 10: Improving local talent will help Penn State
SBN College Hockey: Pinho's development keys surge for Friars
BGSUHockey.com: Pohlkamps sharing Falcon experience
GoHolyCross.com: A hockey family
---
Five More Storylines No One Should Be Without
Hotbed borough – Staten Island, N.Y., is far from a hockey hotbed – according to hockey-reference.com only one NHLer in history has hailed from what some locals call "the forgotten borough". Two Staten Islanders will play a big role in the Hockey East playoffs, however, as seniors Zach Aston-Reese (Lincoln-USHL) of Northeastern and Joe Gambardella (Des Moines-USHL) of UMass Lowell are both among the conference's top five scorers and candidates for All-Hockey East honors. Aston-Reese and Gambardella – two of the three men's Division I players who list Staten Island as their hometown – are among the top 11 scorers in the country this year and among the top 12 active career scorers.
Bischoff leading UM – Minnesota enters the final weekend of the regular season with a three-point lead in the Big Ten race, within sight of a sixth straight conference title – a feat no Division I team has ever accomplished. Defenseman Jake Bischoff (Grand Rapids, Minn./Grand Rapids HS/NYI) has been a mainstay for the past four years, but is playing a significantly larger role as a senior. The winner of the team's unsung hero award for two years in a row, Bischoff is in line for conference and national postseason honors this year. Bischoff is one of seven siblings and his father, Grant, is a former Gopher captain.
Most Consecutive Regular-Season Conference Titles
5 – Boston University, 1994-98 5 – Minnesota, 2012-16
4 – Harvard, 1986-89
Battle of the bridge – Niagara's upset of RIT set up a rivalry series in the Atlantic Hockey quarterfinals, as the Purple Eagles – who had just three regular-season wins – head across town to face Canisius this weekend. It's the second year in a row the rivals have met, with Canisius claiming last year's first-round series in three games. The Golden Griffins swept all four games with Niagara in the regular season, with local product Ryan Schmelzer (Buffalo, N.Y./Buffalo-OJHL) chipping in points in each game. Schmelzer has helped fuel Canisius's 15-game unbeaten streak with 17 points in that stretch after recording 11 points in the first 19 games of the season. He leads the team with 105 shots on goal and a +13 rating.
Young Bemidji D – Bemidji State is two wins away from hosting the WCHA championship game thanks in large part to the best defense in the nation (1.87 goals against per game). Junior goaltender Michael Bitzer (Moorhead, Minn./Lincoln-USHL) backstops an unheralded defense corps that last weekend featured five freshmen and sophomores. Rookie Zach Whitecloud (Brandon, Man./Virden-MJHL) leads the blueliners in scoring, including a recent six-game point streak. | Bemidji Pioneer: Whitecloud embraces Native heritage
Josephs' production jumps – Clarkson is 6-2-1 in the nine games entering its ECAC Hockey quarterfinal series at Cornell, sparked by four two-goal games from senior Troy Josephs (Whitby, Ont./St. Michael's-OJHL/PIT) in the last five games. Josephs, who had 10 goals in his first three seasons combined, has 19 as a senior and is one of the nation's most improved players. Only Aston-Reese, with eight has more multiple-goal games than Josephs (7).
Biggest Goal Increases, 2015-16 to 2016-17
+20 – Jason Salvaggio, UNH
+19 – Matheson Iacopelli, WMU
+17 – Alex Tonge, RMU
+16 – Zach Aston-Reese, NU
+15 – Mike Vecchione, Union
+14 – Adam Gaudette, NU
+14 – Troy Josephs, Clarkson
Biggest Point Increases, 2015-16 to 2016-17
+33 – Michael McNicholas, UNH
+31 – Spencer Foo, Union
+30 – Jason Salvaggio, UNH
+29 – Mike Vecchione, Union
+28 – Dylan Sikura, NU
+28 – Alex Tonge, RMU
+28 – Sebastian Vidmar, Union
---
NHL Note of the Week
Former Notre Dame teammates Robbie Russo (Detroit) and T.J. Tynan (Columbus) both made their NHL debuts Tuesday night. Russo and Tynan both spent four years in South Bend; in all, 70% of the former NCAA players in the NHL played three or four years of college hockey. | 2017 Pro Signings
---
Fries at the Bottom of the Bag
Army West Point and head coach Brian Riley will host Mercyhurst – and Riley's sons, Jack and Brendan – this weekend … Yale's John Hayden (Greenwich, Conn./U.S. NTDP/CHI) is the third player in the last five years to average more than 5.0 shots per game for a season (5.23, joining Casey Bailey and Frank Vatrano, both in 2014-15) … Princeton's 15 wins match its total from the last three seasons combined.