Friday, March 24, 2017
NY Times Highlights Growth Efforts
As hockey has grown at the youth level, Division I has not kept pace.
---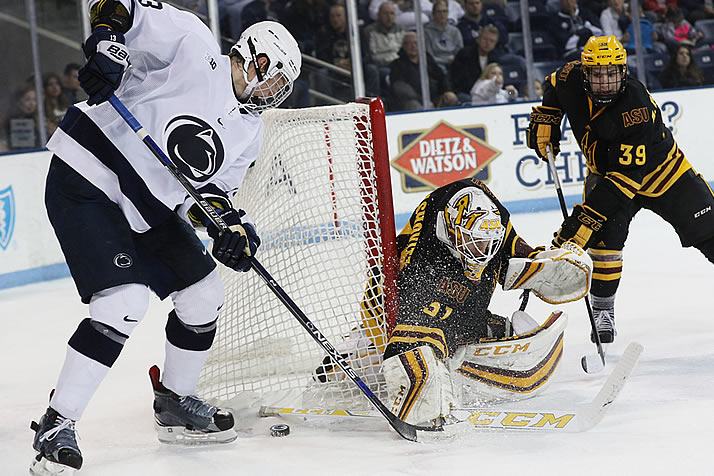 Penn State and Arizona State are the two most recent teams to join Division I (Photo by Craig Houtz).
The number of elite hockey players, particularly in the United States, continues to grow. The success of former NCAA players in the NHL has encouraged top European and Canadian players to pursue NCAA careers.
Meanwhile, the number of opportunities at the NCAA Division I men's level hasn't kept pace with that demand. Gary Santaniello examined that phenomenon in an article published Friday in the New York Times.
"Though there are a limited number of roster spots in Division I," Santaniello writes:
"[Arizona State head coach Greg] Powers said the current climate helped the prospective player 'because there are so many good programs.'
"As evidence, four of the past six N.C.A.A. champions were first-time winners. Only half of the 16-team field of last year's N.C.A.A. tournament returned for this year's tournament, and no conference tournament champion repeated in 2017. More than half of all Division I teams (34) have reached the N.C.A.A. tournament in the last five years."
That parity will be on display in the next two weeks as the top 16 teams this season compete for the NCAA championship.
Meanwhile, leaders in the sport, including College Hockey Inc., continue to pursue potential future programs to join the likes of Penn State – which makes its NCAA Tournament debut Saturday – and Arizona State, both of whom have joined Division I in the last five years.
A few years ago College Hockey Inc., the NHL, USA Hockey and other leaders in the game formed a group dubbed The Campus Effect in an effort to spur on further growth.
Bill Daly, Deputy Commissioner of the NHL, has been part of those efforts and spoke with Santaniello:
" 'The quality and depth that can be recruited to Division I has never been deeper,' Daly said.
"Daly added that the league was working with member clubs on ways to promote growth in college hockey. Thus far, he said, 'We've only scratched the surface.'"
Be sure to check out Santaniello's story for more on the challenges facing proponents of Division I growth as well as the other levels of the college game benefitting from the growth of the sport.