Tuesday, March 28, 2017
Storylines to Watch in Chicago
Four elite teams meet at United Center for the 2017 Frozen Four.
---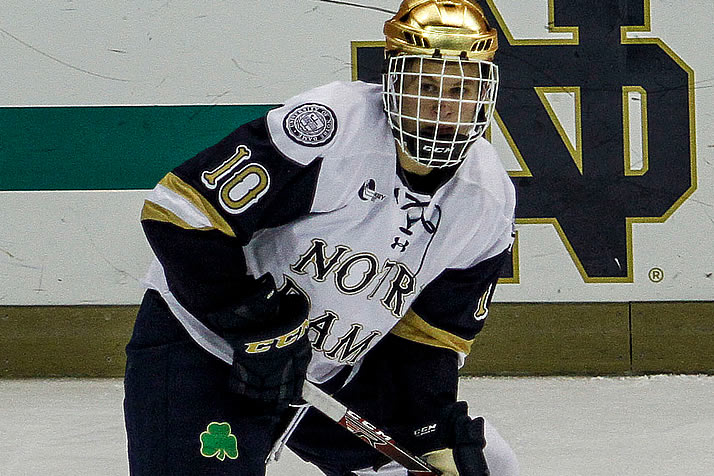 Notre Dame junior Anders Bjork is the top-scoring player entering the Frozen Four with 52 points on the year.
By Nate Ewell
Thursday, April 6
6 p.m. ET: Harvard vs. Minnesota Duluth (ESPN2/TSN GO)
9:30 p.m. ET: Denver vs. Notre Dame (ESPN2/TSN GO)

Saturday, April 8
8 p.m. ET: Championship Game (ESPN/TSN GO)
---
Elite field – The 2017 NCAA Frozen Four is just the second in the tournament's 16-team history (since 2003) that the top three seeds in the tournament advanced to the Frozen Four (also 2014).
---
Experienced leaders – All four head coaches have won NCAA championships, either as coaches (Notre Dame's Jeff Jackson and Minnesota Duluth's Scott Sandelin) or as players (Denver's Jim Montgomery and Harvard's Ted Donato). Montgomery and Donato were both named the tournament's Most Outstanding Player when they won it and hope to join four men who have won titles as both player and head coach: Dean Blais, Mike Eaves, George Gwozdecky and Al Renfrew.
---
Future stars – More than half of all NHL teams (17 of 30) have draft picks in the Frozen Four (27 total), with several other free agent and 2017 NHL Draft prospects in the mix as well. Harvard and Notre Dame lead the schools with eight draft picks apiece on their rosters, while Boston, Buffalo and Florida each have three prospects in the field to lead NHL teams.
---
New face? – The last six NCAA championships have been won by six schools, and Minnesota Duluth is the only Frozen Four entrant among that group. Four of the last six champions were first-time winners, and Notre Dame could join that group. The other three semifinalists have combined to win nine NCAA titles (seven for Denver, one each for Harvard and Minnesota Duluth).
---
The roads traveled – A bit on the paths to Chicago for each of the four semifinalists:
Denver: The Pioneers rebounded from an 0-2-0 start and had unbeaten streaks of 15 and 13 games, solidifying one of the top two spots in the polls for most of the season. They entered the tournament as the No. 1 seed and are led by four players with more than 35 points – a trio of underclassmen at forward and senior defenseman Will Butcher (Sun Prairie, Wis./NTDP/COL). They are the only Frozen Four returnee from last season.
Harvard: A talented senior class led Harvard to its first Beanpot title since 1993, an ECAC regular-season co-championship and the ECAC Tournament title. The Crimson head to Chicago boasting a school-record 18-game unbeaten streak (17-0-1) and the best offense in the nation.
Minnesota Duluth: The Bulldogs opened the season with eight straight games against NCAA Tournament teams and went 5-1-2, and they were among the top three teams in the country virtually all year. UMD features a balanced offense – it doesn't have a 20-goal scorer, while the other teams each have two – and one of the nation's top freshmen goaltenders in Hunter Miska (Stacy, Minn./Dubuque-USHL).
Notre Dame: The only team that wasn't the No. 1 seed in its region, Notre Dame beat Minnesota and avenged a Hockey East semifinal loss to UMass Lowell to advance. Anders Bjork (Mequon, Wis./NTDP/BOS) is the top scorer in the Frozen Four and leads a talented Irish junior class.
---
Captains' log – College hockey captains typically boast fascinating stories, and the leaders of these four teams are no exception:
Denver: Defenseman Will Butcher (Sun Prairie, Wis./NTDP/COL) is a returning All-American who has been even better as a senior, much like the Pioneers as a team. He is one of three Hobey Baker top 10 finalists to make the Frozen Four (with Alexander Kerfoot and Anders Bjork).
Harvard: Alexander Kerfoot (West Vancouver, B.C./Coquitlam-BCHL/NJ) and Devin Tringale (Medford, Mass./Valley-EJHL) are co-captains leading an eight-member class that has won 78 games at Harvard, the most at the school in more than a decade.
Minnesota Duluth: Senior Dominic Toninato (Duluth, Minn./Fargo-USHL/TOR) is a second-generation Bulldog and the leader of a formidable group of local players on the UMD roster.
Notre Dame: The only goaltender in the nation to wear the 'C' this season, junior Cal Petersen (Waterloo, Iowa/Waterloo-USHL/BUF) has started 89 straight games, the fourth-longest streak in Division I history. He shared his path to Notre Dame with The Players' Tribune last week.
---
Home state – Only Minnesota (29) and Wisconsin (8) have produced more players in the Frozen Four than Illinois (7, tied with Colorado). The Land of Lincoln ranked fourth among states producing players on the 16 tournament teams with 24 and was the only state in the top eight that isn't home to a Division I program. The Illinois natives in the Frozen Four:
Denver: Erich Fear (Winnetka), Greg Ogard (Wilmette)
Harvard: Adam Baughman (Chicago), Michael Floodstrand (Hinsdale)
Notre Dame: Tody Dello (Crystal Lake), Jack Jenkins (Lake Bluff), Bobby Nardella (Rosemont)
---
Hey, neighbors – In addition to the Illinois natives in the field, 11 players hail from states neighboring Illinois. Eight are from Wisconsin, including Hobey Baker top-10 finalists Will Butcher (Sun Prairie) and Anders Bjork (Mequon).
---
O from the D – All four teams feature defensemen who are active offensively, with a blueliner on each team among the top 11 nationally in scoring.
Most Points by Defensemen, Frozen Four Participants
39 – Adam Fox, Harvard (1st nationally)
36 – Will Butcher, Denver (t-2nd)
33 – Neal Pionk, Minnesota Duluth (t-5th)
31 – Jordan Gross, Notre Dame (t-9th)
---
Legacies – Key players on each team have family histories in the game. Among them:
Denver: Will Butcher's father, Joe, won two NCAA Division III titles with Wisconsin-Stevens Point (1989, '90) … Tyson McLellan's father, Todd, is the head coach of the Edmonton Oilers and a former NHLer … Logan O'Connor's father, Myles, was a star at Michigan and played in the NHL.
Harvard: Ryan Donato's father, Ted, won the 1989 NCAA title with Harvard and went on to play 796 NHL games … Luke Esposito's uncle is Hall of Famer Mark Messier … Tyler Moy's father, Randy, played at Western Michigan and his uncle, Rodger, played at Michigan Tech … Ty Pelton-Byce's father, John, played at Wisconsin and in the NHL.
Minnesota Duluth: Dominic Toninato's father, Jim, also played at UMD and was on the school's first Frozen Four team, in 1984.
Notre Dame: Leading scorer Anders Bjork's father, Kirt, also played at Notre Dame … Dylan Malmquist's father, Derek, played at Harvard.
---
On a roll – The four participating teams rank among the top seven nationally in winning percentage since Christmas, with a combined 68-15-9 record (.788) in that time.
Best Winning Percentage, Since Christmas
.854 – Harvard (20-3-1)
.812 – Denver (19-4-1)
.792 – Air Force (18-4-2)
.773 – Minnesota Duluth (15-3-4)
.773 – Canisius (15-3-4)
.739 – UMass Lowell (17-6-0)
.705 – Notre Dame (14-5-3)
---
20-20 vision – Seven teams in the nation had multiple 20-goal scorers and three of them are in Chicago. Minnesota Duluth is the only team in the field without a 20-goal scorer, but its goal-scoring leaders have 19 (Alex Iafallo) and 18 (Adam Johnson).
Most Goals, Frozen Four Participants
22 – Troy Terry, Denver
21 – Anders Bjork, Notre Dame
21 – Henrik Borgstrom, Denver
21 – Ryan Donato, Harvard
21 – Tyler Moy, Harvard
21 – Andrew Oglevie, Notre Dame
19 – Alex Iafallo, Minnesota Duluth
---
Class by themselves – Harvard's senior class has more goals (78) and points (191) than any other class from one team – 16% more goals than the next closest class (UMass Lowell's juniors) and 22% more points (Penn State's freshmen). Among senior classes, Minnesota Duluth ranks second in goals (58) and points (152).
Highest Scoring Classes, Frozen Four Teams
Harvard seniors: 78-113—191
Notre Dame juniors: 52-103—155
Minnesota Duluth seniors: 58-94—152
Denver sophomores: 64-87—151
---
From all over the map – Players from five countries, 18 states, six Canadian provinces and the District of Columbia are in the four-team field. Minnesota leads all states and provinces with 29 players in the Frozen Four.
By State
29 – Minnesota
8 – Wisconsin
7 – Colorado, Illinois
6 – Massachusetts, New York
4 – California
3 – Connecticut
2 – Missouri
1 – District of Columbia, Florida, Georgia, Iowa, Michigan, Nebraska, North Dakota, Washington

By Province
11 – British Columbia
7 – Alberta
3 – Quebec, Ontario
2 – Saskatchewan
1 – Nova Scotia

By Country
80 – United States (74%)
27 – Canada (25%)
1 – Austria, Finland, Sweden
---
NOTEWORTHY
Teams that have led after two periods in the 2017 tournament are 8-0 … The four teams in the field are 82-1-4 when leading after two periods … This marks just the second time since 1970 that none of the five schools with the most Frozen Four appearances – Boston College, Michigan, Boston University, North Dakota and Minnesota – are in the Frozen Four (also 2012) … Three NHL teams have teammates whose alma maters will be facing off in the semifinals: New Jersey (Beau Bennett vs. Kyle Palmieri), NY Islanders (Scott Mayfield vs. Anders Lee) and Tampa Bay (Alex Killorn vs. J.T. Brown/Jason Garrison) … United Center is the eighth NHL arena to host an NCAA game this year … Twelve players in the field – with at least one per team – were part of USA Hockey's National Team Development Program, and 62 played (including those 12) played in the USHL … Harvard's John Marino and Notre Dame's Tory Dello were teammates on the Tri-City Storm team that won the USHL's Clark Cup last season.

Denver: Henrik Borgstrom is one of six freshmen nationwide to lead his team in scoring (other teams: AIC, Boston University, Michigan, Minnesota State, Penn State) … Tanner Jaillet's seven career NCAA games are the most by a goaltender since Boston College's John Muse (9 GP, 2008-10) … The top faceoff team among the four (54.4%) … Leads the nation in second-period goals (64) … Troy Terry's five points vs. Penn State were the most in a tournament game since Johnny Gaudreau had six vs. Denver in 2014 … The Midwest Regional Final was the 100th win for head coach Jim Montgomery and the program's senior class; only North Dakota (109) and Quinnipiac (102) have more wins in that time … Jim Montgomery's first year of coaching was as a volunteer assistant coach under Jeff Jackson at Notre Dame.

Harvard: The Crimson's 18-game unbeaten streak is the longest for a team entering the Frozen Four since Northern Michigan's in 1991 (22-0-2); its 16-game winning streak is the longest for a team entering the Frozen Four since Boston College in 2012 (17) … Tied with Boston College for the national lead with 11 shorthanded goals … Leads the nation in third-period goals (56) … Ryan Donato is the only player in the field with more than one career hat trick and the only one with a four-goal game to his credit … The 22-year gap between Frozen Four appearances for Harvard is tied for the sixth-longest all-time (Yale-60 years, Colorado College-38, Dartmouth and Providence-29, St. Lawrence-25, Cornell-22).

Minnesota Duluth: Eight of the top 20 goaltenders nationally in save percentage were freshmen this year, but Hunter Miska is the only one in the Frozen Four … Its five overtime wins on the year are the most nationally (5-0-7 in OT), including two in the West Regional … Kyle Osterberg (3) is the only player in the Frozen Four with more than one career overtime goal … Karson Kuhlman won the USHL's Clark Cup under Jim Montgomery with the Dubuque Fighting Saints in 2013, where he was teammates with Denver's Evan Janssen and Dylan Gambrell.

Notre Dame: Blackhawks general manager Stan Bowman is a Notre Dame alum … Cal Petersen's 89 consecutive starts ranks fourth all-time in Division I … Notre Dame is the only team to win a game in the tournament after trailing at some point after the first intermission, and the Irish did so in both games at the Northeast Regional … Notre Dame's junior class has combined for 155 points, 100 more than any of the other three teams … Anders Bjork is just the second player to be a finalist for both the Hobey Baker Award and the Hockey Humanitarian Award (also Miami's Cody Reichard, 2012).