Monday, March 20, 2017
Top Tournament Storylines for 2017
Chase for Chicago begins with NCAA Regionals this weekend.
---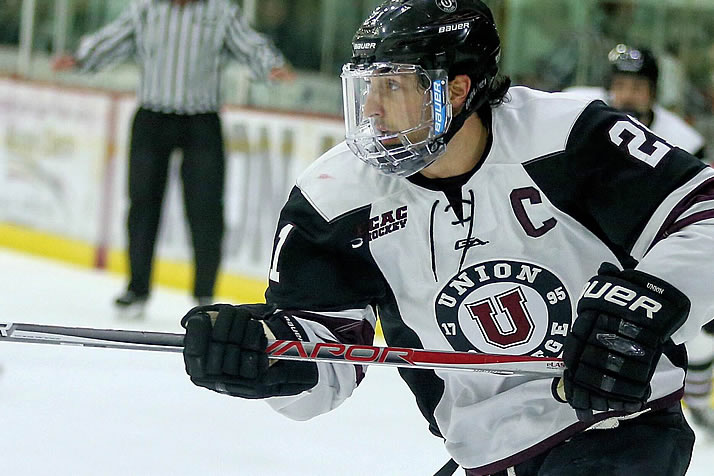 Union's Mike Vecchione is the top scorer in the tournament, both for this season (62 points) and career totals (175).
By Nate Ewell
Who's next? – Six schools have won the last six national championships, including four first-time winners. Those six different champions include only one of the top four seeds and four teams in the field.
2017 Men's Ice Hockey Bracket: Interactive - Printer-friendly bracket (.pdf)
---
New faces – Each region features at least one team that has never won a title, and eight of the 16 teams did not make the tournament a year ago. Penn State is making its first appearance in the tournament in just the fifth year of its Division I program. Only three schools – Denver, North Dakota and Providence – have made the tournament for at least four straight years.
NCAA Tournament Media Kit (.pdf)
---
Elite field – For the first time since the advent of the 16-team tournament in 2003, every team in the field enters with more than 20 wins.
---
View the future – All 30 NHL teams have at least one draft pick in the tournament, with a total of 96 drafted players on the 16 rosters (Air Force is the only team without an NHL draft pick). Chicago, which hosts the Frozen Four at United Center, has the most draft picks in the tournament with seven. Minnesota (13), Boston University (11) and North Dakota (10) have the most draft picks on their rosters. Eight first-round picks are in the field.
Draft Picks Playing NCAA Hockey
While most players are drafted prior to arriving at college, some – like Jake Oettinger (BU) and Denis Smirnov (Penn State) – are eligible for the 2017 NHL Draft.
Forty-nine NCAA schools have had a former player in the NHL this season, including 15 of the 16 teams in the tournament (Air Force is the lone exception). Thirty percent of all NHL players developed in NCAA hockey.
---
Experience counts – After freshmen led Division I in scoring for two years in a row, the top six scorers this season are all juniors and seniors. Only two of those – Union's Mike Vecchione and Spencer Foo – are in the tournament, but the role of experience remains critical. Nine of the top 16 scorers in the tournament are seniors (three others are juniors).
Top-scoring senior classes:
185 points – Harvard (75g-110a)
144 – Minnesota Duluth (55g-89a)
137 – Minnesota (46g-91a)
121 – Michigan Tech (47g-74a)
120 – UMass Lowell (32g-88a)
---
Impact rookies – Three freshmen lead their teams in scoring, including Finnish sensation Henrik Borgstrom of No. 1 overall seed Denver. He is joined by a fellow European in Penn State's Denis Smirnov and a fellow first-round NHL draft pick in Boston University's Clayton Keller. Six of the nation's top seven freshmen in scoring made the field:
Most Points, Tournament Freshmen
45 – Denis Smirnov, Penn State
42 – Clayton Keller, Boston University (ARI)
38 – Henrik Borgstrom, Denver (FLA)
36 – Adam Fox, Harvard (CGY)
35 – Tyson Jost, North Dakota (COL)
34 – Patrick Harper, Boston University (NSH)
Freshmen may have had their biggest impact in college hockey this season in goal, where 10 of the top 24 leaders in save percentage are rookies. Six NCAA Tournament teams have freshman starting goaltenders; that matches the number of goalies in the field who have any NCAA Tournament experience (and two of those six are backups). Only three teams – Cornell, Ohio State and Union – have senior starting goaltenders.
Best Save Percentage, Freshmen Tournament Goalies
.927 – Jake Oettinger, Boston University
.920 – Angus Redmond, Michigan Tech
.918 – Ben Blacker, Western Michigan
.917 – Hunter Miska, Minnesota Duluth
.917 – Tyler Wall, UMass Lowell (NYR)
.907 – Peyton Jones, Penn State
---
Winding toward the Windy City – Eleven of the 16 teams have an Illinois native on their roster as teams pursue a spot in Chicago. Only Minnesota (89), Massachusetts (31) and Michigan (28) boast more than Illinois's 24 players in the tournament. Those include some of the most impactful players, like leading scorers on Air Force (Jordan Himley) and Boston University (Clayton Keller) and Union goaltender Alex Sakellaropoulos.
---
European influence – A record number of Europeans played Division I this season (82) and 22 are in the NCAA Tournament. Henrik Borgstrom (Denver, Finland) and Denis Smirnov (Penn State, Russia) are two freshmen who lead their teams in scoring and could meet in the second round. Boston University, Minnesota and Union also have European players among their top five scorers.
---
O from the D – Michigan Tech reached the NCAA Tournament thanks to a double-overtime goal by defenseman Shane Hanna, fitting for a team that has more goals (38) and points (133) from defensemen than any other team in at least five years. Six of the nation's top eight scoring defensemen are in the tournament, led by Harvard freshman Adam Fox (36 points). Despite Michigan Tech's success from the blueline as a group, there are 11 defensemen in the tournament with more points than the Huskies' co-leaders, Hanna and Matt Roy (26 points each).
Top-Scoring Defense Corps
133 points – Michigan Tech (38g-95a)
119 – UMass Lowell (27g-92a)
112 – Penn State (30g-82a)
106 – Harvard (20g-86a)
102 – Providence (26g-76a)
100 – Notre Dame (22g-78a)
---
Hobey watch – Six of the ten finalists for the Hobey Baker Award are in the tournament. Three of those – including the only teammates up for the award, Union's Mike Vecchione and Spencer Foo – are in the Midwest Regional in Cincinnati.
---
NOTES BY REGION
Midwest Regional
Penn State and Union face off in a meeting of the third- and fourth-highest scoring teams nationally (in goals per game) … Union (5) and Penn State (1) rank 15th and 16th among teams in the field in all-time appearances … Mel Pearson, who has led Michigan Tech to two NCAA appearances, was an assistant coach on the Michigan team that won the national title in Cincinnati in 1996.

Northeast Regional
Both Iowa natives in the tournament are in Manchester, and both are elite players: Notre Dame goaltender Cal Petersen (Waterloo) and UMass Lowell leading goal scorer C.J. Smith (Des Moines) … Six coaches are coaching their alma mater in the tournament; Minnesota's Don Lucia (Notre Dame '81) is coaching against his alma mater in the first round … This region features the three coaches in the tournament who have made the most tourney appearances in their careers: Lucia (18), Jeff Jackson (14) and Mike Schafer (10).

East Regional
Air Force-Western Michigan is the only first-round rematch of regular season games this year (the Broncos went 1-0-1 in a November series in Kalamazoo) … Air Force goaltender Shane Starrett's brother, Beau, plays for Cornell in the Northeast Regional, approximately two hours away … Harvard is seeking its first tournament win since 1994 … Providence lost in the Hockey East quarterfinals and starts the tournament at the Dunkin' Donuts Center, just as it did en route to the NCAA championship two years ago.

West Regional
The Boston University-North Dakota game features eight of the top 45 NHL prospects in the world according to ESPN.com's Corey Pronman … Boston University and North Dakota have each made 22 Frozen Four appearances, tied for the most of any team in the field … Brock Boeser leads all tournament players with nine career points in NCAA games (4 GP) … Brad Berry (second season), David Quinn (fourth) and Steve Rohlik (fourth) have the three of the four briefest tenures at their school of any head coaches in the field (Jim Montgomery is also in his fourth season) … Ohio State's 32.5% power play is the best in college hockey in 30 years (Harvard, 1986-87, 35.9%) … Eight Fargo Force alumni are on three of the four rosters (none on BU).