Wednesday, April 12, 2017
Alums Begin Stanley Cup Chase
Penguins begin Cup defense with most NCAA alums of any team in history.
---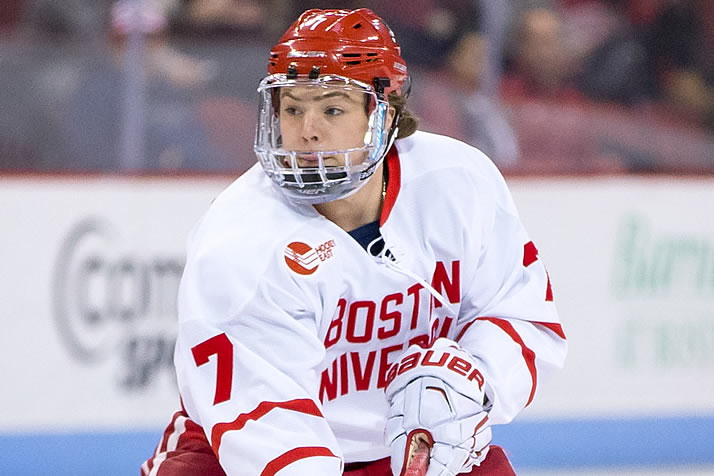 Charlie McAvoy is slated to make his NHL debut in the Stanley Cup playoffs for Boston.
After a record-setting regular season in terms of NCAA alumni participation in the NHL, scores of former college players will begin their pursuit of the Stanley Cup Wednesday night.
Related: Record Number, Percentage of Alums in NHL | NHL Matchup Tool
Last year's Stanley Cup champion Pittsburgh Penguins won with a record 13 former NCAA players getting their names on the Cup. The Pens will defend their title with a roster featuring even more NCAA alums. Sixty percent of Penguins' individual games played were from former college players in 2016-17, the most of any NHL team in history.
The Penguins open against the Columbus Blue Jackets in one of the most anticipated first-round series. Columbus is led by Cam Atkinson (Boston College), one of six team-leading goal scorers in the playoffs who played college hockey, and star rookie Zach Werenski (Michigan).
Werenski is among 63 former NCAA players who made their NHL debuts this season, a number that will grow to 64 in Game 1 of the Boston-Ottawa series. Boston University's Charlie McAvoy is expected to make his NHL debut in the playoffs. He will become the 12th player to appear in both the NCAA and NHL this season.
The Presidents' Trophy winning Washington Capitals could feature as many as nine alums in their lineup as they face Toronto in the first round.
---
Alumni captains
Two alumni captains meet in the Montreal-NY Rangers series, as Max Pacioretty's Canadiens face Ryan McDonagh's Rangers.
Out West, the last two teams to reach the Stanley Cup Final are captained by NCAA alums in San Jose (Joe Pavelski) and Chicago (Jonathan Toews). Pavelski's Sharks meet record-setting Edmonton Oiler goaltender Cam Talbot (Alabama Huntsville) in round one.
Elsewhere Johnny Gaudreau (Boston College) is one of two Hobey Baker Award winners in the field (joined by Jimmy Vesey with the Rangers). Gaudreau led Calgary in scoring in the regular season and will face Anaheim and a fellow Boston College alum, Patrick Eaves.
Eight schools could be represented in the Minnesota-St. Louis series, led by Minnesota, North Dakota and UMass Lowell with two alumni each.