Friday, April 7, 2017
Awards Unveiled in Chicago
All-Americans, other honorees celebrated on Frozen Four Friday.
---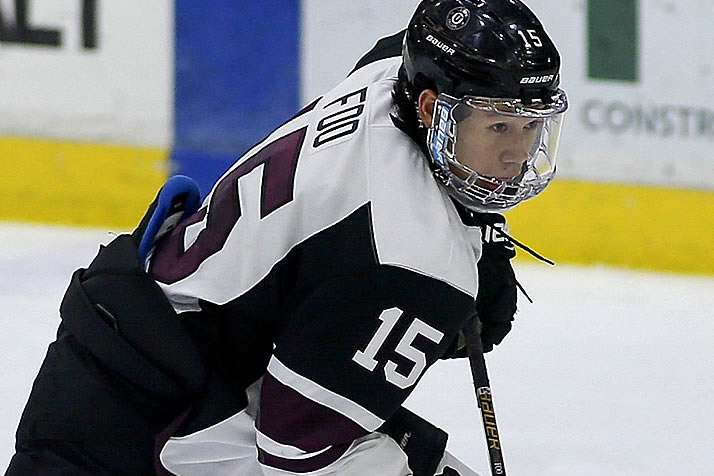 Spencer Foo was one of two Union forwards named a first-team All-American.
College hockey's biggest stars were celebrated Friday in Chicago, with awards presented for AHCA All-Americans and more.
Will Butcher headlined the honors, capturing the Hobey Baker Award in a ceremony televised live on NHL Network.
Butcher was joined by teammates Henrik Borgstrom (first team) and Tanner Jaillet (second team) on the AHCA All-America teams. Jaillet also captured the 2017 Mike Richter Award as the nation's top goaltender.
Denver (3), Harvard (2), Omaha (2), St. Lawrence (2) and Union (2) had the most All-America honorees of the 19 schools represented.
Two second-team All-Americans became part of just the fourth and fifth sets of father/son All-Americans in history. Notre Dame's Anders Bjork joined his father Kirt as an All-American, as did Omaha's Luc Snuggerud with his father, Dave.
The following are all of the awards announced on Friday:
Hobey Baker Award: Will Butcher, Denver
Hockey Humanitarian Award: Danny Divis & Justin McKenzie, St. Michael's College
Mike Richter Award: Tanner Jaillet, Denver
Tim Taylor Rookie of the Year: Clayton Keller, Boston University
Derek Hines Unsung Hero: Aidan Cavallini, Wisconsin
Senior CLASS Award: Brendan Harms, Bemidji State
AHCA/CCM All-American Teams
First Team

East

West

Charles Williams, SR, Canisius University
(Canton, MI)

Goalie

Michael Bitzer, JR, Bemidji State University
(Moorhead, MN)

Adam Fox, FR, Harvard University
(Jericho, NY)

Defense

Will Butcher, SR, University of Denver#
(Sun Prairie, WI)

Charlie McAvoy, SO, Boston University
(Long Beach, NY)

Defense

Tucker Poolman, JR, University of North Dakota
(East Grand Forks, MN)

Zach Aston-Reese, SR, Northeastern University
(Staten Island, NY)

Forward

Henrik Borgstrom, FR, University of Denver
(Helsinki, Finland)

Spencer Foo, JR, Union College
(Edmonton, AB)

Forward

Alex Iafallo, SR, University of Minnesota Duluth
(Eden, NY)

Mike Vecchione, SR, Union College
(Saugus, MA)

Forward

Tyler Sheehy, SO, University of Minnesota
(Burnsville, MN)


Second Team

East

West

Kyle Hayton, JR, St. Lawrence University
(Denver, CO)

Goalie

Tanner Jaillet, JR, University of Denver
(Red Deer, AB)

Gavin Bayreuther, SR, St. Lawrence University#
(Canaan, NH)

Defense

Daniel Brickley, SO, Minnesota State University
(Sandy, UT)

Jake Walman, JR, Providence College*
(Toronto, ON)

Defense

Luc Snuggerud, JR, University of Nebraska Omaha
(Eden Prairie, MN)

Dylan Zink, SR, UMass Lowell
(Madison, WI)

Defense

Anders Bjork, JR, University of Notre Dame
(Mequon, WI)

Forward

Mason Jobst, SO, The Ohio State University
(Speedway, IN)

Tyler Kelleher, SR, University of New Hampshire
(Longmeadow, MA)

Forward

Luke Kunin, SO, University of Wisconsin
(Chesterfield, MO)

Alexander Kerfoot, SR, Harvard University
(West Vancouver, BC)

Forward

Austin Ortega, SR, University of Nebraska Omaha
(Escondido, CA)

* First Team in 2015-16; # Second Team in 2015-16