Saturday, April 8, 2017
Denver Claims Title in a Classic
Hat trick from Lukosevicius leads Pioneers past Minnesota Duluth.
---
Jarid Lukosevicius recorded the first championship game hat trick since his coach, Jim Montgomery, in 1993. (Photo by Larry Radloff).
Denver got a second-period hat trick from Jarid Lukosevicius and held off a furious third-period rally from Minnesota Duluth to earn the school's eighth national championship, 3-2, in Chicago Saturday night.
The championship trophy presentation capped a remarkable night of college hockey – one filled with momentum swings, tremendous individual plays, a frightening injury and a raucous crowd.
"It's a special bond when you're part of a special program and a special family and you have that kind of commitment to each other," head coach Jim Montgomery said. "It never dies. And these young men I know will be friends for life and they'll be proud Pioneers for the rest of their life."
The game had the makings of a classic, as the top two seeds in the tournament were meeting in the championship game for the first time since 1993. That game – a comeback win for Maine thanks to Montgomery's hat trick in the third period – had some similarities and links to this year's title.
There was no comeback needed for Denver to win, however, as Montgomery saw his team come out flying. They had the first nine shots on goal and hit two posts before Minnesota Duluth responded with a push of its own. A fast-paced first period ended with no score.
Lukosevicius took over in the second period, scoring his first two goals in a 16-second span at 4:44 and 5:00. On the first he tipped a point shot from Michael Davies; the second came after a fabulous move from linemate Troy Terry set up an open net.
UMD senior leading scorer Alex Iafallo answered back 2:16 later on a power play to cut the Denver lead to 2-1.
Lukosevicius responded with his third goal and entered Frozen Four lore with the first championship game hat trick since Montgomery's.
Minnesota Duluth had a decided advantage in the third period, outshooting Denver 17-3 and doing all it could to even the score. Denver, meanwhile, lost a top defenseman to a gruesome injury when Tariq Hammond suffered a broken ankle when he collided awkwardly into the boards.
Freshman Riley Tufte scored his ninth goal of the year with 5:21 remaining to cut the lead to 3-2 and the Bulldogs maintained heavy pressure. They had chances into the final seconds with the goaltender pulled for an extra attacker, but Denver and goaltender Tanner Jaillet kept them at bay.
"They were coming strong," Jaillet said. "They were throwing the kitchen sink at us. Our guys had huge blocks, making plays. We were able to weather that storm and obviously come out with the win."
Hammond, despite his injury, joined his teammates on the ice with his right foot in a boot for the postgame celebration.
"We knew that Duluth was a good team," he said. "I mean, they've showed that all year. We knew it was going to be a tough game, and we just stuck to what we've been doing all year to make it successful, nothing's changed. And Luko pulls a hat trick out, so I'm so happy for him. Everyone played so well, it was just a great game."
Notes: Troy Terry becomes the third American to win gold at the World Junior Championship and the NCAA championship in the same season, joining Chris Kreider (2010) and former Pioneer Matt Carle (2004) … Montgomery is the fourth person to win championships as a player and head coach, joining Mike Eaves, George Gwozdecky and Al Renfrew … Denver's eight championships are tied with North Dakota for the second-most of any school, trailing only Michigan (9) … The crowd of 19,783 was the largest for a championship game in an NHL arena and the second-largest all-time, trailing only the 2010 Frozen Four at Detroit's Ford Field.
---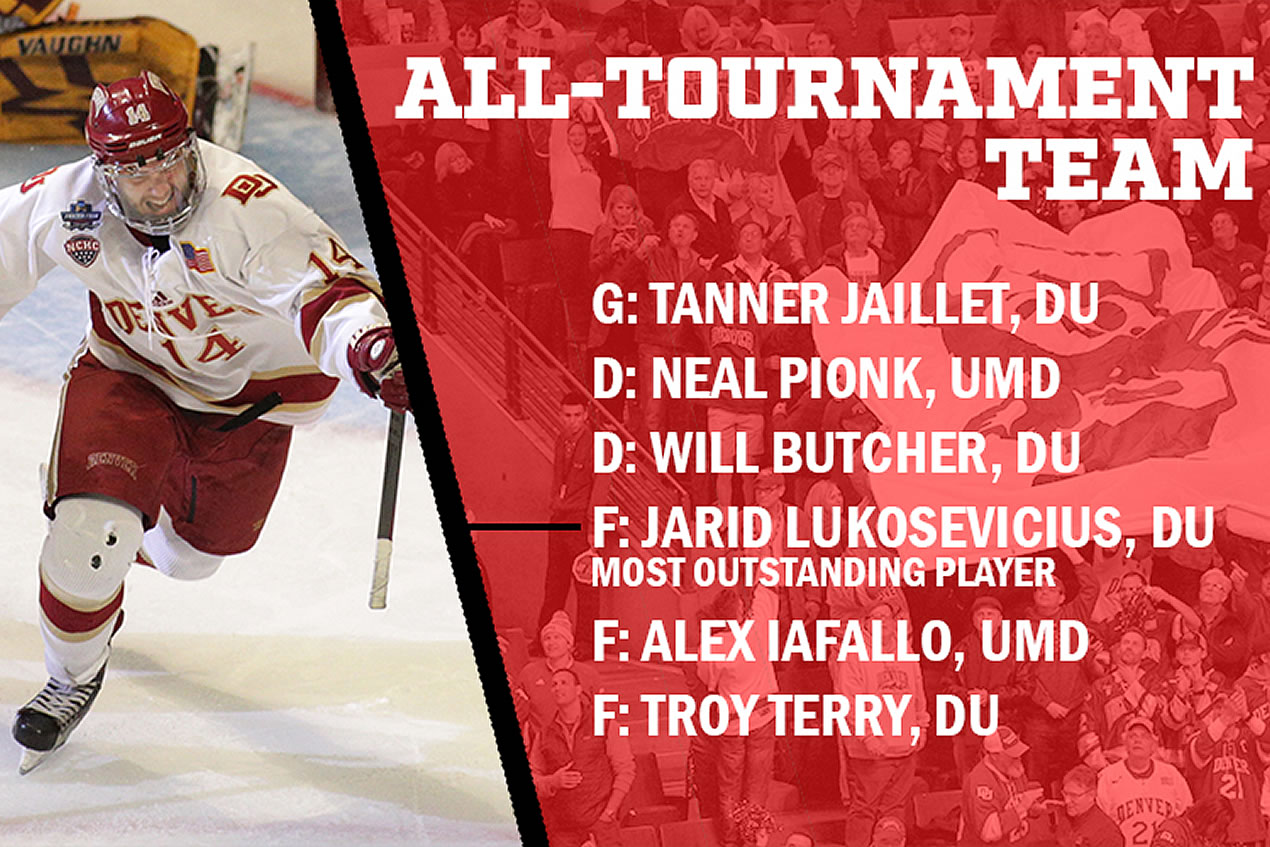 ---
Championship Game Photo Gallery