Tuesday, April 11, 2017
Draft Rankings Feature Players, Recruits
Ninety-one players representing 33 schools among Central Scouting's final rankings for 2017.
---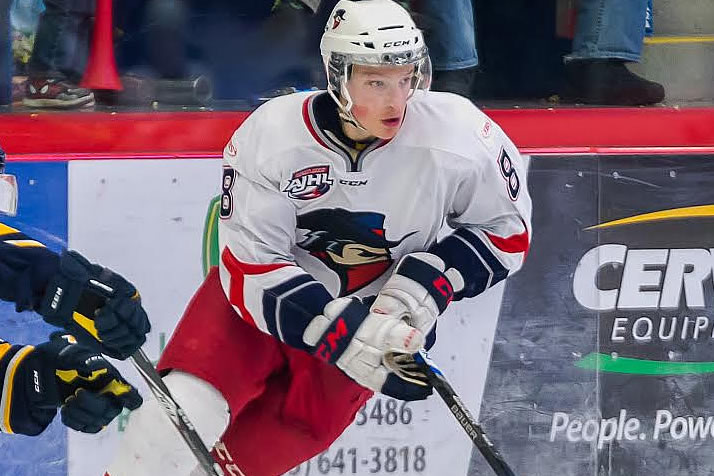 Massachusetts commit Cale Makar is ranked ninth among North American skaters for the 2017 NHL Draft.
NHL Central Scouting projects another impressive draft for current and future NCAA players, with 91 players representing 33 schools listed in the final rankings from the 2017 NHL Draft.
Sortable: NCAA Players in Central Scouting Rankings
Six of the top 24 North American skaters and the top two North American goalies are NCAA players or recruits.
Minnesota recruit Casey Mittelstadt (No. 3), Boston College recruit Eeli Tolvanen (No. 8) and Massachusetts recruit Cale Makar (No. 9) all check in among the top 10 North American skaters, while Boston University freshman Jake Oettinger and Quinnipiac recruit Keith Petruzzelli are 1-2 among North American goaltenders.
Oettinger highlights a group of 11 NCAA freshmen from 2016-17 who made the rankings, a group that also includes St. Cloud State freshman Ryan Poehling at No. 13 among North American skaters.
The 33 schools represented in the list mark more than half of all Division I programs (60). Boston University leads all schools with seven players or recruits on the list, followed by Minnesota (6), Minnesota Duluth (6) and Massachusetts (5).
The 91 players listed also include eight in NCAA-eligible junior or high school leagues who have not committed to a school.
The 2016 NHL Draft featured a record-tying 11 NCAA players selected in the first round and 61 NCAA players selected overall.
The 2017 NHL Draft will be held at Chicago's United Center, June 23-24.