Wednesday, April 5, 2017
DU Draws from Lax Success
Jim Montgomery has found another mentor in lacrosse coach Bill Tierney.
---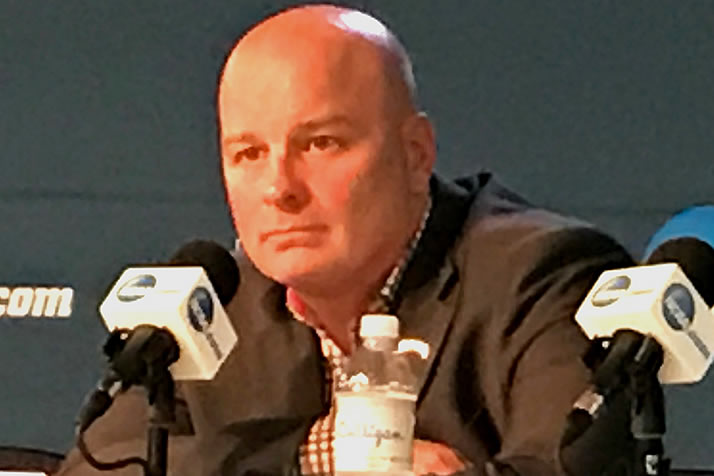 Jim Montgomery hopes to add an NCAA trophy to the one Bill Tierney won in lacrosse in 2015.
By Nate Ewell
Denver's return to the Frozen Four has put some of Jim Montgomery's coaching influences at center stage. The Pioneers' semifinal matchup pits Montgomery against his first boss in the coaching ranks, Jeff Jackson, a relationship that ties back to Montgomery's time playing for Shawn Walsh at Maine.
As Montgomery seeks his first championship in his fourth year of coaching, he is also drawing guidance from a more recent acquaintance: Denver men's lacrosse coach Bill Tierney.
Tierney knows next-to-nothing about hockey, but he does know how to lead a team on a stage like the Frozen Four. In 2015 he won his seventh career NCAA championship, his first in six seasons at Denver.
The college setting allows coaches like Montgomery and Tierney to share insight and ideas – there weren't similar colleagues to connect with when Montgomery was winning titles with the Dubuque Fighting Saints, for example. That's clearly something Montgomery has embraced.
"Any time I need guidance, whether it's how to run a program, how to handle Frozen Four moments, I go to him a lot," Montgomery said Wednesday following his last practice before the semifinals. "He's a great man. Any time anyone spends two minutes with him they will understand why he's won so much. He understands people and people naturally gravitate to him because of his leadership skills."
Tierney occasionally watches Montgomery's practices; he did the same at Princeton basketball coach Pete Carril's practices early in his head coaching career. Similarly, Montgomery has taken in some of Tierney's practices.
While there are some similarities between hockey and lacrosse, Montgomery hasn't gathered breakout or power play tips from Tierney. Instead, when asked what he's picked up from 'Coach T', Montgomery points to team building, structure and an overall approach.
"First is to trust yourself and trust your game plan," Montgomery said. "And a big thing is something he didn't tell me, but I've seen it watching his practices: you've got to care about your players, so that they care."
Montgomery and Tierney's programs are in similar situations entering this week. The lacrosse Pioneers currently rank fourth nationally (Notre Dame, whose hockey team Denver faces, is fifth).
By Saturday, Montgomery hopes to have even more in common with his newest mentor: a national title.