Friday, April 7, 2017
Epic Title Game on Tap
Denver and Minnesota Duluth set for first meeting of top two seeds in 16-team tournament history.
---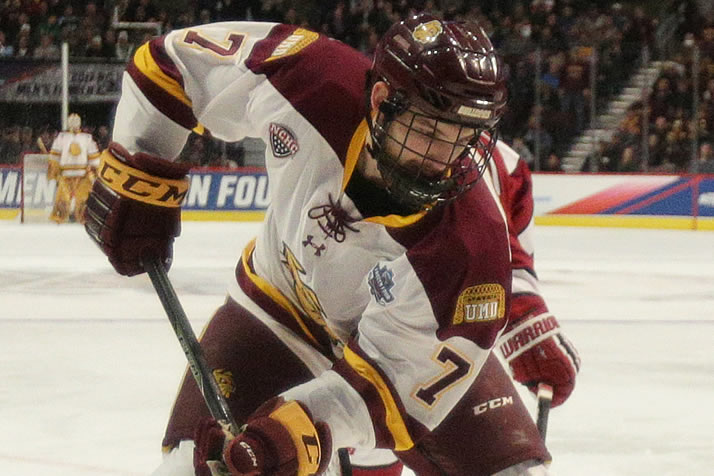 Minnesota Duluth won its NCAA-leading 14th one-goal game against Harvard (Photo by Larry Radloff).
By Nate Ewell
Although conference foes in the NCHC, Denver and Minnesota Duluth only met twice in the regular season. Those games produced a memorable series split.
Saturday they will meet on a bigger stage, at the national championship game at Chicago's United Center (8 p.m. ET, ESPN, TSN GO). Like that early December weekend in Denver, the Pioneers and Bulldogs are the No. 1 and 2 teams in the country – but it's down to one game now, winner take all.
"It's going to be a barnburner," Denver head coach Jim Montgomery said. "It's going to be a great show for college hockey."
Montgomery, coincidentally, was playing the last time the top two seeds in the tournament met in the final, in 1993. His No. 1 Maine team defeated Lake Superior State on the strength of Montgomery's third-period hat trick. That, too, was a great show.
Saturday Montgomery will try to join three other men who have won the Division I hockey championship as players and coaches (Mike Eaves, George Gwozdecky and Al Renfrew).
On the other bench, head coach Scott Sandelin shoots for his second national championship in seven years, having guided Minnesota Duluth to its first in 2011.
Each coach knows what a stern test they face in their conference rival. Combined the two teams are 34-3-3 in their last 20 games; one of them has occupied the No. 1 spot in the USCHO.com poll for 18 of the last 20 weeks.
The December games offered a preview of what fans can expect Saturday night.
"That weekend was a lot of fun as a player," Denver senior Colin Staub said Friday. "It was back-and-forth hockey. It was a lot of speed. It was pretty physical, and like this time it was No. 1 versus 2 that weekend. There was a lot of hype going into it and it was a lot of fun for players. The split kind of kind of made it a little even more of a rivalry coming into this game now."
As Denver seeks its eighth championship and Duluth its second, both know the stakes.
"I talked to our guys about it before we got here," Sandelin said Friday. "It's great to get there. But to experience the whole thing, you've got to win that Thursday game. And you know what? They did, so they get to experience that and they get to play in the last game of the year. And there's nothing better than that.
"That's what you work for all year. So it's been well worth it, and I hope they enjoy the hell out of it. Because it's something they'll never forget."