Thursday, April 20, 2017
Recruits Lead U18 Quest for Gold
NHL Network carrying Thursday's quarterfinal vs. Switzerland.
---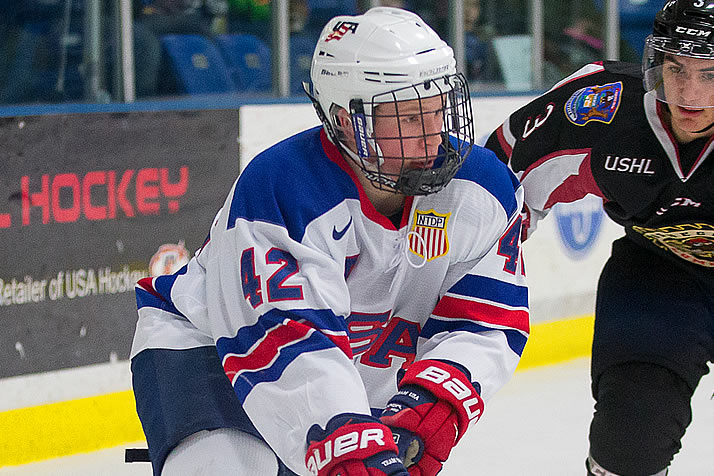 Wisconsin commit Sean Dhooghe shares the U.S. lead with six points (Photo by Rena Laverty).
The U.S. Men's National Under-18 Team, featuring a roster comprised of St. Cloud State freshman Ryan Poehling and 22 future NCAA stars, opens medal round play Thursday after a perfect preliminary round.
The U.S. went 4-0-0-0 in Group B to set up the quarterfinal meeting with Switzerland at 1:30 p.m. ET on NHL Network. The U.S. is seeking to medal for the 14th year in a row at the IIHF Under-18 World Championship, which this year is being held in Slovakia.
Notre Dame commit Dylan St. Cyr has played all four games in goal and boasts the tournament's best save percentage at .935. North Dakota commit Grant Mismash and Wisconsin commit Sean Dhooghe share the team lead with six points each.
Harvard commit Oliver Wahlstrom (four goals), New Hampshire commit Max Gildon (three) and Poehling (three) are the team's top goal scorers.
Thirteen schools have committed recruits on the team, led by Boston University with four representatives.
The bulk of the United States team is eligible for the 2017 NHL Draft with four exceptions who will be eligible in 2018: Wahlstrom, Joel Farabee (Boston University), Quinn Hughes (Michigan) and Brady Tkachuk (Boston University).
Should the U.S. advance past Switzerland, the semifinals will be played on Saturday, April 22 (time TBD). The gold- and bronze-medal games are set for Sunday, April 23, at 1:30 p.m. or 9:30 a.m. ET, respectively. Each game can be seen on NHL Network.
Denver has two commits on other teams in the tournament: Ian Mitchell (Canada) and Eero Teravainen (Finland).
2017 USA Hockey Under-18 World Championship Roster
No.
Name
Pos.
NCAA Commitment
1
Dylan St. Cyr
G
Notre Dame
3
Ryan Poehling
F
St. Cloud State (2016-17)
4
Joel Farabee
F
Boston University
5
Nate Knoepke
D
Minnesota
6
Quinn Hughes
D
Michigan
7
Brady Tkachuk
F
Boston University
8
Max Gildon
D
New Hampshire
9
Logan Cockerill
F
Boston University
10
Scott Reedy
F
Minnesota
11
Jacob Tortora
F
Boston College
12
Tommy Miller
D
Michigan State
13
Tyler Inamoto
D
Wisconsin
14
Josh Norris
F
Michigan
16
Grant Mismash
F
North Dakota
17
Evan Barratt
F
Penn State
19
Graham Slaggert
F
Notre Dame
21
Michael Pastujov
F
Michigan
22
Phil Kemp
D
Yale
24
Sean Dhooghe
F
Wisconsin
25
Oliver Wahlstrom
F
Harvard
27
David Farrance
D
Boston University
29
Cayden Primeau
G
Boston University
30
Adam Scheel
G
North Dakota