Tuesday, April 4, 2017
U.S. Names Under-18 Roster
SCSU freshman, NCAA commits highlight group headed to Slovakia.
---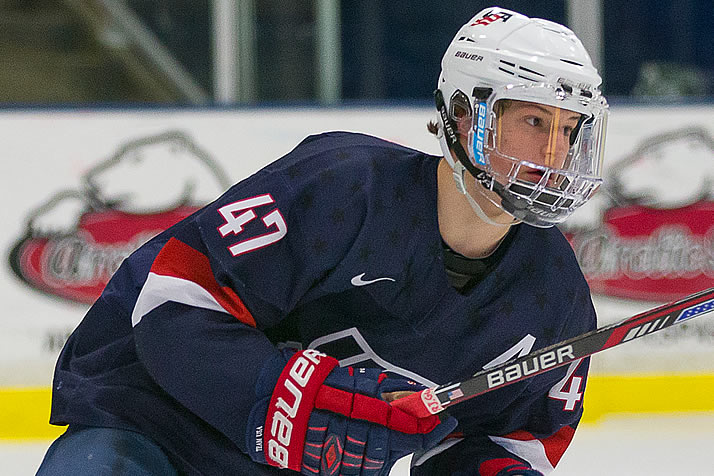 Logan Cockerill is one of four Boston University commits on the U.S. roster (Photo by Rena Laverty).
St. Cloud State freshman forward Ryan Poehling and 21 NCAA commits have been named to the U.S. National Under-18 Team that will compete in the Under-18 Men's World Championship, USA Hockey announced Tuesday.
Slovakia will host the event April 13-23. Poehling, a first-round NHL Draft prospect, is the lone member of the team not currently part of USA Hockey's National Team Development Program.
Twelve schools have committed recruits on the team, led by Boston University with four representatives. Michigan has three, while Minnesota, North Dakota, Notre Dame and Wisconsin have two each.
Notre Dame alumnus John Wroblewski, one of two head coaches at USA Hockey's NTDP, will serve as head coach of the team. The U.S. coaching staff also includes assistant coaches Nick Fohr (Omaha alum), Seth Appert (Ferris State) and Greg Moore (Maine), plus goaltending coach Kevin Reiter (Alaska Anchorage).
The U.S. is seeking its 10th gold medal in the Under-18 World Championship after earning bronze last year in Grand Forks, N.D. The U.S. has won gold in six of the past eight tournaments.
The U.S. will face Belarus, the Czech Republic, Russia and Sweden in Group B of the tournament. Canada, Finland, Latvia, Slovakia and Switzerland are in Group A.
Denver commit Ian Mitchell is among the first six players named to Canada's roster; the rest of the Canadian team and other rosters are yet to be announced.
2017 USA Hockey Under-18 World Championship Roster
No.
Name
Pos.
NCAA Commitment
1
Dylan St. Cyr
G
Notre Dame
3
Ryan Poehling
F
St. Cloud State (2016-17)
4
Joel Farabee
F
Boston University
5
Nate Knoepke
D
Minnesota
6
Quinn Hughes
D
Michigan
7
Brady Tkachuk
F
Boston University
8
Max Gildon
D
New Hampshire
9
Logan Cockerill
F
Boston University
10
Scott Reedy
F
Minnesota
11
Jacob Tortora
F
Boston College
12
Tommy Miller
D
Michigan State
13
Tyler Inamoto
D
Wisconsin
14
Josh Norris
F
Michigan
16
Grant Mismash
F
North Dakota
17
Evan Barratt
F
Penn State
19
Graham Slaggert
F
Notre Dame
21
Michael Pastujov
F
Michigan
22
Phil Kemp
D
Yale
24
Sean Dhooghe
F
Wisconsin
25
Oliver Wahlstrom
F
Harvard
27
David Farrance
D
Boston University
30
Adam Scheel
G
North Dakota