Friday, May 26, 2017
Alums Battle for ECHL Title
Colorado, South Carolina meet for Kelly Cup featuring former players from 21 schools.
---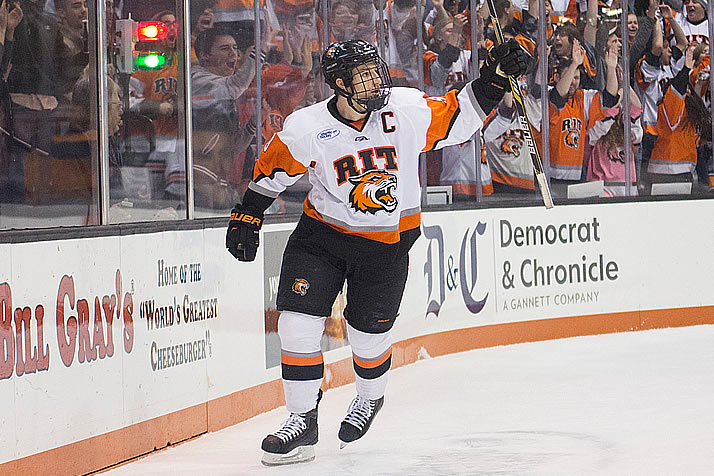 Colorado's Matt Garbowsky had 26 goals and 54 points as a senior at RIT in 2014-15.
Twenty-two NCAA alumni have helped propel the Colorado Eagles and South Carolina Stingrays into the Kelly Cup Finals as the ECHL championship series begins Friday night in Loveland, Colo.
The former college players represent 21 schools – more than one-third of all Division I programs – as Northern Michigan is the only program with multiple alumni in the finals. Andrew Cherniwchan and Wade Epp are Stingrays teammates representing the Wildcats.
South Carolina has featured 16 former college players in its lineup during the playoffs, while Colorado has countered with six.
Six of the Stingrays' top eight scorers in the playoffs have been former college players, led by Dominic Monardo (Lake Superior State) and Kelly Zajac (Union). Parker Milner, a two-time NCAA champion at Boston College, has played every game in goal for South Carolina.
Although fewer in number, the NCAA alums on Colorado have played large roles in the Eagles' success. Jake Marto (North Dakota) ranks third on the team in playoff scoring as a defenseman and carries a five-game point streak in the final. The team's top two goal scorers in the regular season were Matt Garbowsky (RIT) and Luke Salazar (Denver).
Lukas Hafner (Western Michigan) has a 10-2 playoff record in goal for the Eagles.
The Kelly Cup Finals begin Friday and Sunday in Colorado before shifting to South Carolina for Games 3-5 on June 4, 5 and 7 (if necessary). Games 6 and 7, if necessary, would move back to Colorado on June 9 and 10, respectively.
NCAA Alumni in the Kelly Cup Finals
Colorado Eagles (6)
Matt Garbowsky
RIT
Lukas Hafner
Western Michigan
Sam Jardine
Ohio State
Jake Marto
North Dakota
Luke Salazar
Denver
Michael Sdao
Princeton

South Carolina Stingrays (16)
Derek Arnold
UMass Lowell
Adam Carlson
Mercyhurst
Andrew Cherniwchan
Northern Michigan
Joe Devin
Cornell
Kevin Dufour
Bowling Green
Wade Epp
Northern Michigan
Danny Federico
Quinnipiac
Patrick Gaul
Notre Dame
Steven McParland
Providence
Parker Milner
Boston College
Domenic Monardo
Lake Superior State
Max Nicastro
Boston University
Mitch Nylen
Sacred Heart
John Parker
Bemidji State
Steve Weinstein
Bentley
Kelly Zajac
Union
Includes all players who have appeared in the ECHL playoffs