Tuesday, May 23, 2017
Butcher, Bertagna Among USA Hockey Honorees
2017 award winners to be honored at USA Hockey's Annual Congress in June.
---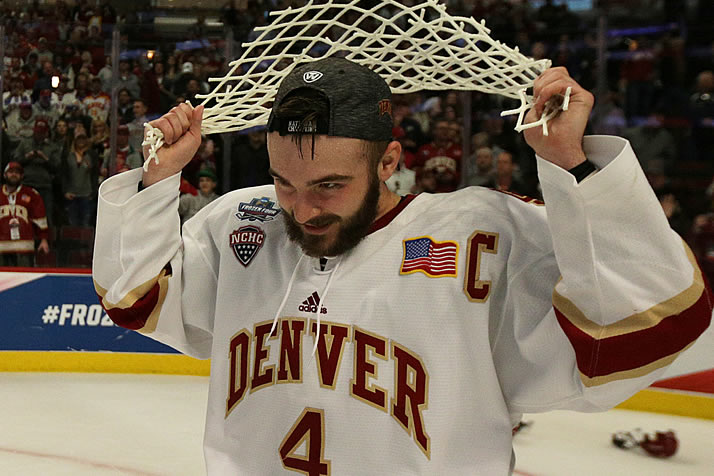 Will Butcher captained Denver to its eighth national championship (Photo by Larry Radloff).
USA Hockey College Player of the Year Will Butcher of Denver will be among the honorees at USA Hockey's 2017 Annual Congress next month.
USA Hockey announced its annual award winners Tuesday, a group that also includes Hockey East commissioner Joe Bertagna and two incoming NCAA freshmen.
USA Hockey's 2017 Annual Congress will be held June 7-10 in Colorado Springs, Colo. The four-day event provides USA Hockey's various councils, committees and affiliates the opportunity to conduct the business of the national governing body and celebrate accomplish.
---
Will Butcher
Butcher's College Player of the Year award caps a remarkable senior season in which the Sun Prairie, Wis., native also captured the Hobey Baker Award and the NCAA championship. The sixth defenseman to win the Hobey Baker Award, Butcher ranked second among all Division I blueliners with 37 points in 43 games.
Butcher was named the NCHC Player of the Year and Offensive Defenseman of the Year, as well as a first-team All-American.
---
Joe Bertagna
Bertagna, who is a member of the College Hockey Inc. Board of Directors, will receive USA Hockey's Distinguished Achievement Award. The former Harvard goaltender has spent the last 35 years as a college hockey administrator, first as commissioner of the ECAC and Hockey East for the past 20 years.
In addition, Bertagna has been the executive director of the American Hockey Coaches Association since 1991.
---
Zach Solow
Northeastern commit Zach Solow is the 2017 Dave Tyler Junior Player of the Year following an exceptional season with the USHL's Dubuque Fighting Saints. Solow led the USHL with 69 points in 56 regular-season games.
Solow's season included a 20-game point streak from Oct. 28 to Jan. 27. He helped the U.S. Junior Select Team win the 2016 World Junior A Challenge with four points in five games.
---
Keith Petruzzelli
Quinnipiac recruit Keith Petruzzelli was named the Dave Peterson Goalie of the Year for 2017 after starring for the USHL's Muskegon Lumberjacks. Petruzzelli, a native of Wilbraham, Mass., is one of the top goaltending prospects for the 2017 NHL Draft.
Petruzzelli posted 22 wins and a .918 save percentage for Muskegon and led the Lumberjacks to the Clark Cup Playoffs. He was the MVP of the 2017 USHL/NHL Top Prospects Game in January and appeared in the 2016 CCM/USA Hockey All-American Prospects Game in September.
Four gold medal-winning teams will share the Bob Johnson Award, recognizing excellence in international hockey competition: the U.S. National Junior Team, the U.S. Women's National Team, the U.S. Women's National Under-18 Team and the U.S. Men's National Under-18 Team.
To learn more about these and all of USA Hockey's annual award winners, visit usahockey.com.