Thursday, May 4, 2017
Collegians Lead U.S. at Worlds
From staff to players, virtually all of Team USA has NCAA ties.
---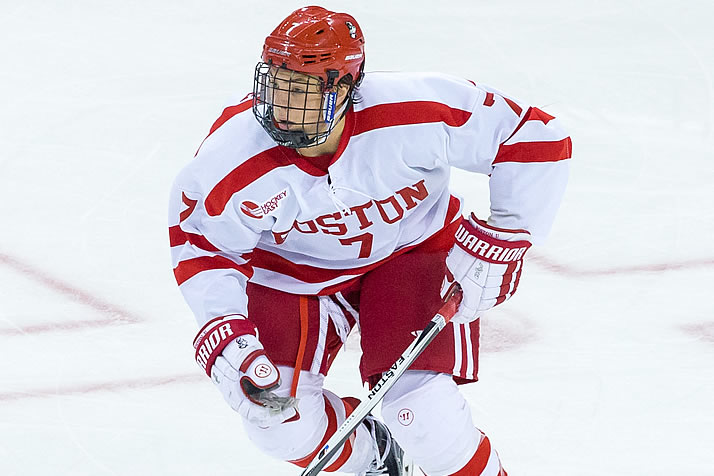 Charlie McAvoy is one of three 2016-17 All-Americans on the U.S. National Team.
A team dominated by current and former NCAA players – from its management team to coaching staff to the roster – leads the United States into the 2017 IIHF World Championship, beginning Friday in Cologne, Germany.
Six players who spent 2016-17 in college hockey are among the 23-man roster. Fifteen others are NCAA alumni, meaning that players with college hockey experience make up 91% of the roster.
USA Hockey Site | IIHF Tournament Site
The U.S. opens tournament play Friday, May 5, against the host Germans at 2:15 p.m. ET on NHL Network. Each U.S. game can be seen live on NHL Network or NBC Sports Network.
Former Western Michigan head coach and Ferris State goaltender Jeff Blashill leads the U.S. coaching staff. Four former NCAA players are on his staff, including current Quinnipiac head coach Rand Pecknold.
The 21 former college players on the roster represent 11 schools, with Boston University (four players), Michigan (four) and Notre Dame (three) featuring the most representatives. It includes several college teammates:
Michigan's JT Compher, Andrew Copp and Dylan Larkin, plus Copp and Jacob Trouba
Boston University's Jordan Greenway, Clayton Keller and Charlie McAvoy
Notre Dame's Anders Bjork and Cal Petersen
2017 U.S. Men's National Team
No.
Name
Pos.
2016-17 Team
NCAA Team
5
Connor Murphy
D
Arizona (NHL)
6
Daniel Brickley
D
Minnesota State
Minnesota State
7
JT Compher
F
Colorado (NHL)
Michigan
8
Jacob Trouba
D
Winnipeg (NHL)
Michigan
9
Andrew Copp
F
Winnipeg (NHL)
Michigan
10
Anders Bjork
F
Notre Dame
Notre Dame
12
Jordan Greenway
F
Boston University
Boston University
13
Johnny Gaudreau
F
Calgary (NHL)
Boston College
14
Nick Bjugstad
F
Florida (NHL)
Minnesota
15
Jack Eichel
F
Buffalo (NHL)
Boston University
17
Nick Schmaltz
F
Chicago (NHL)
North Dakota
18
Christian Dvorak
F
Arizona (NHL)
19
Clayton Keller
F
Boston University/Arizona (NHL)
Boston University
21
Dylan Larkin
F
Detroit (NHL)
Michigan
25
Charlie McAvoy
D
Boston University/Boston (NHL)
Boston University
27
Anders Lee
F
NY Islanders (NHL)
Notre Dame
29
Brock Nelson
F
NY Islanders (NHL)
North Dakota
35
Jimmy Howard
G
Detroit (NHL)
Maine
37
Connor Hellebuyck
G
Winnipeg (NHL)
UMass Lowell
40
Cal Petersen
G
Notre Dame
Notre Dame
55
Noah Hanifin
D
Carolina (NHL)
Boston College
57
Trevor van Riemsdyk
D
Chicago (NHL)
New Hampshire
65
Danny DeKeyser
D
Detroit (NHL)
Western Michigan
Asst. Executive Director, Hockey Operations: Jim Johannson (Wisconsin)
U.S. Men's National Team Management: Chris Drury (Boston University)
U.S. Men's National Team Management: Bill Guerin (Boston College)
Head Coach: Jeff Blashill (Ferris State)
Assistant Coach: Jack Capuano (Maine)
Assistant Coach: Rand Pecknold (Connecticut College/Quinnipiac head coach)
Assistant Coach: Seth Appert (Ferris State)
Video Coordinator: Adam Nightingale (Michigan State)