Tuesday, May 9, 2017
Prospects to Play for NAHL Title
35 commits among those headed to Duluth to compete for Robertson Cup.
---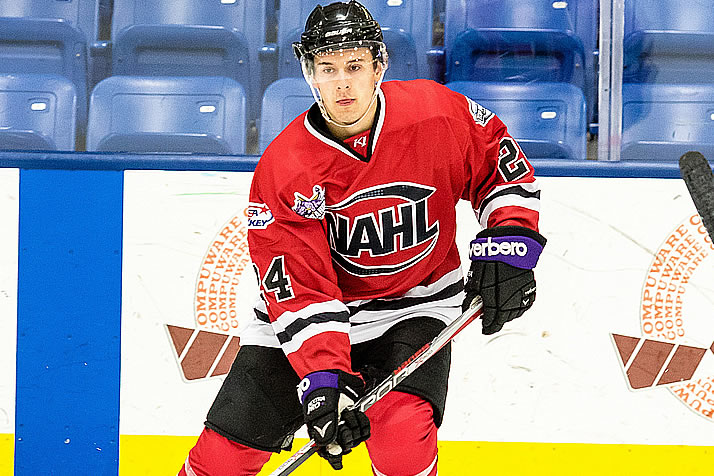 Lone Star's Austin Kamer committed to Michigan State this week.
Future NCAA stars are converging on Duluth, Minn., this weekend to compete for the NAHL's Robertson Cup playoff championship. The four teams – Aberdeen, Aston, Janesville and Lone Star – feature 35 players who have already committed to Division I programs, including at least seven commits on each team.
NAHL.com Robertson Cup Hub | NCAA Commitments
Nearly half of all Division I schools (25 of 60) have a commit in the event, which will be played at the Essentia Duluth Heritage Center. Arizona State (four) and Colorado College (three) boast the most commits at the Robertson Cup, with multiple players committed to all six Division I conferences.
Games are set for Thursday, Friday, Saturday and Sunday, with the championship game facing off at 1 p.m. CT (2 p.m. ET) on Sunday, May 14. All games can be seen live on HockeyTV.
---
Aston Rebels
The Aston Rebels won the NAHL regular season and are 6-1-1 through eight playoff games. Lake Superior State commit Mareks Mitens had a .925 save percentage in the regular season and led the league with a 1.63 goals-against average.
Aston's top four playoff scorers are all uncommitted, including its regular-season scoring leader, Andrew Bellant. Arizona State commits Dominic Garcia and Gvido Jansons ranked second and third on the team in points in the regular season.
---
Lone Star Brahmas
The Lone Star Brahmas had the second-best record in the regular season behind 27 goals from Holy Cross commit Peter Kessel and 50 points from uncommitted Carson Kelley.
Drake Glover (Alaska Anchorage) leads the Brahmas with seven points in eight playoff games, while former Boston University goaltender Max Prawzdik, who joined the team at midseason, has a .911 playoff save percentage.
---
Janesville Jets
Janesville leads the four teams with 11 commits on the roster and the Jets had the third-best record in the regular season, winning the Midwest Division. Brown commit Michael Maloney and a pair of uncommitted forwards – Peter Bates and Cullen Munson – were atop the Jets' scoring list.
Alaska Anchorage commit Kip Hoffmann leads Janesville – and all players remaining in the Robertson Cup field – with seven goals and 11 points through seven playoff games. Janesville features the youngest starting goaltender in the field in 1999-born Jacob Barczewski, who has a .935 save percentage in the playoffs.
---
Aberdeen Wings
Aberdeen is the only team of the four that did not win its division in the regular season, finishing fourth in the Central. The Wings are 6-3-0 in the playoffs, however, and have advanced to Duluth behind Kevin Fitzgerald (St. Cloud State), Carson Dimoff (St. Lawrence) and Colin Raver (uncommitted). That trio makes up three of the top five playoff scorers remaining in the field.
Aberdeen boasts nine Division I commits, led by Fitzgerald, who finished the regular season tied for eighth in the league in scoring. Top-scoring defenseman Andy Carroll is a Minnesota State commit who was a first-round selection of Green Bay in last week's USHL Draft.
---
NCAA Commits in NAHL Robertson Cup
Aberdeen Wings (9)
Andy Carroll
Minnesota State
Carson Dimoff
St. Lawrence
Kevin Fitzgerald
St. Cloud State
Trystan Isenhour
Colorado College
Logan Jenuwine
Western Michigan
Shawn Knowlton
Air Force
Gage Mackie
Arizona State
Andrew Sinard
Miami
Joseph Strada
Arizona State

Aston Rebels (8)
Drew Blackmun
Northeastern
Dominic Garcia
Arizona State
Gvido Jansons
Arizona State
Brennan Kapcheck
AIC
Dustin Manz
Lake Superior State
Marek Mitens
Lake Superior State
Ryan Solomon
Northeastern
Jensen Zerban
Air Force

Janesville Jets (11)
Joseph Abate
Wisconsin
Christopher Dodero
AIC
Colin Felix
Massachusetts
Jack Gates
Colorado College
Kip Hoffmann
Alaska Anchorage
Adrian Holesinsky
Maine
Michael Maloney
Brown
Jakov Novak
Bentley
Cole Paskus
UMass Lowell
Derek Schaedig
Harvard
Blake Wareham
Canisius

Lone Star Brahmas (7)
Justin Addamo
Robert Morris
Alec Calvaruso
Colorado College
Drake Glover
Alaska Anchorage
Austin Kamer
Michigan State
Peter Kessel
Holy Cross
Simon Loof
Merrimack
John Zimmerman
Army West Point