Friday, May 12, 2017
RBC Cup Features Recruits
Five teams set to compete for Canada's Junior A national championship.
---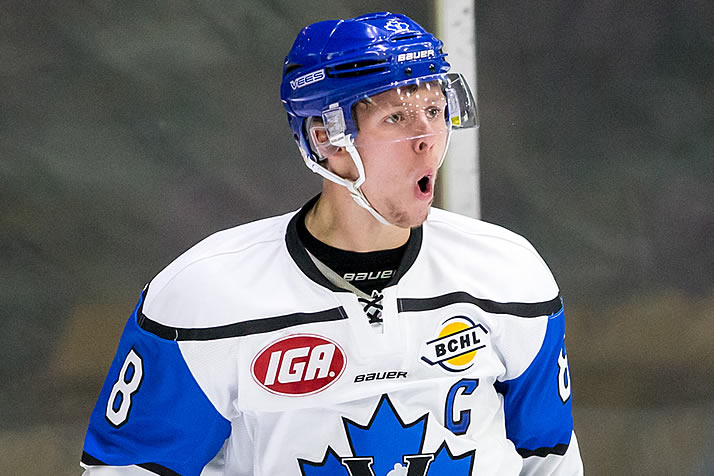 North Dakota commit Nicholas Jones is one of 19 commits on the Penticton Vees (Photo by Garrett James Photography).
Thirty-five Division I commits are among the players convening in Cobourg, Ontario, for the next week to decide the 2017 RBC Cup champion, given to Canada's Junior A national champion.
The Penticton Vees and Brooks Bandits of the BCHL and AJHL, respectively, combine for the bulk of those committed recruits, with at least 30 future Division I players on those two rosters. The host Cobourg Cougars feature three more and the Trenton Golden Hawks boast two.
RBC Cup Site | College Commitments
The fifth team in the RBC Cup, the Cobras de Terrebone of the LHJQ, have a majority of players who have forfeited their NCAA eligibility.
The 35 commits on Brooks, Cobourg, Penticton and Trenton represent 23 Division I schools. North Dakota leads all schools with three – all on Penticton – while the following schools have two each: Clarkson, Colgate, Cornell, Massachusetts, Minnesota, Niagara, Robert Morris, Union and Vermont.
Games commence on Saturday, with a round robin continuing through Thursday, May 18. Semifinals are set for Saturday, May 20, with the championship game on May 21. HockeyTV will carry games until the championship, which will air on TSN.
Brooks, led by Massachusetts commit and first-round NHL Draft prospect Cale Makar and 10 other Division I commits, won the Western Canada Cup to advance to the RBC Cup.
Colgate commit Josh McKechney (23 points) and Union commit Parker Foo (10 goals) have led the team offensively in the postseason, which has seen the Bandits post a 12-0-1 record. Alaska recruit Mitchel Benson has a 1.21 goals-against average in net.
Penticton features 19 commits, the most in the event, and won the BCHL's Fred Page Cup as playoff champions. Team captain and North Dakota commit Nicholas Jones had 27 points in 21 BCHL playoff games, then led the team to a second-place finish in the Western Canada Cup. Clarkson recruit Chris Klack (18 points) and Wisconsin recruit Grant Cruikshank (12) were the other Vees offensive catalysts in the BCHL playoffs.
Cobourg features a pair of Niagara commits (Ryan Casselman and Sam Dunn), with Casselman leading the team in regular-season scoring (73 points in 53 games). Cornell recruit Brenden Locke led the Cougars with 13 points in 13 OJHL playoff games.
Trenton's top offensive player has been one of its two commits, Liam Morgan (Union). Morgan has 12 goals and 23 points in 24 playoff games between the OJHL playoffs and the Dudley Hewitt Cup.
NCAA Commits in RBC Cup
Brooks Bandits (11)
Mitchel Benson
Alaska
Oliver Chau
Massachusetts
Parker Foo
Union
Cale Makar
Massachusetts
Charlie Marchand
Bentley
Josh McKechney
Colgate
Joe O'Connor
Quinnipiac
Nick Prkusic
Robert Morris
Arnaud Vachon
Colgate
Ocean Weisblatt
Vermont
Orca Weisblatt
Vermont

Cobourg Cougars (3)
Ryan Casselman
Niagara
Sam Dunn
Niagara
Brenden Locke
Cornell

Penticton Vees (19)
Ty Amonte
Boston University
Jamie Armstrong
Northeastern
Gabe Bast
North Dakota
Grant Cruikshank
Wisconsin
Matt Gosiewski
Harvard
Nicholas Jones
North Dakota
Chris Klack
Clarkson
Joseph Leahy
Cornell
Mitch Meek
Clarkson
Griffen Mendel
Denver
James Miller
New Hampshire
Jared Nash
Alaska Anchorage
Ryley Risling
Robert Morris
Mathew Robson
Minnesota
Sam Rossini
Minnesota
Owen Sillinger
Bemidji State
Jonathan Tychonick
North Dakota
Taylor Ward
Omaha

Trenton Golden Hawks (2)
Josh Allan
Sacred Heart
Liam Morgan
Union