Thursday, June 1, 2017
Calder Cup Finals Features Alums
Top scorers, goaltenders on both teams in AHL final developed in college ranks.
---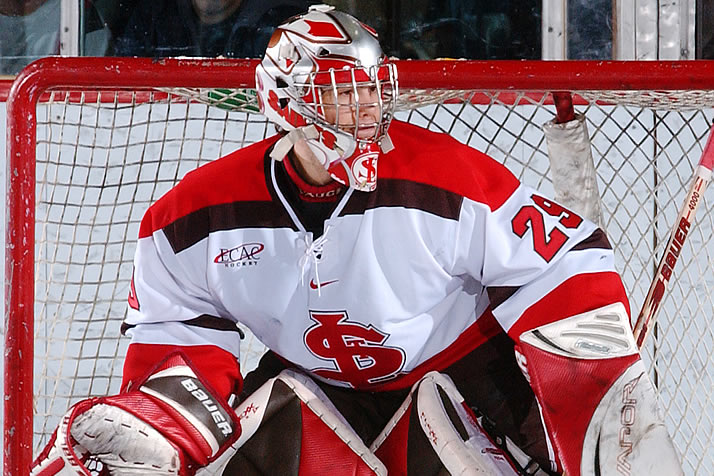 Syracuse Crunch goaltender Mike McKenna played 97 games in four years at St. Lawrence.
From the top scorers to the starting goaltenders, former college players will play a crucial role in determining the champion in the American Hockey League.
The Calder Cup Finals opens Friday in Grand Rapids, Mich., and the top players on both the Grand Rapids Griffins and Syracuse Crunch developed in the NCAA ranks.
It's fitting that college alumni take center stage in the final given that 14 of the league's top 20 scorers in the regular season had played college hockey. NCAA alums led the AHL in regular-season goals, assists, points, plus/minus, goals-against average, save percentage and shutouts.
Fifteen former college players representing 13 schools have played for Grand Rapids or Syracuse in the playoffs. All of them spent at least three years on campus, with 13 of the 15 playing four years of college.
Syracuse's Cory Conacher (Canisius) and Grand Rapids' Ben Street (Wisconsin) lead the two teams in scoring. The goaltending matchup pits Syracuse's Mike McKenna (St. Lawrence) against Grand Rapids' Jared Coreau (Northern Michigan).
Conacher leads the league in playoff scoring with 20 points in 16 games. Matt Taormina (Providence) and Erik Condra (Notre Dame) have 16 and 14 points, respectively, giving the Crunch three NCAA alums among their top four scorers.
Grand Rapids counters with five NCAA alums among its top 12 scorers, led by Street with 15 points in 13 games. Street's former Badger teammate, Matthew Ford, shares the team lead in goals with Brown alum Matt Lorito (seven each).
Coreau and McKenna have played every game for their respective teams in the playoffs and share the AHL lead with 11 playoff wins.
Fans can watch the Calder Cup Finals for free on AHL Live and listen on SiriusXM's NHL Network Radio (with the exception of Game 2).
NCAA Alumni in Calder Cup Finals
Syracuse Crunch (6)
Cory Conacher
Canisius
Erik Condra
Notre Dame
Kevin Lynch
Michigan
Mike McKenna
St. Lawrence
Matthew Peca
Quinnipiac
Matt Taormina
Providence

Grand Rapids Griffins (9)
Mike Borkowski
Colgate
Colin Campbell
Lake Superior State
Jared Coreau
Northern Michigan
Kyle Criscuolo
Harvard
Matthew Ford
Wisconsin
Matt Lorito
Brown
Dan Renouf
Maine
Robbie Russo
Notre Dame
Ben Street
Wisconsin
Includes all players who have appeared in the Calder Cup Playoffs