Monday, June 19, 2017
Five Honored by U.S. Hall of Fame
Collins, Parker, Smith, Wilson and Young named members of class of 2017.
---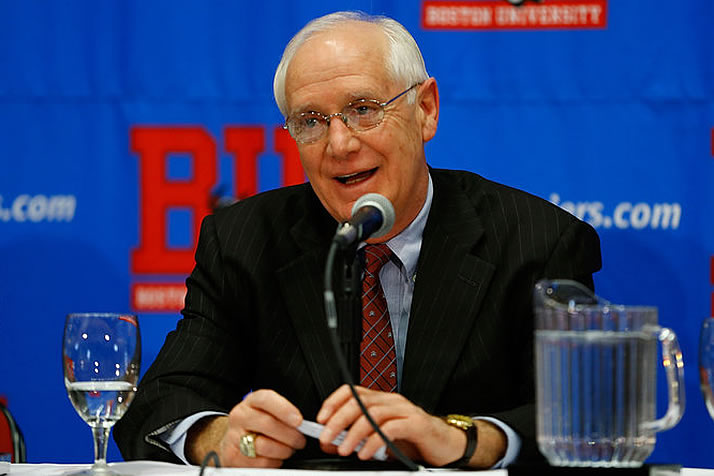 Jack Parker coached four members of the U.S. Hockey Hall of Fame – including fellow 2017 inductee Scott Young – at Boston University.
Five men – each with NCAA hockey ties – have been named to the class of 2017 for the U.S. Hockey Hall of Fame, USA Hockey announced on Monday. The honorees are:
Kevin Collins, NHL linesman and AIC alumnus
Jack Parker, Boston University alumnus and head coach
Ben Smith, Harvard alumnus and longtime college and international coach
Ron Wilson, Providence alumnus and NHL and international coach
Scott Young, Boston University alumnus and current assistant coach
Collins was a three-year letterwinner at AIC before he embarked on a 28-year career as an NHL linesman. He becomes just the second inductee in the Hall to earn enshrinement exclusively for their accomplishments as on-ice officials, joining Bill Chadwick.
Parker spent 40 years as the head coach at his alma mater, capturing three national championships and three NCAA Division I Coach of the Year Awards. His 897 wins are the most by any coach who spent his entire career at one school.
Smith, who played at Harvard, went on to coach at Massachusetts, Yale, Boston University and Northeastern. He is most known for his success as head coach of the U.S. Women's National Team, leading the U.S. to the first gold medal in women's hockey at the 1998 Winter Olympic Games.
Wilson was one of the most decorated defensemen in college hockey history, earning All-America honors twice at Providence. He still holds Providence school records (and Division I records for defensemen) for career points (250) and career assists (172). He went on to a lengthy coaching career that included 1,401 NHL games and numerous international tournaments with USA Hockey.
Young serves as an assistant coach at Boston University, his alma mater, where he played for Parker. From there he went on to a lengthy NHL career, playing in 1,181 games and making numerous international appearances for Team USA, including three Olympics.
The date and location of the 2017 U.S. Hockey Hall of Fame Induction Celebration will be announced later this summer.