Tuesday, June 27, 2017
Kariya Headed to Hall of Fame
Hobey Baker Award winner selected as member of Hall's class of 2017.
---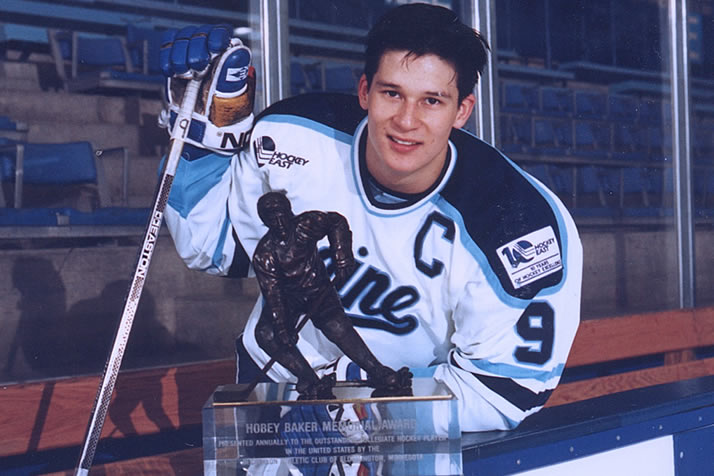 Paul Kariya was the first freshman to win the Hobey Baker Award in Maine's 1993 NCAA championship season.
Paul Kariya, the 1993 Hobey Baker Award winner and one of the more legendary college hockey players of all-time, will be inducted into the Hockey Hall of Fame in its class of 2017, the Hall announced Monday.
NCAA Hockey & the Hall of Fame
Kariya becomes the 15th former men's NCAA player inducted in the Hall and the first representative of the University of Maine. Thirteen NCAA representatives have been part of the last 10 classes in the Hockey Hall of Fame, which is located in Toronto.
A native of Vancouver, Kariya came to Maine in the fall of 1992 and helped lead one of the best teams in college history. He compiled 100 points (25 goals, 75 assists) in 39 games and led the Black Bears to a 42-1-2 record and the school's first NCAA championship.
Kariya – playing on a line with current Denver head coach Jim Montgomery and Cal Ingraham – became just the 12th college player to record a 100-point season. No player has done it since. He won the Hobey Baker Award that season, becoming the first freshman to win the award (Jack Eichel is the only other player to win it as a freshman). He was selected fourth overall in the 1993 NHL Draft.
In addition to the Hobey Baker Award, Kariya was a first-team All-American, the Hockey East Player and Rookie of the Year and an NCAA All-Tournament Team selection.
Kariya returned to Maine for 12 games as a sophomore (compiling eight goals and 16 assists) before joining the Canadian National Team. He won a silver medal at the 1994 Olympics and a gold medal at the 1994 World Championship, where he was named the tournament's best forward.
He signed with Anaheim for the 1994-95 season, beginning a 15-year NHL career. He was an NHL All-Rookie Team selection that year and went on to five appearances on the NHL postseason All-Star Team.
Kariya recorded exactly a point per game in NHL play – 989 career points in 989 regular-season games – and twice won the Lady Byng Award.
Internationally, Kariya won Olympic gold in 2002, adding to the silver medal he won in 1994, the World Junior Championship gold in 1993 and World Championship silver in 1996.