Monday, June 5, 2017
Make the Most of Hockey Camp
College coaches share tips on how prospects can maximize their hockey school experience.
---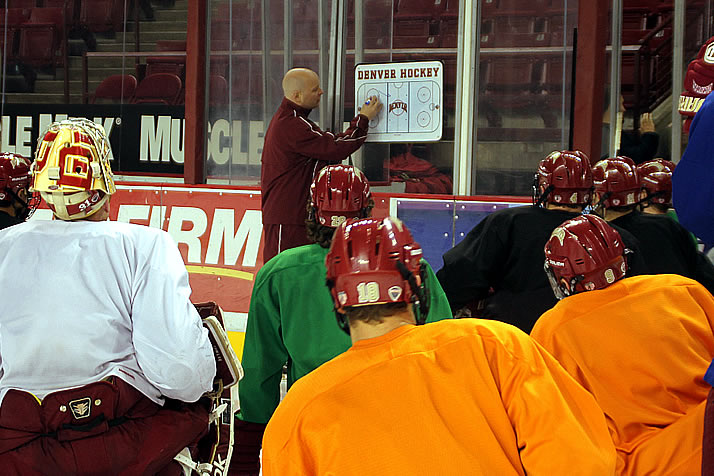 Instruction from NCAA coaches can be the most valuable element of a summer hockey school.
Once school gets out, hockey schools are in session. And whether a young hockey player plans to spend one week or several at a summer hockey camp, they are no small investment.
To help prospective players – particularly those who may be on the NCAA hockey path – make the most of these summer opportunities, College
Related: NCAA Recruiting | FAQ
Here are four of their most common recommendations to help young players maximize their experience:
---
Development vs. Exposure
It can be tempting to look at hockey camps as opportunities to be "seen", especially when NCAA coaches are on staff.
While college coaches are always watching for potential recruits, they emphasize that the most valuable thing campers can get out of the experience is improvement in their game.
Being coached by a college coach is almost always going to be more valuable than being seen by one.
"The concentration needs to be on the experience, not what you expect to get out of it in terms of exposure," Canisius head coach Trevor Large said. "Look at where the camp is, what the experience will be like and who the coaches will be. Know that is where the real value is."
Along those lines, coaches caution against playing too many showcase events, where the focus is on games, as opposed to opportunities to practice and learn from camp staff on the ice.
---
Team Play
It's natural for a player in a setting like a hockey camp to put their individual performance first. Team championships aren't at stake and players haven't formed the bonds that come with a regular-season schedule.
That said, coaches remind players that part of improving and excelling as an individual is doing so within a team setting.
"A lot of kids want to showcase themselves, and they think that means having the puck on their stick all the time," said Miami associate head coach Brent Brekke, who helps run the Miami University Hockey School. "What coaches want to see is someone who makes players around them better. A lot of times we will see good individual skills, but you can't tell the hockey sense that a player has."
That can extend to how a player interacts with new teammates on the bench, or even away from the rink.
"Sometimes during camps players need to fit in, versus trying to do too much on their own," Ferris State associate head coach Drew Famulak said. "We get a chance to interact with them and see who interacts well with their teammates and who understands team concepts."
---
Campus Experience
Many NCAA schools host camps on campus (to find them, look for "summer camps" on schools' athletic web sites). While there are terrific hockey school opportunities that aren't on campus sites, those that are offer a unique perspective.
Campers – particularly those who may not be from the area near the school – can get a first-hand sense of the campus environment. Many camps give attendees the opportunity to stay in on-campus dorms and eat at university dining halls.
"While on campus, campers get a chance to experience that Division I hockey setting," said Famulak, the Ferris State site director for the First Contact camp. "They get to see the dorms, see the cafeterias and see things from the perspective of a normal college student. It's not just a hockey experience.
"It's an opportunity to find out what they like about a school, whether it's the size, the environment, the majors, or anything else beyond the rink."
Campers' days are usually busy, but make time for a campus tour. Stay alert for the off-ice seminars and other opportunities to learn more about the school or the college hockey recruiting process.
---
Goalie Considerations
As with virtually everything in hockey, goaltenders have a unique perspective at hockey camps.
From coaching to ice time, Mercyhurst assistant coach and former Niagara goaltender Greg Gardner advises that a goaltender's experience will depend on picking the right camp for them.
"It's critical to attend a camp with a coach you feel comfortable with," Gardner said. "You want to be somewhere where you can get goaltending instruction, not just play games. Goalies have to do their homework and find a camp with on-ice instruction and the right ratio of goalies to shooters."
Gardner emphasized that it's important to find a camp designed with goalies in mind, and not where they are simply a target.
After all, "anybody can get shot at," he said.