Wednesday, June 21, 2017
Re-drafts Highlight NCAA Players
College players have outperformed their draft position, year after year.
---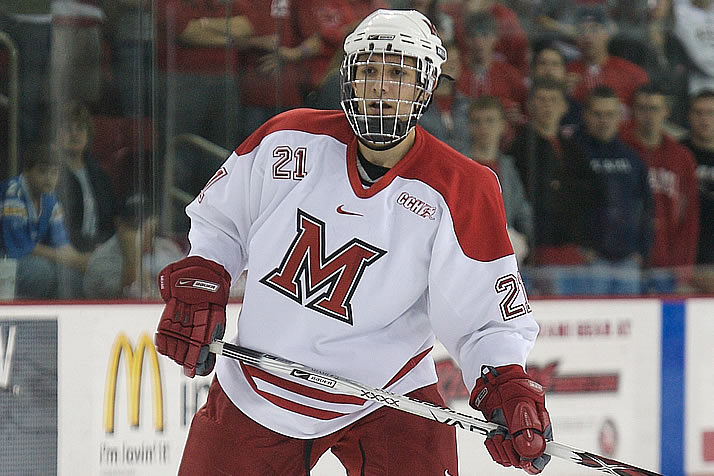 Alec Martinez, a fourth-round pick after his sophomore season at Miami in 2007, would go in the first round in retrospect.
At the 2007 NHL Draft in Columbus, 11 current or future NCAA players made their way to the stage after being selected in the first round. It was a record number, matched by last year's draft class.
In retrospect, according to NHL.com, that record first round should have featured 13 NCAA players.
College Hockey Inc. NHL Draft Guide (.pdf) | Study: Drafting from NCAA
A popular pastime among hockey news organizations is to look back at drafts five, 10 or 20 years ago and "re-draft" them – see where the selections should have fallen, given how the players' careers have played out.
Invariably – no matter the year or the news organization – NCAA players were under-represented in the top picks of the original draft.
Such has been the case in the last week, as NHL.com has reflected on the 2012, 2007 and 1997 drafts. In each case, NCAA players have outperformed their original draft position. The "re-drafts" feature more college players in the first round of each of those three drafts.
That is consistent with previous "re-drafts" by NHL.com and other news organizations in recent years. Here are more than a dozen of those, with links to their findings:
| | | |
| --- | --- | --- |
| Source | Original Draft | Re-Evaluated |
| 1994 Draft, NHL.com | 2 NCAA players in 1st Rd. | 5 NCAA players in 1st Rd. |
| 1997 Draft, NHL.com | 0 NCAA players in 1st Rd. | 3 NCAA players in 1st Rd. |
| 1998 Draft, NHL.com | 1 NCAA player in 1st Rd. | 4 NCAA players in top 19 picks |
| 2000 Draft, NHL.com | 7 NCAA players in 1st Rd. | 8 NCAA players in top 23 picks |
| 2001 Draft, NHL.com | 4 NCAA players in 1st Rd. | 7 NCAA players in 1st Rd. |
| 2003 Draft, NHL.com | 9 NCAA players in 1st Rd. | 10 NCAA players in 1st Rd. |
| 2003 Draft, Sportsnet | 2 NCAA players in top 11 picks; 9 NCAA players in 1st Rd. | 4 NCAA players in top 9 picks; 11 NCAA players in 1st Rd. |
| 2004 Draft, NHL.com | 5 NCAA players in top 23 picks | 6 NCAA players in top 23 picks |
| 2005 Draft, NHL.com | 8 NCAA players in 1st Rd. | 10 NCAA players in top 27 picks |
| 2007 Draft, NHL.com | 11 NCAA players in 1st Rd. | 13 NCAA players in 1st Rd. |
| 2008 Draft, ESPN.com | 4 NCAA players in 1st Rd. | 6 NCAA players in 1st Rd. |
| 2008 Draft, NHL.com | 4 NCAA players in 1st Rd. | 6 NCAA players in 1st Rd. |
| 2009 Draft, ESPN.com | 0 NCAA players in top 15 picks | 4 NCAA players in top 15 picks |
| 2010 Draft, NHL.com | 8 NCAA players in top 30 picks | 9 NCAA players in top 29 picks |
| 2010 Draft, ESPN.com | 8 NCAA players in top 30 picks | 9 NCAA players in top 23 picks |
| 2012 Draft, NHL.com | 5 NCAA players in 1st Rd. | 9 NCAA players in top 25 picks |