Thursday, June 8, 2017
Six Named Academic All-Americans
Bemidji State duo headlines group honored by CoSIDA.
---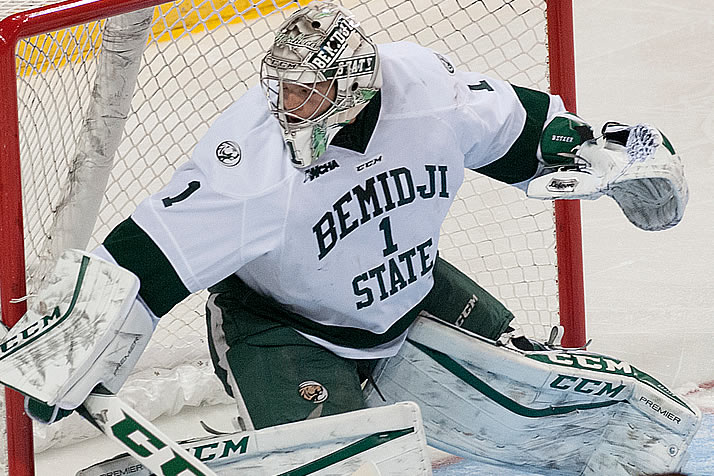 WCHA Player of the Year Michael Bitzer carries a 3.81 grade-point average at Bemidji State (Photo by BSU Photo Services).
Six Division I men's hockey players have been named Academic All-Americans by the College Sports Information Directors of America (CoSIDA), which released the 2017 Academic All-America Division I Men's At-Large Team on Thursday.
Those honorees represent five schools and four Division I conferences:
Michael Bitzer, Bemidji State (Moorhead, Minn./Lincoln-USHL)
Brendan Harms, Bemidji State (Steinbach, Man./Fargo-USHL)
Max French, Bentley (West Kelowna, B.C./West Kelowna-BCHL)
Hampus Gustafsson, Merrimack (Ljungby, Sweden/Amarillo-NAHL)
Kyle Haak, Air Force (Okemos, Mich./Aberdeen-NAHL)
Mike Vecchione, Union (Saugus, Mass./Tri-City-USHL)
Two Bemidji State teammates – senior forward Harms and junior goaltender Bitzer – led the group as selections to the second team. Harms graduated with a perfect 4.00 grade-point average with a major in business administration; Bitzer carries a 3.81 GPA in exercise science.
The other four were all named to the third team. French, a senior forward, was a first-team All-Atlantic Hockey selection while earning his master's degree. Gustafsson, another senior forward who signed with the Washington Capitals after the season, finished with a 4.00 GPA while majoring in business.
Haak, a forward, was one of only four sophomores to be recognized (among 45 honorees). Vecchione was a Hobey Baker Hat Trick finalist and shared the national lead in scoring. He signed with the Philadelphia Flyers and made his NHL debut following his senior season.
The Academic All-America At-Large Teams recognize academic and athletic excellence across 12 men's sports. Past honorees include current NCAA coaches Greg Carvel (St. Lawrence) and Brian Hills (Bowling Green). Several Academic All-Americans have gone on to play in the NHL, including Lee Stempniak (Dartmouth), Mike Johnson (Bowling Green) and Todd White (Clarkson).