Friday, June 30, 2017
U.S. Names Hlinka Team
16 Division I commits among those chosen for Under-18 tournament.
---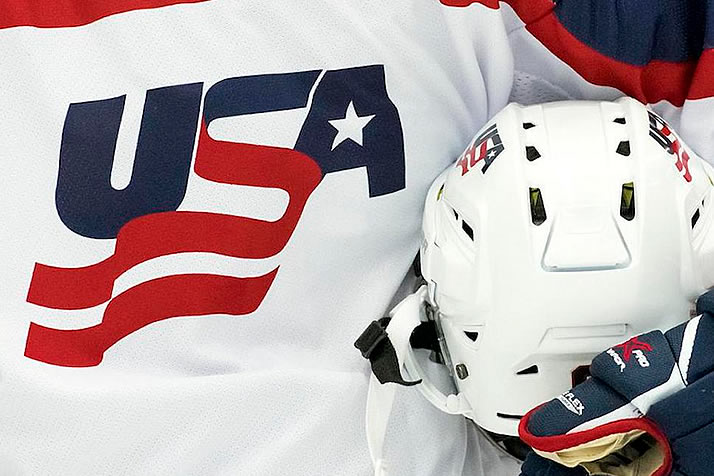 USA Hockey has selected 22 players who participated in the USA Hockey Boys Select 17 Player Development Camp to represent the nation at the 2017 Ivan Hlinka Memorial Cup Tournament next month.
Sixteen of the selections are committed to 10 schools, while five others are uncommitted at this point.
The players were selected from the week-long player development camp, which concluded today in Amherst, N.Y. The camp brought together some of the nation's best 2000 birth-year players for on- and off-ice development and information sessions, including a presentation from College Hockey Inc.
Boston University alumnus Clark Donatelli, currently the head coach of the AHL's Wilkes-Barre/Scranton Penguins, will coach the team for the second year in a row. The U.S. captured second place at the event last summer.
The Ivan Hlinka Memorial Cup is an annual event held each August for national under-18 teams from around the world. The eight-team event will include teams from Canada, Czech Republic, Finland, Russia, Slovakia, Sweden, Switzerland and the U.S. in 2017.
2017 U.S. Under-18 Select Team
Name
Pos.
2016-17 Team
NCAA Commitment
Christian Krygier
D
Lincoln (USHL)
Wisconsin
Michael Ferrandino
D
Waterloo (USHL)
Will Mackinnon
D
U.S. NTDP (USHL)
Denver
Jacob Semik
D
Dubuque (USHL)
Michigan
Cole Krygier
D
Lincoln (USHL)
Wisconsin
Slava Demin
D
Wenatchee (BCHL)
Denver
Adam Samuelsson
D
U.S. NTDP (USHL)
Boston College
Connor Caponi
F
Culver Military Academy
Yale
Ryder Donovan
F
Duluth East H.S.
Jack Randl
F
Omaha (USHL)
Michigan
Brady Meyer
F
North Branch H.S.
Minnesota Duluth
Blade Jenkins
F
U.S. NTDP (USHL)
N/A
Jack Drury
F
Waterloo (UHSL)
Harvard
Kyle Haskins
F
Selects Academy 16U
Blake McLaughlin
F
Grand Rapids H.S./Chicago (USHL)
Minnesota
Philippe Lapointe
F
Shattuck-St. Mary's
Michigan
Gavin Hain
F
Grand Rapids H.S./Sioux Falls (USHL)
North Dakota
Curtis Hall
F
Youngstown (USHL)
Yale
Jack Jensen
F
Eden Prairie H.S.
Minnesota
Ryan Savage
F
Honeybaked 16U/Fargo (USHL)
Miami
Ben Kraws
G
Buffalo Jr. Sabres 16U
Isaiah Saville
G
Colorado Thunderbirds 16U