Thursday, July 27, 2017
Chicago Event Features Alumni
Former Cornell star Scott to host Aug. 5 benefit for Special Olympics.
---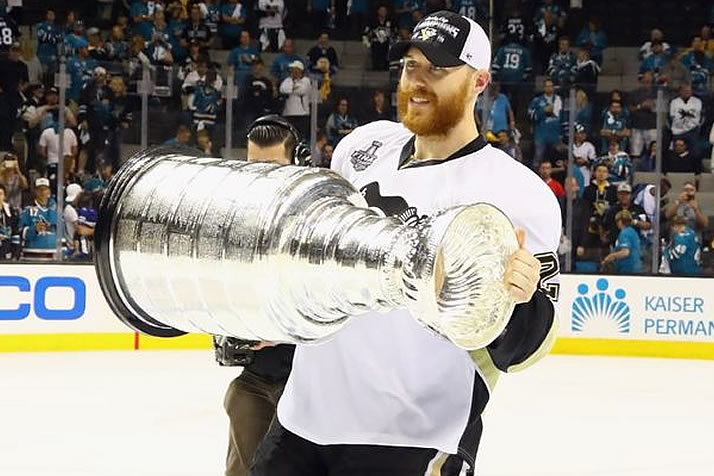 Stanley Cup champion Ian Cole, a Notre Dame alum, is among the participants in the Chicago Hockey Charity Classic.
Former Cornell star and assistant coach Topher Scott has gathered a who's-who of Chicago hockey for the Chicago Hockey Charity Classic on Aug. 5.
Not surprisingly, it features an impressive collection of former college hockey stars.
Chicago Hockey Charity Classic Web Site | Get Tickets
The event – which benefits Special Olympics-Chicago – will face off at 3 p.m. on Saturday, Aug. 5, at Fox Valley Ice Arena, the home of the USHL's Clark Cup-champion Chicago Steel.
Twenty-three expected participants played college hockey – both men and women – with 16 schools represented on the rosters. College connections also played an integral role in getting the game off the ground.
Scott, who was an assistant at Cornell from 2011-16, provided the spark.
"I have twin brothers with special needs and know how incredible that community is," he said. "We have been doing a fundraiser like this at Cornell the past three years, where we've raised close to $300,000 for a school for individuals with special needs. We wanted to expand and I am from Chicago, so it was a natural place to go with how great of a hockey city it is."
Scott connected with Michigan alum and current NHL agent Kevin Magnuson, who is the president of Special Olympics-Chicago.
"It's amazing," Magnuson told Scott Powers of The Athletic. "What started with a few phone calls seven or eight months ago spearheaded by Topher Scott and his success doing a similar type of event at Cornell, where he was previously an assistant coach, and him having two brothers in the Special Olympics program, he's just worked tirelessly to make it a great event and it is."
Other college alums helped Scott recruit players. Brian Keane (Massachusetts) and Jack O'Callahan (Boston University) helped, as did former Yale assistant coach and now Nashville Predators assistant Dan Muse. David Mackey, a former Blackhawk whose son, Connor, is headed to Minnesota State in the fall, will play and helped round up fellow Blackhawk alums.
"The hockey community in Chicago has been unbelievable," Scott said. "There are so many family and youth organizations wanting to get involved."
The event is already more than halfway to its goal of raising $100,000 for Special Olympics-Chicago.
NCAA Alumni in the Chicago Charity Hockey Classic
Adrian Aucoin
Boston University
Megan Bozek
Minnesota
Gino Cavallini
Bowling Green
Ian Cole
Notre Dame
Kendall Coyne
Northeastern
Niko Dimitrakos
Maine
Ted Drury
Harvard
Vinnie Hinostroza
Notre Dame
Cliff Koroll
Denver
Anthony Louis
Miami
Vincent LoVerde
Miami
Jake McCabe
Wisconsin
Bob Nardella
Ferris State
Eddie Olczyk Jr.
Massachusetts
Bemidji State asst. coach
Tommy Olczyk
Penn State
Larry Pedrie
Ferris State
Vince Pedrie
Penn State
Brandon Pirri
Rensselaer
Steve Poapst
Colgate
Alex Rigsby
Wisconsin
Robbie Russo
Notre Dame
T.J. Tynan
Notre Dame
Dennis Vaske
Minnesota Duluth