Monday, July 24, 2017
Development Camps: The Newcomers
Incoming freshmen prepare for their next step at NHL development camps.
---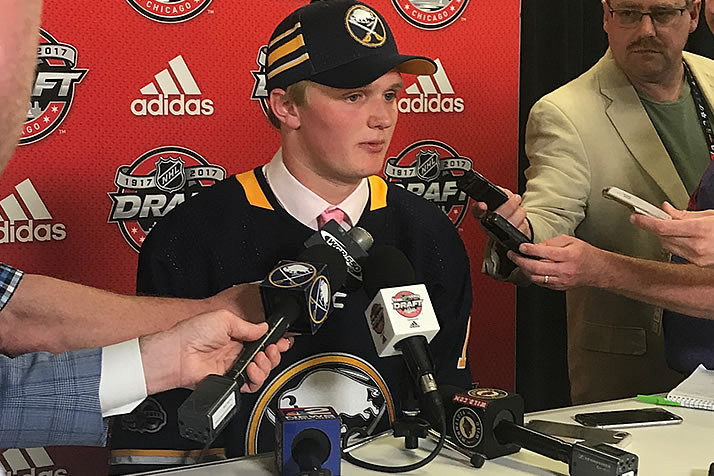 Casey Mittelstadt roomed with a fellow Golden Gopher at Sabres camp.
Nearly 500 past, present and future NCAA players participated in NHL Development Camps this summer. With that many participants, it's not surprising that they have many different backgrounds – from first rounders to free agents, and from fresh-faced 18-year-olds to experienced veterans.

As camps conclude, collegehockeyinc.com is looking at several of those groups. Previously: The Sophomores | The Pros.

Up next: The Newcomers.
For many first-time NHL development camp participants, that's just one in a series of new and momentous experiences.
Get drafted by an NHL team in June. Go to a camp in July. At some point in the summer enroll in college and get ready to make your NCAA debut in the fall.
NCAA Players in NHL Development Camps | Player Development
Players like Massachusetts freshman Cale Makar and Minnesota freshman Casey Mittelstadt were top-10 picks in June's draft in Chicago, then quickly headed to camp with Colorado and Buffalo, respectively.
Development camps can be eye-opening for these 18-year-olds, a chance to see what lies ahead at the NHL level.
It's also an opportunity to look at the next step, in college, and what they hope to improve upon.
"I want to round out my game, but not take away from the offensive side of my game," Makar told the Avalanche web site. "There's a few flaws in my defensive zone that I need to work on but nothing major that I think is going to hold me back from playing in the NHL."
Makar's future UMass teammate, Mario Ferraro, impressed at San Jose camp, and also has his sights set on Amherst.
"I'm looking to improve on my shot," he said. "I need to have a good, quick release from the point. Watching the NHL, a lot of goals are scored from the point. That's very important. And I want to work on knowing when and when not to go up in a play, choosing my spots a little bit better."
---
Buffalo's Gopher Connection
For Mittelstadt in Buffalo, taking another step in the journey only piqued his interest in his immediate future at Minnesota. It helped that he spent the week rooming with former Gopher Hudson Fasching and was able to pick his brain.
"I'm really looking forward to the fall, getting to go in and wear the 'M'," Mittelstadt told the Buffalo News. "To be honest, I barely knew [Fasching] at all. We have a little bit of background in common but never really crossed paths. I've seen him in the weight room a few times before this. He still works out at the university. I met him in there a few times and he said, 'Welcome to Buffalo.' "
Fasching didn't just welcome Mittelstadt to his future pro city; he also helped prepare him for what lies ahead this fall.
"He's got the curious questions coming in his first year there," Fasching said. "How does everything start out? Things like that. I'm looking forward to hanging out with him here."
---
Elsewhere in the League
With 60 NCAA players selected in the 2017 NHL Draft, many more incoming freshmen were scattered around NHL development camps.
In Chicago, Penn State's Evan Barrett blogged about his experience for the team web site.
In a few places, future NCAA rivals shared a locker room, including former NTDP teammates Josh Norris (Michigan) and Scott Reedy (Minnesota) in San Jose. In Arizona, future BC and BU rivals Michael Karow and Cameron Crotty patrolled the same blue lines.
Detroit had four incoming freshmen at its camp, including two towering 6-foot-5 future ECAC Hockey freshmen. Goaltender Keith Petruzzelli (Quinnipiac) and forward Jack Adams (Union) faced each other in the USHL; after a brief stint as teammates this summer, they will face off again this winter.
"I'm really excited to go to Union and develop academically and athletically under coach (Rick) Bennett and his staff," Adams told the Red Wings' web site. "I'm a little bit bigger, 6-5, so I got to keep working on my feet and moving. I've got pretty good skill and hockey sense so once I get my feet down and grow into my body more, I could be a pretty good player."