Thursday, July 20, 2017
Development Camps: The Pros
Summer camps a key transition step for players entering their first pro seasons.
---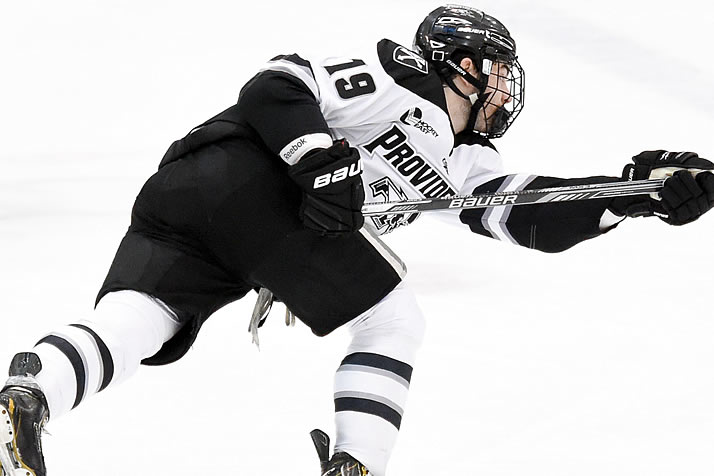 Defenseman Jake Walman scored 20 goals the past two years at Providence.
Nearly 500 past, present and future NCAA players participated in NHL Development Camps this summer. With that many participants, it's not surprising that they have many different backgrounds – from first rounders to free agents, and from fresh-faced 18-year-olds to experienced veterans.

As camps conclude, collegehockeyinc.com is looking at several of those groups. Previously: The Sophomores.

Up next: The Pros.
Everyone attending an NHL development camp wants to make a positive impression.
For players recently signed to their first professional contracts, however, that can take on added importance. Development camps are more than off-season opportunities before another year of school; it's like the difference between an extracurricular activity and an actual job.
NCAA Players in NHL Development Camps | Player Development
At most development camps, these are the players teams expect to stand out. Players like Zach Aston-Reese, Anders Bjork, Carson Soucy, Spencer Foo and Jake Walman are seen as potential NHL rookies in the fall, and by all accounts, each lived up to those expectations this July.
"Walman's skating is unbelievable," St. Louis Blues director of player development Tim Taylor said of the former Friar. "He takes a step and he's by guys and has instant separation. I know (Blues assistant coach) Darryl Sydor had him at the end of the year in Chicago. They're really excited about him.
"He's a guy that really could step in … he has a real, real legit chance of making the lineup opening day."
The players, meanwhile, work to keep their approach consistent, regardless of what might be ahead in the fall.
"I think the expectations are going to be the same," said Walman, who turned pro after his junior season. "It's always high. I put huge pressure on myself as it is. I think taking it every day, working hard and everything I'm experiencing now is kind of for the first time, because I'm out of college. Nothing's expected. It's all going to be hard work for me."
---
'Everybody is Watching'
In Chicago, Anthony Louis enters his first pro season after graduating from Miami.
"Everybody is watching and I learned over the past few years, it doesn't matter who's watching there's always going to be somebody watching," Louis told the Chicago Tribune. "You just go out there, have fun and do what I do best.
"I've always gone in there trying to prove myself as best I can," he added. "This year there might be a little more expected from me, but it doesn't change the way I'm going to approach the camp."
Walman, Louis and other drafted players like them typically have years of experience at their NHL team's development camps. For undrafted signees like Aston-Reese and Foo, the experience can be a bit different.
Foo attended Calgary's camp a year ago as a relatively anonymous invitee. Now, as a prominent free agent signing, he garnered a lot of attention – and was eager to show what he had learned in three years at Union.
---
Free Agent Singees
"I feel good," Foo told the team web site. "I think I have more of a complete game than last year and I mean, obviously, when you're doing drills and stuff it doesn't show too much but I think I just feel more comfortable."
Aston-Reese was a standout at Pittsburgh's camp, earning praise from the likes of assistant general manager Bill Guerin and assistant coach Mark Recchi. Guerin noted the Hobey Baker finalist's willingness to go to tough areas of the ice.
"That's kind of been what I've been developing the last couple of years at Northeastern," Aston-Reese told the team web site, "and I think that kind of showed with my production throughout my four years there."
For a four-year player like Aston-Reese, or Bruins prospect Bjork, who spent three years at Notre Dame, those little things can make a big difference. Media reports in Boston consider Bjork a strong candidate to crack the opening night lineup, and those details are a big reason why.
---
Attention to Detail
"Learning some defensive things and focusing on that under Coach (Jeff) Jackson was really helpful," said Bjork. "It helped me a lot. I think it helped me mature as a player ... really helped my development."
Bruins player development coordinator Jamie Langenbrunner echoed Bjork's self-assessment and the value of his time on campus.
"He comes from a great program, from a great head coach [Jeff Jackson] that understands pro hockey and understands hockey in general," said Langenbrunner. "His details are good, they'll have to come to another level to be consistent in the NHL, but he's a smart and skilled player that I think will grasp it pretty quick."
Similarly, the Minnesota Wild see former Wisconsin captain Luke Kunin as someone who could contribute immediately. Director of player development Brad Bombardir noted Kunin's fitness after two years in Madison.
"He's made great strides again physically," Bombardir said. "He's in phenomenal shape again – he has made improvements on that since last year."
---
View from the Crease
Four former NCAA goaltenders participated in their first NHL development camps as professionals, including Hunter Miska, who led Minnesota Duluth to the national title game in his one year on campus. He credited his time in Duluth with preparing him to sign as a free agent in Arizona.
"It was unbelievable," Miska said of his freshman season. "We had a really great group of guys and I couldn't be any happier with the situation I had there. They treated me really well and obviously helped me get to where I am today ... It's not too crazy coming from the NCAA (to development camp). I think that's a really good preparation league to take it to the next step here and I think playing there really helped me to make the jump."
All four of those NCAA goalies to sign and appear in development camp – Miska, Chris Nell (Bowling Green/New York Rangers), Angus Redmond (Michigan Tech/Anaheim) and Shane Starrett (Air Force/Edmonton) – were free agents. That meant their camps were not just an introduction to pro hockey, but also to a new franchise.
College has helped prepare all of these players to take the next step in their careers, but as this summer's experiences proved, the learning process continues.