Tuesday, July 18, 2017
Development Camps: The Sophomores
Players show off their development after one year on campus.
---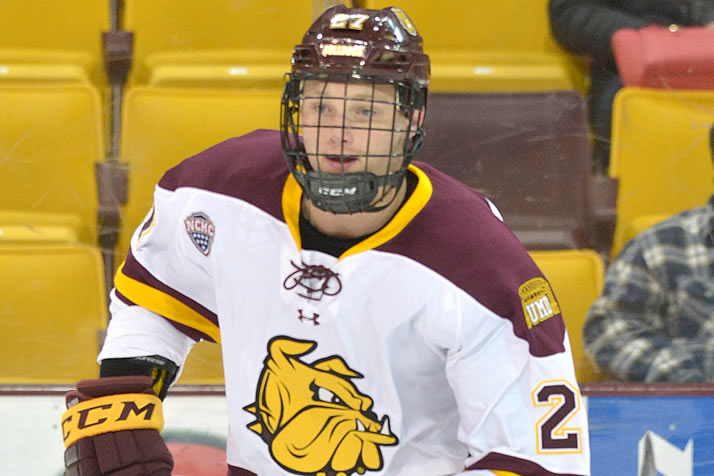 Riley Tufte had 16 points as a Minnesota Duluth freshman, all after the New Year.
Nearly 500 past, present and future NCAA players participated in NHL Development Camps this summer. With that many participants, it's not surprising that they have many different backgrounds – from first rounders to free agents, and from fresh-faced 18-year-olds to experienced veterans.
In the next week, collegehockeyinc.com will look at several of those groups. Up first: The Sophomores.
College hockey fans know that a player often makes his biggest improvement in production, year-over-year, as a sophomore.
With a year of NCAA games, practices and strength-and-conditioning workouts in the books, sophomores often see significant leaps in their performance. For players who have just completed their freshman year, NHL development camp is a chance to show off that development.
NCAA Players in NHL Development Camps | Player Development
For Minnesota Duluth's Riley Tufte, a first-round pick of the Dallas Stars, that breakthrough seemed to happen at midseason in 2016-17. His second-half performance hinted at what could be a big sophomore campaign.
"Big step for him," said Stars general manager Jim Nill on the team web site. "What really excited us is the last half of the season is he really took off. He was a dominant force in the playoffs. We are looking for great things from him this season back in Duluth."
"I am going in the right direction," Tufte said. "Getting a year under my belt was huge for me. Going in there and knowing what I need to do. I think it will be a good season and I think I am going to play a bigger role this year. I am excited for that."
---
Adding Muscle
The 6-foot-5 Tufte noted that NCAA workouts helped him add 10 pounds to his frame.
"I've noticed it on the ice," he said. "I am faster and knocking guys off the puck. It's been a good process so far."
Penn State's Nikita Pavlychev has two inches on Tufte, at 6-foot-7, and the Penguins draft pick told the Pens' site that his workout regimen has helped him add nearly 20 pounds of muscle.
"I've been improving a lot," he said. "My strength and conditioning coach has been helping a lot. I'm just getting stronger now.
"You don't want to have any extra weight that is going to slow you down because you're a big guy and already pretty slow," he laughed. "It's about gaining the healthy weight, watching the diet and not eating a lot of junk, trying to keep the weight as muscle and not fat. That's the key."
---
Current Badger, Future Bruin
After a point-per-game freshman season as Wisconsin, Trent Frederic may not have as much room for improvement, production-wise, as some other sophomores. But his second-team All-Big Ten rookie campaign certainly opened eyes in Boston, where he was a first-round pick of the Bruins, and seems to have elevated the expectations of the organization and the area media.
"There's more skill to his game than I think people thought coming out of the draft," Bruins player development coordinator Jamie Langenbrunner told the team web site and local media outlets.
Added strength certainly helped Frederic as well.
"He's filled out, I'll say," Langenbrunner said. "He's gotten a stronger upper body. He's obviously a big kid to start with. His dad is a big man also. So, that was to be expected that he would fill out. He was a young kid a year ago, and he's continuing to grow and develop and taking good strides."
Frederic credited the Wisconsin coaches for helping guide him and giving him opportunities to thrive.
"Going into [freshman year] I didn't really know [what to expect]," he said. "I was a freshman, I was just trying to pass class and do well in hockey. And then everything kind of went well, I passed class and hockey went well. So I couldn't complain really.
"Great coaching kind of helped me, gave me a lot of confidence," he added. "And then my teammates as well, I had some good players playing with me. … I think I played with every forward on my team, everyone but like three. So that was kind of cool, I got a lot of exposure, first line, third line. So I couldn't complain really. I played in most situations, so it was pretty nice."
---
Added Attention
First-rounders like Frederic get a lot of attention at development camps, understandably, but it's often a chance for less heralded players to turn heads.
In Minnesota, Providence forward Brandon Duhaime was recognized as the camp's Most Improved Player. Duhaime had modest offensive numbers as a freshman – four goals, 12 points – but has shown signs of a potential breakout sophomore season.
"It gives you a little bit of confidence knowing that that the work you've put in so far is recognized," Duhaime told the team web site. "It's not done yet, I think having another month and a half to two months before the first game of the season is going to be even bigger than the first part so I'm gonna have to put in work for that."
"He looked like just a bigger athlete, a bigger man," said Iowa Wild coach Derek Lalonde, a former assistant coach at Ferris State and Denver. "And then he was just much more assertive with his game and that's what you like to see."
---
Older Competition
Each of these rising sophomores benefitted from competing against older, stronger competition as NCAA freshmen. That gave them an opportunity to prove themselves on a bigger stage ahead of these development camps and to raise their level of play – both in practices and games – to keep up.
Joseph Woll, who faced 999 shots in games and countless more in practice as a Boston College freshman, proved himself as a rookie and is now looking to take the next step. The Toronto Maple Leafs draft pick wants to be one of the top goaltenders in college hockey as a sophomore.
"Playing college hockey with all the older guys, I think I've gained a lot of maturity in my game," Woll told the team web site. "I think I've learned to manage it well playing with the older guys and get a good sense of what it takes at a little higher level. I was excited to show everyone here [with the Maple Leafs] what I've learned. I want to be able to go out each game and show Toronto that I want to play for them and want to be an NHL player."