Monday, July 10, 2017
The Athletic Features NCAA Hockey
College influence on both Stanley Cup finalists highlighted by Jack Han
---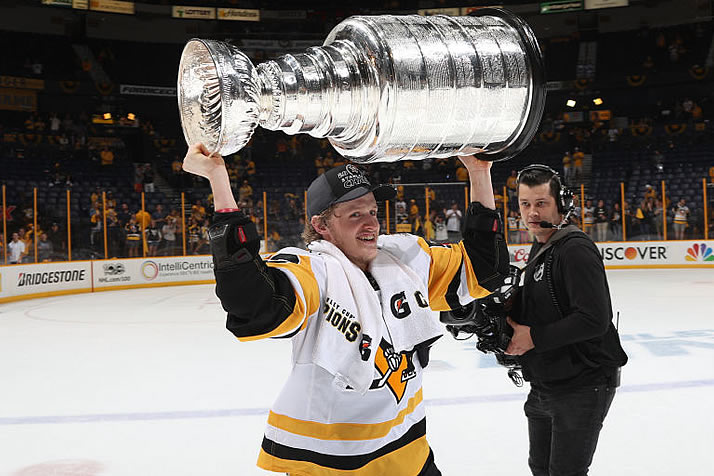 Jake Guentzel was one of 15 NCAA alumni to play for the Penguins in the Stanley Cup Final.
Jack Han of The Athletic highlights the role of NCAA hockey in the success of this year's Stanley Cup finalists in the latest edition of his column, "The Video Room."
"Success in today's NHL is achieved by identifying undervalued players and applying new ideas," writes Han. "The Pittsburgh Penguins and the Nashville Predators broke away from the pack by hiring alumni and borrowing ideas from leading NCAA Division I hockey programs."
Han tweets at @ml_han and has gained a following thanks in large part to his outstanding #1MinuteTactics video series, which highlights specific strategies teams employ with accompanying video. Han also is the video and analytics coordinator for the University of McGill in Montreal.
His story on The Athletic features a pair of One-Minute Tactics videos to show how the Nashville Predators' approach to puck pressure mimics that of successful NCAA teams – specifically comparing the Predators to Denver and Harvard.
Han, who quotes College Hockey Inc. Executive Director Mike Snee in his story, also highlights the record number of NCAA alums on the Penguins and looks at how NCAA teams integrate analytics in their own approach.
The Athletic is a relatively new, subscription-only site with local coverage in cities like Chicago and Detroit. Former Alaska Anchorage forward Justin Bourne recently announced that he was leaving his position on the Toronto Marlies' staff to join The Athletic.