Wednesday, August 16, 2017
Hawks Share NCAA Memories
Convention panel gives Chicago stars a chance to reflect on college careers.
---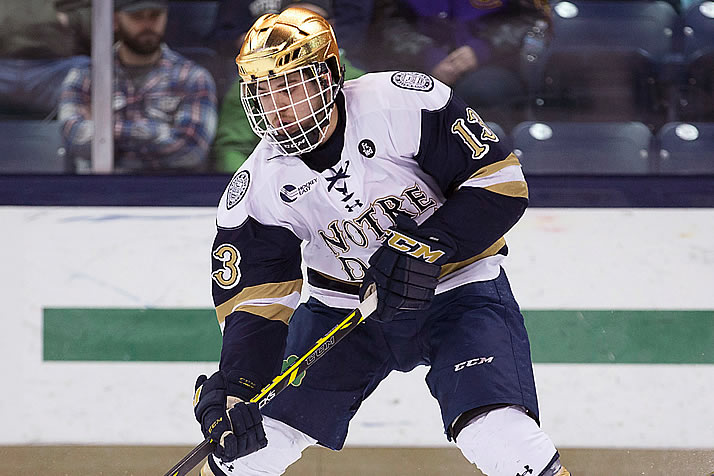 Vinnie Hinostroza recorded 76 points in 76 games at Notre Dame.
The Chicago Blackhawks are led by North Dakota alumnus Jonathan Toews, featured an NHL-high 15 draft picks in the NCAA last year and recently supported efforts to explore adding hockey at the University of Illinois.
NCAA hockey support runs deep with the 2010, '13 and '15 Stanley Cup champions, and it was on display last month at the 2017 Blackhawks Convention.
Former North Dakota star Troy Murray – now a Blackhawks radio analyst – hosted a panel that featured Adam Burish (Wisconsin), Nick Schmaltz (North Dakota), John Hayden (Yale) and Vinnie Hinostroza (Notre Dame).
Among the highlights from the session, captured in two parts on Blackhawks TV:
Burish and Schmaltz reflected on winning the NCAA championship (and playing golf seemingly every day this summer in Madison)
Hayden spoke a bit of Indonesian and recalled a special Chicago moment from his Yale graduation
Hinostroza talked about the feeling of taking the ice for the first time as a college player
"I remember my first game, the first time wearing the crest on your chest," Hinostroza said. "For a lot of us it's the first time wearing a crest that is from a school you belong to. It's really cool going out there and seeing all the students wearing the same shirts and the same jerseys. It's really special."
Watch both parts of the session below, courtesy of Blackhawks TV:
Part 1:
Part 2: