Wednesday, August 23, 2017
Talent Fills U.S. Prospect Roster
Two freshmen, 38 commits selected for 2017 CCM/USA Hockey All-American Prospects Game.
---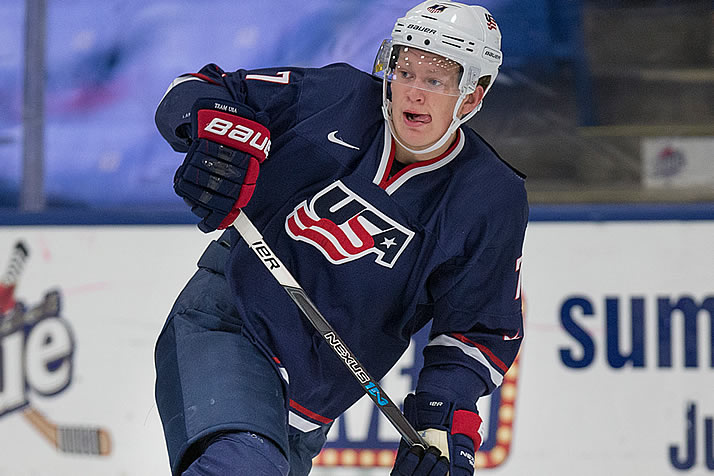 Boston University freshman Brady Tkachuk had five points in five games at the World Junior Summer Showcase this summer.
Two NCAA freshmen and 38 committed recruits are among the 42 players selected for the 2017 CCM/USA Hockey All-American Prospects Game, USA Hockey announced Wednesday.
The game – which showcases the top American players eligible for the 2018 NHL Draft – is set for Thursday, Sept. 21, in Buffalo.
Sixteen schools are represented on the full roster, headlined by freshmen Quinn Hughes (Michigan) and Brady Tkachuk (Boston University).
Michigan leads all schools with six representatives between Hughes and five commits. Minnesota and Wisconsin have four recruits each on the roster, followed by Boston University, Harvard, Miami, Notre Dame and Providence with three representatives each.
Hockey Hall of Famers and former college stars Chris Chelios (Wisconsin) and Brian Leetch (Boston College) have been named the coaches of the sixth annual event. The roster will be divided into two teams at a later date.
2017 CCM/USA Hockey All-American Prospects Game Roster
Player
2017-18 Team
NCAA Commitment
Goaltenders
Drew DeRidder
U.S. National Under-18 Team
Michigan State
Ben Kraws
Buffalo Jr. Sabres (T1EHL)
Miami
Jake Kucharski
Austin Bruins (NAHL)
Providence
Jon Mor
U.S. National Under-18 Team
Uncommitted

Defensemen
Michael Callahan
Bloomington Thunder (USHL)
Providence
Slava Demin
Wenatchee Wild (BCHL)
Denver
Ty Emberson
U.S. National Under-18 Team
Wisconsin
Jordan Harris
Kimball Union (Prep)
Northeastern
Quinn Hughes
U. of Michigan
Christian Krygier
Lincoln Stars (USHL)
Wisconsin
Cole Krygier
Lincoln Stars (USHL)
Wisconsin
K'Andre Miller
U.S. National Under-18 Team
Wisconsin
Alec Regula
Chicago Steel (USHL)
Michigan
Adam Samuelsson
U.S. National Under-18 Team
Boston College
Mattias Samuelsson
U.S. National Under-18 Team
Michigan
Jacob Semik
Dubuque Fighting Saints (USHL)
Michigan
Spencer Stastney
U.S. National Under-18 Team
Notre Dame
Bode Wilde
U.S. National Under-18 Team
Harvard

Forwards
Braden Costello
Des Moines Buccaneers (USHL)
North Dakota
Paul Cotter
Brookings Blizzard (NAHL)
Western Michigan
Jack Drury
Waterloo Black Hawks (USHL)
Harvard
Joel Farabee
U.S. National Under-18 Team
Boston University
Jake Gricius
Portland Winter Hawks (WHL)
John Gruden
U.S. National Under-18 Team
Miami
Gavin Hain
Sioux Falls Stampede (USHL)
North Dakota
Curtis Hall
Youngstown Phantoms (USHL)
Yale
Jack Jensen
Eden Prairie H.S.
Minnesota
Philippe Lapointe
Shattuck St. Mary's (Prep)
Michigan
Blake McLaughlin
Chicago Steel (USHL)
Minnesota
Jaxon Nelson
Sioux Falls Stampede (USHL)
Minnesota
Jay O'Brien
Thayer Academy (Prep)
Providence
Ryan O'Reilly
Madison Capitols (USHL)
Denver
Jack Perbix
Elk River H.S.
Notre Dame
Jake Pivonka
U.S. National Under-18 Team
Notre Dame
Noah Prokop
Shattuck St. Mary's (Prep)
Omaha
Jack Randl
Omaha Lancers (USHL)
Michigan
Ryan Savage
Fargo Force (USHL)
Miami
Colin Schmidt
Wayzata H.S.
Minnesota
Brady Tkachuk
Boston University
Oliver Wahlstrom
U.S. National Under-18 Team
Harvard
Tyler Weiss
U.S. National Under-18 Team
Boston University
Jake Wise
U.S. National Under-18 Team
Boston University