Wednesday, September 27, 2017
ISS Ranks Top 30 Freshmen
Hockey scouting service identifies best in a talented rookie class.
---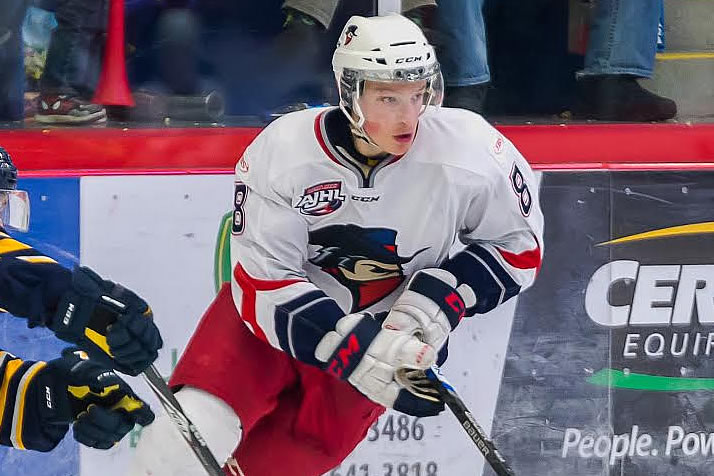 CJHL Player of the Year Cale Makar is one of two Massachusetts defensemen in the top 15.
A pair of top-eight NHL Draft selections and two more players who could be selected that high in June headline ISS Hockey's ranking of the top 30 freshmen in NCAA hockey for 2017-18.
Minnesota's Casey Mittelstadt (Eden Prairie, Minn./Green Bay-USHL) earned the No. 1 spot from ISS Hockey, edging out Massachusetts defenseman Cale Makar (Calgary, Alta./Brooks-AJHL). Those two were selected eighth and fourth, respectively, in the 2017 NHL Draft.
ISS Director of Scouting Dennis MacInnis has high expectations for Mittelstadt and Makar.
"Mittelstadt will add instant offense to Gophers' lineup; he is very explosive and will challenge the opposing defensemen one-on-one at this level," MacInnis said. "Makar is an exceptional skater who loves to carry the puck and put defenders on their heels. UMass is staying young this season, with a roster set to include up to 11 freshmen. Look for Makar to have immediate impact."
Prospects for the 2018 NHL Draft followed in the next two spots in the top 30, occupied by Michigan's Quinn Hughes (Orlando, Fla./U.S. NTDP) and Boston University's Brady Tkachuk (St. Louis, Mo./U.S. NTDP). Hughes's Michigan teammate, Josh Norris (Oxford, Mich./U.S. NTDP), rounded out the top five.
Hughes will have NHL scouts following the Wolverines closely.
"Watch for Top 2018 NHL draft eligible Quinn Hughes to make seamless transition to Big Ten hockey," MacInnis said. "He's extremely smart, handles the forecheck ease and isn't easily rattled. He makes quality decisions with the puck and plays with confidence. While not the biggest guy, he uses his IQ and skating ability to shut down attackers."
Eighteen schools have a player featured in the top 30, led by Boston University (five) and Wisconsin (three). Twenty-seven of the top 30 have been drafted by NHL teams, with 18 franchises represented by prospects in the rankings. Chicago and San Jose lead all teams with three draft picks each in the top 30.
Defensemen made up half of the 60 NCAA players selected in the 2017 NHL Draft, and similarly make up half of this list. Twelve forwards and three goaltenders round out the selections.
With the top 30 made up of 1998 and '99 birthdates, MacInnis also offered College Hockey Inc. ISS Hockey's top-five '97s in the freshman class:
Cornell forward Kyle Betts (Flesherton, Ont./Powell River-BCHL)
North Dakota goaltender Peter Thome (Minneapolis, Minn./Waterloo-USHL/CBJ)
Union forward Jack Adams (Boxford, Mass./Fargo-USHL/DET)
Minnesota Duluth forward Nick Swaney (Lakeville, Minn./Waterloo-USHL/MIN)
UMass Lowell defenseman Croix Evingson (Anchorage, Alaska/Shreveport-NAHL/WPG)
Many of these freshmen will make their NCAA debuts this weekend or next as the NCAA season begins.
ISS Hockey Top 30 Freshmen
Rank
Name
School
Pos.
NHL Rights
DOB
1.
Casey Mittelstadt
Minnesota
C
BUF
11/22/98
2.
Cale Makar
Massachusetts
RD
COL
10/30/98
3.
Quinn Hughes
Michigan
LD
Draft elig.
10/14/99
4.
Brady Tkachuk
Boston University
C
Draft elig.
9/16/99
5.
Josh Norris
Michigan
C
SJ
5/5/99
6.
David Farrance
Boston University
RD
NSH
6/23/99
7.
Shane Bowers
Boston University
C
OTT
7/30/99
8.
Dylan Samberg
Minnesota Duluth
LD
WPG
1/24/99
9.
Jack Badini
Harvard
C/LW
ANA
1/19/98
10.
Cayden Primeau
Northeastern
G
MTL
8/11/99
11.
Ben Mirageas
Providence
LD
NYI
5/8/99
12.
Grant Mismash
North Dakota
LW
NSH
2/19/99
13.
Evan Barratt
Penn State
C
CHI
2/18/99
14.
Scott Reedy
Minnesota
C
SJ
4/4/99
15.
Mario Ferraro
Massachusetts
LD
SJ
9/17/98
16.
Cameron Crotty
Boston University
RD
ARI
5/5/99
17.
Matthew Cairns
Cornell
LD
EDM
4/27/98
18.
Mikey Anderson
Minnesota Duluth
LD
LA
5/25/99
19.
Max Gildon
New Hampshire
LD
FLA
5/17/99
20.
Sean Dhooghe
Wisconsin
C
Draft elig.
3/9/99
21.
Linus Weissbach
Wisconsin
LW
BUF
4/19/98
22.
Bryce Misley
Vermont
C
MIN
9/5/99
23.
Reilly Walsh
Harvard
RD
NJ
4/21/99
24.
Keith Petruzzelli
Quinnipiac
G
DET
2/9/99
25.
Matt Hellickson
Notre Dame
LD
NJ
3/21/98
26.
Kasper Kotkansalo
Boston University
LD
DET
11/16/98
27.
Parker Foo
Union
LW
CHI
9/12/98
28.
Jeremy Swayman
Maine
G
BOS
11/24/98
29.
Tyler Inamoto
Wisconsin
LD
FLA
5/6/99
30.
Jake Ryczek
Providence
RD
CHI
3/19/98