Wednesday, October 18, 2017
Alums Form Bulk of U.S. Select Team
Deutschland Cup will help USA Hockey assess candidates for 2018 Olympics.
---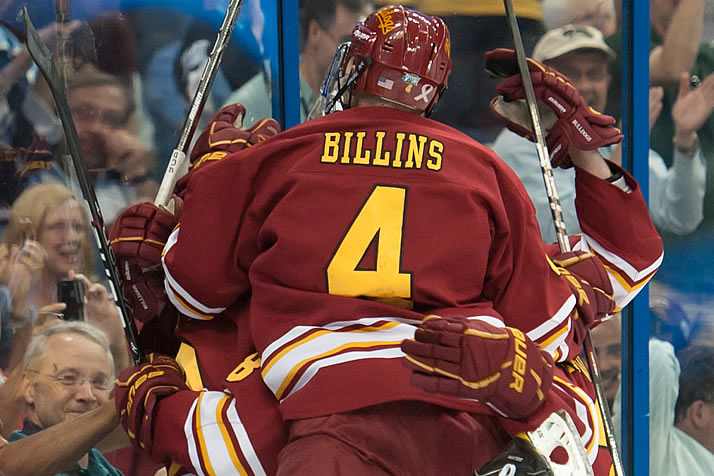 Former Ferris State defenseman Chad Billins is currently with Linkoping HC in Sweden.
Jim Johansson, general manager of the 2018 U.S. Olympic Men's Hockey Team, has made no secret about the importance of NCAA hockey and its alumni as he builds the roster.
The U.S. team that will compete at the 2017 Deutschland Cup certainly reflects that, with 26 of the 29 players named having played U.S. college hockey.
Participants, most of whom are playing in European professional leagues, will be in contention for the Olympic team to compete in February. The Olympic coaching staff, led by Wisconsin head coach Tony Granato, will coach in the Deutschlan Cup as well, with games set for Nov. 10, 11 and 12.
Eighteen schools have alumni on the roster, led by Yale with four representatives. St. Cloud State has three former players on the team, while Harvard, Denver and Wisconsin have two each.
Hobey Baker Award winners Matt Gilroy (Boston University) and Andy Miele (Miami) are among those selected.
"We're excited about our roster for the Deutschland Cup," Johansson said. "It should be an excellent tournament and will also be a good chance to help us in our Olympic preparation."
Joining Granato on the coaching staff are Yale head coach Keith Allain, Chris Chelios, Ron Rolston and Scott Young. The four-team event features the U.S., Slovakia, Russia and host Germany.
2017 U.S. Men's National Select Team
No.
Name
Pos.
NCAA Alma Mater
2
Mike Lundin
D
Maine
3
Dylan Reese
D
Harvard
4
Mark Stuart
D
Colorado College
5
Matt Donovan
D
Denver
6
Jonathan Blum
D
7
Matt Gilroy
D
Boston University
8
Noah Welch
D
Harvard
9
Garrett Roe
F
St. Cloud State
10
Robbie Earl
F
Wisconsin
11
Ryan Lasch
F
St. Cloud State
12
Ryan Malone
F
St. Cloud State
13
Ryan Gunderson
D
Vermont
14
Tom Gilbert
F
Wisconsin
15
Drew Shore
F
Denver
16
Sean Backman
F
Yale
17
Broc Little
F
Yale
18
Dan Sexton
F
Bowling Green
19
Jim Slater
F
Michigan State
21
Brian Gionta
F
Boston College
22
Brian O'Neill
F
Yale
24
Andy Miele
F
Miami
25
Chad Kolarik
F
Michigan
26
Mark Arcobello
F
Yale
27
Bobby Sanguinetti
D
28
Chad Billins
D
Ferris State
29
Ryan Stoa
F
Minnesota
30
Ryan Zapolski
G
Mercyhurst
31
Brandon Maxwell
G
35
David Leggio
G
Clarkson