Wednesday, October 25, 2017
Notes: Hayton Faces Alma Mater
Wisconsin hosts St. Lawrence in weekend full of intriguing matchups.
---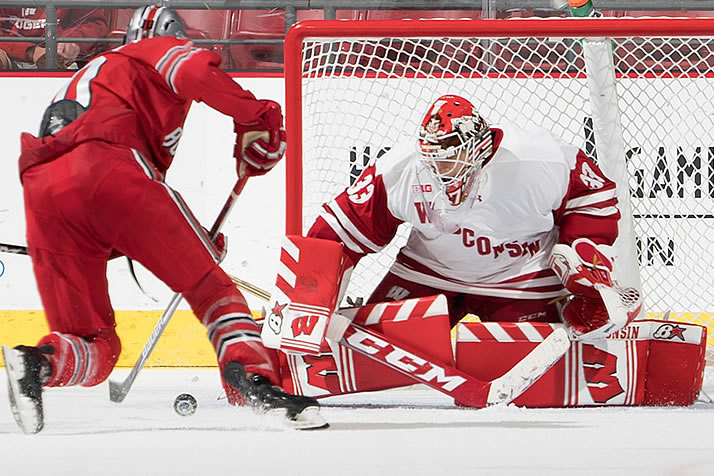 Kyle Hayton was named the Big Ten First Star of the Week on Oct. 17.
By Nate Ewell
Wisconsin senior Kyle Hayton (Denver, Colo./Sioux City-USHL), one of the most decorated goalies in college hockey, meets the team where he collected many of those accolades this weekend as the Badgers host St. Lawrence. Hayton transferred to Madison after earning his business and economics degree in three seasons with the Saints, where he was the AHCA East Second-Team All-American last season. | Wisconsin State Journal: Hayton's arrival changes UW's goaltending landscape | Friday's game is on FOX Sports Wisconsin
Kyle Hayton Career Rank Among Active Goaltenders
Saves: 3,226, First
Save Percentage: .933, First
Goals-Against Average: 2.11, Sixth
Wins: 58, Second
Shutouts: 13, Second
Minimum 500 minutes played
---
Must Read/See/Hear Material
The Athletic: Wingels all for getting state a Division I hockey program
NHL.com: Hughes earning attention with poise, hockey IQ
Daily Collegian: Cale Makar: UMass hockey's crown jewel
Denver Post: Jaillet showing true colors
The Athletic: On long road to NHL, Mittelstadt stands out
SB Nation: OSU's Jobst doesn't let size deter him
SB Nation: Kielly savoring Clarkson experience
---
Five More Storylines No One Should Be Without
Powers collide at BU – Preseason No. 1 and 2 meet Friday as Denver visits Boston University, a game featuring two of the sport's powers – as well as multiple potential Olympians. Denver's Troy Terry (Denver, Colo./U.S. NTDP/ANA) and BU's Jordan Greenway (Canton, N.Y./U.S. NTDP/MIN) were teammates on last winter's U.S. National Junior Team that won the World Junior Championship and they represented USA Hockey in September at the Team USA Media Summit. Friday's game will feature four players listed in the recent Hockey News ranking of the world's 100 best players 21 years old or younger. | Watch on Stadium
Seniors lead Mavericks – Minnesota State and Michigan Tech – who have combined to win three of the last four WCHA Tournaments – meet this weekend in Mankato, where the Mavericks are led by senior linemates and former USHL teammates Zeb Knutson (Sioux Falls, S.D./Sioux Falls-USHL) and C.J. Suess (Forest Lake, Minn./Sioux Falls-USHL/WPG). Suess – who went by C.J. Franklin prior to this season – has been a consistent contributor for four years and is closing in on 100 career points (89). Knutson only played nine games as a freshman but his production has spiked since, particularly when he has skated on Suess's right wing.
Crusaders cruising – Holy Cross is 2-0-2 through four conference games and heads out of Atlantic Hockey to face Dartmouth and Princeton in their first games of the season this weekend. The Crusaders returned 89% of their points from last season – only Canisius (95%) has more – plus senior goaltender Paul Berrafato (Williamsville, N.Y./Amarillo-NAHL), who has a .944 save percentage through four games. The most experienced goalie in Atlantic Hockey, Berrafato entered the season with a .906 career save percentage.
Unbeaten Teams Remaining
5-0-0 – St. Cloud State
2-0-2 – Denver
2-0-2 – Holy Cross
Six Ivy League teams begin play this weekend
Rookies starring at UMD – Minnesota Duluth plays two more non-conference games before entering NCHC play as the Bulldogs visit Maine this weekend. Freshmen have made an immediate impact in Duluth, with Nick Swaney (Lakeville, Minn./Waterloo-USHL/MIN) and Mikey Anderson (Roseville, Minn./Waterloo-USHL/LA) sitting 1-2 in team scoring. The former Waterloo Black Hawk teammates are both among the top 12 freshmen in scoring nationally; UMD and New Hampshire are the only teams with multiple rookies with 6 or more points. | Saturday's game is on FOX College Sports
D steps up for Union – Union posted its first two wins of the season last weekend with decisive 6-1 and 5-1 victories at RIT and Niagara, respectively. Contributions from defensemen were key for the Dutchmen, who got 4 goals and 5 assists from blueliners – a group that had combined for just 3 assists in the first 5 games of the season. With the departure of last year's top-scoring defensemen Jeff Taylor and Nick DeSimone to NHL contracts, returnees like senior J.C. Brassard (Scituate, Mass./Noble and Greenough) and sophomore Vas Kolias (Schaumburg, Ill./Youngstown-USHL) have more opportunity to chip in offensively.
---
NHL Note of the Week
Five of the top nine NHL rookies in scoring played NCAA hockey last season.
Most Points, Rookies (NCAA Team)
10 – Clayton Keller, ARI (Boston University)
9 – Will Butcher, NJ (Denver)
9 – Mikhail Sergachev, TB
7 – Charlie McAvoy, BOS (Boston University)
7 – Nico Hischier, NJ
7 – Adrian Kempe, LA
6 – Brock Boeser, VAN (North Dakota)
6 – Anders Bjork, BOS (Notre Dame)
6 – Jesper Bratt, NJ
---
Fries at the Bottom of the Bag
The second episode of College Hockey Nation debuts Sunday on ESPN On Demand … Michigan named its rink Red Berenson Rink at Yost Ice Arena in honor of the legendary coach … Of the 52 teams that played two games last weekend, only eight won both: Alaska, Holy Cross, UMass Lowell, Michigan, Ohio State, Quinnipiac, St. Cloud State and Union … Quinnipiac's Odeen Tufto (Chaska, Minn./Sioux City-USHL) is the only freshman among the nation's top 25 scorers.