Wednesday, October 18, 2017
Notes: NU Adds Offense
Top scorers, crazy saves and dramatic finishes fill this week's notebook.
---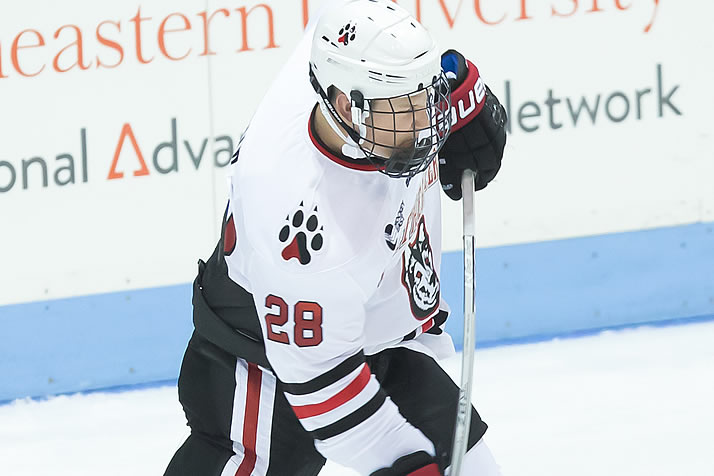 Northeastern's Zach Solow recorded four points in his first career NCAA game.
By Nate Ewell
Northeastern entered the season boasting two of the top offensive weapons in college hockey in senior Dylan Sikura (Aurora, Ont./Aurora-OJHL) and junior Adam Gaudette (Braintree, Mass./Cedar Rapids-USHL). The Huskies have only added to that strength, with freshman Zach Solow (Naples, Fla./Dubuque-USHL) joining those two atop the team scoring chart with 7 points. Solow was the USHL Player of the Year and USA Hockey Junior Player of the Year, but went undrafted in June. He enters a top-20 home series with Quinnipiac tied atop the national scoring lead among freshmen.
Most Points, Freshmen
7 – John Leonard, Massachusetts
7 – Zach Solow, Northeastern
6 – Oliver Chau, Massachusetts
6 – Charlie Kelleher, New Hampshire
6 – Benton Maass, New Hampshire (WSH)
---
Must Read/See/Hear Material
Detroit Red Wings: Oakland U. explores possibility of Division I hockey
Bemidji Pioneer: Bitzer doesn't blink
WMUR: One-on-one with Dick Umile
The Hockey News: Poehling is the big center of Montreal's future
Foster's Daily Democrat: Boyd overcomes battle with Crohn's disease
The Athletic: Nanne living his dream with Gophers after a long recovery ($)
Winnipeg Sun: Poolman takes long road to NHL
---
Five More Storylines No One Should Be Without
Jones a hit at PSU – Penn State sophomore Peyton Jones (Langhorne, Pa./Lincoln-USHL) posted a .945 save percentage in his first three games including one Friday where he batted the puck out of the air ( see play No. 2 here). It's a move that surely made younger brother Nolan proud – Nolan is a Cleveland Indians prospect who hit .317 in A ball in this season. Peyton and his teammates will hoist their Big Ten championship banner prior to Thursday's home opener against AIC. | Thursday's game is on BTN
SCSU's deep D – On a St. Cloud State defense corps featuring NHL draft pick Will Borgen (Moorhead, Minn./Omaha-USHL/BUF) and U.S. National Junior Team gold medalist Jack Ahcan (Savage, Minn./Cedar Rapids-USHL), Jimmy Schuldt (Minnetonka, Minn./Omaha-USHL) is standing out. The junior and second-year captain has at least two points in all three games this year and is the back-to-back NCHC Defenseman of the Week. A second-generation Husky whose father played football at SCSU, Schuldt is one of the team's top 12 scorers who all return from last year. The Huskies host Boston College for two games this weekend. | Saturday's game is on FOX Sports North Plus
Payne leads NMU – First-year head coach Grant Potulny and Northern Michigan have won three in a row, including a dramatic win Saturday thanks to goal with less than a second to play. Senior Robbie Payne (Gaylord, Mich./Chicago-USHL) has scored 5 of the Wildcats' 11 goals and his 66 career points are 65% more than his next closest teammate. Payne leads NMU into a weekend series in Green Bay against Wisconsin, where he had six points in two games against the Badgers last season.
Mercyhurst features experience – Mercyhurst's roster features 22 juniors and seniors, five more than any other team in the nation. Not surprisingly, upperclassmen account for nine of the 10 Lakers with a point this season, including junior Taylor Best (Whitby, Ont./Youngstown-OJHL), whose goal with 10 seconds remaining in regulation Saturday night gave Mercyhurst a second straight tie at Holy Cross to open the season. The Lakers host Ferris State for two games this weekend at the downtown Erie Insurance Arena, the same arena that will host the 2018 Ice Breaker Tournament in the fall.
Most juniors and seniors:
22 – Mercyhurst
17 – Canisius
16 – Omaha, Wisconsin
Burgess returns for RPI – Rensselaer head coach Dave Smith made his Engineer debut with two 1-1 ties at Ohio State, his alma mater, last weekend. Sophomore forward Todd Burgess (Phoenix, Ariz./Fairbanks-NAHL/OTT) also made his RPI debut last weekend after missing all of last season recovering from an injury. Burgess had an assist and five shots in the two games and should provide an offensive boost to a team that ranked 52nd in scoring in 2016-17. Burgess had 38 goals and 95 points in 60 NAHL games in 2015-16 before his injury.
---
NHL Note of the Week
Will Butcher, who in April captured the Hobey Baker Award and the NCAA championship as Denver's captain, has nine assists through his first six games with the New Jersey Devils to lead all NHL rookie scorers. Butcher is the first rookie defenseman in NHL history to record nine assists in his first six career games and the third in league history to post nine points in his first six games.
---
Fries at the Bottom of the Bag
Minnesota visits North Dakota for the first time since Jan. 13-14, 2012 … Clarkson freshman goaltender Nicholas Latinovich (Maple, Ont./Georgetown-OJHL) recently donated his hair to Locks of Love … The 1986-87 North Dakota team – dubbed the Hrkac Circus after Hobey Baker winner Tony Hrkac – held a reunion last weekend in Grand Forks … The first two games of the Governor's Cup series between Alaska and Alaska Anchorage are set for this weekend.