Thursday, October 5, 2017
UMD Hosts Ice Breaker
Four top teams meet in Duluth for 21st annual tournament.
---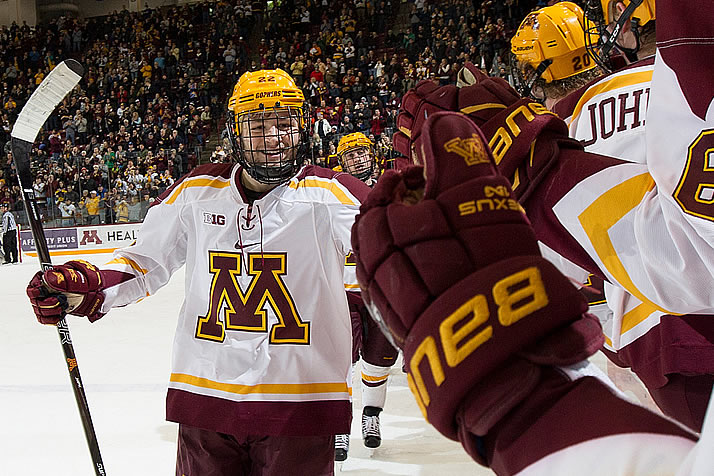 Minnesota's Tyler Sheehy (20 goals, 53 points last year) is the top returning scorer in the Ice Breaker field.
For just the fourth time in its 21-year history, the Ice Breaker Tournament features four teams that have an NCAA championship in their history, as Michigan Tech, Minnesota, Minnesota Duluth and Union visit Duluth. Three of the teams made the NCAA Tournament last spring, while the one exception – Union – is the most recent national champion in the group (2012). Union, Minnesota and UMD have each appeared in a national title game in the last four years and the teams have a combined 12 NCAA appearances in the last five years.
Friday
4 p.m. CT: Michigan Tech vs. Union
7:30 p.m. CT: Minnesota at Minnesota Duluth
Saturday
4 p.m. CT: Minnesota vs. Michigan Tech/Union
7:30 p.m. CT: Minnesota Duluth vs. Michigan Tech/Union
All games available on NCHC.tv
---
Noteworthy
2017-18 College Hockey Inc. Media Kit (.pdf)
NHL Matchup Tool
97 NCAA Players/Recruits Ranked by NHL Central Scouting
Top 2017-18 Preseason Storylines
---
Five More Ice Breaker Notes No One Should Be Without
Ice Breaker history – The Ice Breaker Tournament celebrates its 21st year marking the traditional start to the college hockey season in 2017-18. The event – sponsored by the Hockey Commissioners Association and managed by College Hockey Inc. – brings together four of the nation's top teams from different conferences each fall. Michigan Tech is making its tournament debut, while Minnesota Duluth and Union have each appeared twice before. Minnesota is in its fifth Ice Breaker, but just second when it hasn't been the host. The Gophers have won the tournament three times, including each of their last two appearances (2013, '14).
Title track? – Each of the last two NCAA champions opened the season in the Ice Breaker: Denver hosted last year's event (won by Air Force) and North Dakota started its 2016 NCAA championship season by winning the Ice Breaker in Portland, Maine. Three Ice Breaker champions have gone on to win the NCAA title that season: Boston University (2008-09), Boston College (2011-12) and North Dakota (2015-16).
Starting strong – A number of freshmen will get their first real taste of college hockey at the Ice Breaker, including top prospects like Casey Mittelstadt (Minnesota), Mikey Anderson (Minnesota Duluth) and Dylan Samberg (Minnesota Duluth). Michigan Tech and Union have played one regular-season game each but also bring in heralded freshmen including Parker Foo (Union).
Among the active NHLers who started their college hockey career in the Ice Breaker: Brooks Orpik (Boston College), Brian Boyle (Boston College), Ben Bishop (Maine), Johnny Gaudreau (Boston College) and Hudson Fasching (Minnesota).
Another start – Michigan Tech head coach Joe Shawhan made his coaching debut Sunday at Wisconsin; he is one of nine new head coaches in Division I this season. The last first-year head coach to lead his team into the Ice Breaker won the tournament – North Dakota's Brad Berry in 2015.
Future stars – These four schools combined to place 33 alumni in the NHL last season. On the whole college hockey accounts for 32% of all NHL players and features nearly 200 NHL draft picks playing in 2017-18, 24 of whom are on the Ice Breaker rosters.
Miscellaneous:
- Mike Sertich, former head coach at Minnesota Duluth (1982-2000) and Michigan Tech (2000-03), will present the championship trophy on Saturday night.
- Boston College, Boston University and Minnesota are tied with the most Ice Breaker championships all time (three each).
- Minnesota's five Ice Breaker appearances are tied with Boston College and Michigan State for the most all-time.
---
Elsewhere Around the Country
After three regular-season games last weekend, a full slate of 40 games are on tap this weekend, including conference action in Atlantic Hockey, Big Ten and Hockey East … NCAA teams went 22-6-4 in exhibitions against Canadian schools last weekend … Alabama Huntsville plays the 1,000th game in program history Friday night at Notre Dame … 202 former NCAA players were on NHL opening night rosters, including 11 who played college hockey last season; 19 more began the season on injured reserve … This weekend's games include five top-20 matchups according to the national polls: #12/6 Minnesota at #3/3 Minnesota Duluth; #14/14 Quinnipiac at #NR/13 Boston College; #2/2 Boston University at #14/14 Quinnipiac; #NR/19 Ohio State at #10/12 Wisconsin; #6/9 St. Cloud State at #15/18 Minnesota State.
---
Must Read/See/Hear Material
MiHockeyNow: Dream Big (by Cooper Marody)
New England Hockey Journal: Amped for Act 2
The Heights: Brick Woll
Wisconsin State Journal: Badger season preview (multiple stories)
Eagle-Tribune: After a year lost, Merrimack's McBride ready to make an impact
Hockey by Design: College Hockey Uniform Rankings