Wednesday, November 15, 2017
Notes: Colgate's Main Point
Sophomore goaltender has Raiders among nation's top 20.
---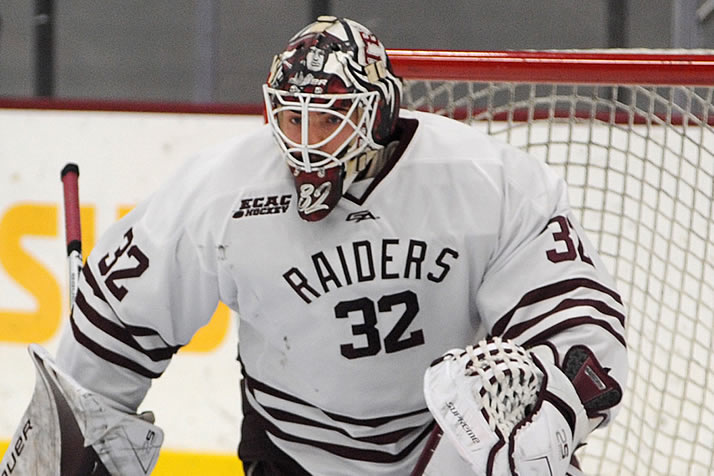 Colton Point and Colgate are enjoying a seven-game unbeaten streak (4-0-3).
By Nate Ewell
Colgate is 6-2-4 and two-thirds of the way to its win total from last season after a pair of one-goal wins last weekend. Sophomore goaltender Colton Point (North Bay, Ont./Carleton Place-CCHL/DAL) is the biggest reason, posting a 6-0-4 record and leading the nation in save percentage (.962) and goals-against average (1.16). Point, a dual U.S.-Canadian citizen, attended the USA Hockey Strelow National Team Goaltending Camp in May. | College Hockey News: Proving the Point
---
Must Read/See/Hear Material
Boston Globe: As Bruins can attest, more players taking the college route to the NHL
Providence Journal: Bryson making his mark at PC
The Athletic: Q&A with Danton Cole
Grand Forks Herald: Just like his cousin, Thome jumps right in at UND
SB Nation: Pooley driving Holy Cross offense
Oakland Press: Hockey a high-risk, high-reward option for Oakland University
N.Y. Times: An unlikely Yale reunion on the U.S. hockey team
Pucks & Rec: Boyhood playmates, college teammates, future business allies?
Podcast: College Hockey Today
---
Five More Storylines No One Should Be Without
New Kids on the Block – The two newest teams in Division I meet this weekend as Penn State visits Arizona State for two games at Gila River Arena. Last year the Nittany Lions swept the Sun Devils in State College en route to an NCAA Tournament appearance in just their fifth Division I season. ASU is in year three and stands 2-6-2, but with some impressive signs including ties on the road at 4-3-1 Omaha and 6-2-4 Colgate. These two teams are forging a path for potential future programs at schools like Illinois and Oakland. | Friday's game is on Pac-12 Network, TSN2
D leads AIC – American International has won three in a row to climb back to 3-3-2 in Atlantic Hockey entering this weekend's series at Robert Morris. The Yellow Jackets have been bolstered by 13 goals from defensemen – only Alaska (14) has more. Sophomore Janis Jaks (Lecava, Latvia/Minnesota Wilderness-NAHL) leads the group with four goals and has five points in the winning streak. Jaks followed a solid freshman campaign with an appearance for Latvia in the World Championship, making him one of three active collegians (with Americans Daniel Brickley and Jordan Greenway) who appeared in that tournament.
Most Goals, Defensemen
14 – Alaska
13 – American International
11 – Arizona State
11 – UMass Lowell
10 – Miami
No. 1 vs. No. 3 – again – Denver hosts a No. 1 vs. No. 3 series for the second week in a row, this time with the Pioneers in the top spot and North Dakota visiting. The Fighting Hawks are thriving at 7-2-3 despite losing three players from last year who have already reached the NHL. This year's group is scoring by committee – six players have between three and five goals – and thriving defensively. The penalty kill has allowed just two goals through 12 games (95.8% rate), but will be tested this weekend against the nation's No. 4 power play (27.7%).
Top 20 Matchups This Weekend (USCHO.com Poll)
#3 North Dakota at #1 Denver (Fri.-Sat., both on Altitude2, Fri. on TSN3)
#13 Harvard at #7 Minnesota (Fri.-Sat., both on FOX Sports North+, Fri. on TSN5)
#17 Michigan at #9 Wisconsin (Fri.-Sat., Sat. on FOX Sports Wisconsin+)
#8 Clarkson at #19 Colgate (Fri.)
#8 Clarkson at #6 Cornell (Sat.)
Huntsville's hometown hero – Alabama Huntsville is 2-1-1 in WCHA play entering the second weekend of a six-game homestand vs. Lake Superior State. The Chargers' schedule reads like a pendulum: eight-game road trip, six-game homestand, 12-game road trip, eight-game homestand. Their leading scorer must feel especially at home, as senior Josh Kestner (Huntsville, Ala./Sarnia-GOJHL) is thriving in his final season with the team he grew up watching. Kestner enjoyed a breakthrough 22-point junior season, and is ahead of that pace through 10 games this year.
Sophomore starring in Lowell – UMass Lowell is 6-3-0 since an 0-3-0 start and the River Hawks have beaten every team they have lost to along the way. Sophomore Ryan Lohin (Chadds Ford, Pa./Waterloo-USHL/TB) leads the way with 14 points, including all five of his goals in the last five games. Lohin – whose grandfather played Major League Baseball – was sixth on the team in scoring as a rookie, but second among returning players.
---
NHL Note of the Week
Charlie Lindgren, whose fast start with the Canadiens includes an NHL-leading .957 save percentage and 1.39 goals-against average, was a first-team All-American in 2015-16 as a junior at St. Cloud State.
---
Fries at the Bottom of the Bag
TSN's November/December schedule was announced Wednesday, beginning with three games Friday night … This weekend's "Hockey On Campus" radio show features an interview with New Jersey Devils rookie and 2017 Hobey Baker Award winner Will Butcher (NHL Network Radio) … Air Force defenseman Jake Levin (Mequon, Wis./Odessa-NAHL) scored two goals in his first career game Saturday at Holy Cross … Goaltenders have posted 20 shutouts through two weeks in November (one every 5.75 games), after posting 27 shutouts through October (one every 7.2 games) … The third episode of "College Hockey Nation" features sons of NHL coaches in college and has debuted on ESPN on Demand.